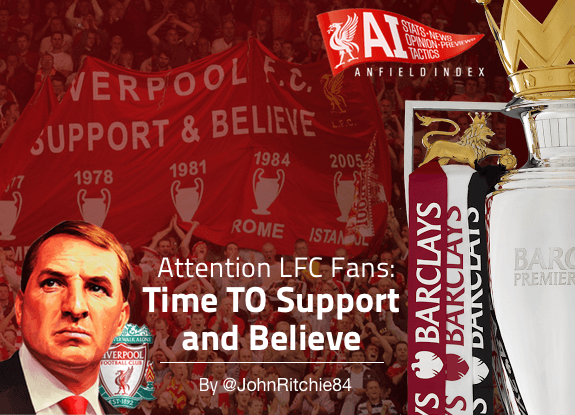 Attention Liverpool Fans, It's time to Support & Believe

Gerrard is the reason we're conceding so many goals… No, Johnson is the reason we're conceding so many goals… No, Agger is the issue… Nope, it's definitely Jon Flanagan's fault… It's definitely Kolo Toure being useless isn't it. That's the reason…
Just listen to yourselves for a moment. Liverpool won a seven goal thriller to win 4-3 with another vital three points in the bag and yet the fans reaction is one of frustration and confusion…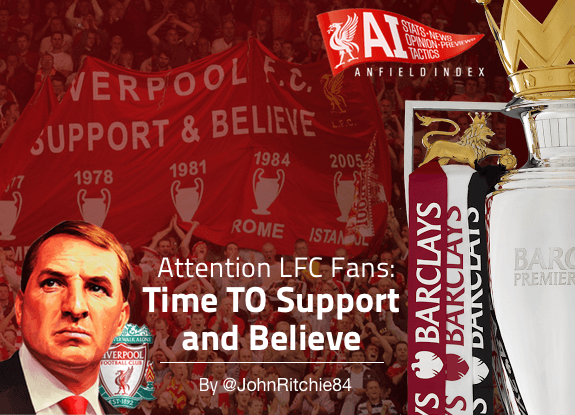 Never mind the fact Liverpool are 6 points clear of Spurs, 11 points clear of Everton and Manchester United; or 7 and 12 points clear respectively, if you count goal difference. No, lets all look for the route cause of the problem.
Don't pay any attention to the fact that at the same point last season Liverpool were currently 8th in the premiership, with 39 points, having scored 49 goals, with 34 conceded and West Brom sitting nicely above us in 7th and Everton in 6th.
Don't let the fact that on all metrics barring the defence, we've improved. 7 more games won, 21 more goals scored, a 20 goal improvement in goal difference. We've also lost 3 less games and drawn 4 less which was a massive issue last season. We've also only conceded one goal more.
No, let's focus on the issues rather than the joy that a win brings, or praise the team for their character for coming through what was a strange game. I'm not sure about you, however I cant remember a half of football like the first one yesterday. All it took was one moment of quality from Jonjo Shelvey and Liverpool seemingly fell to pieces.
To a degree, I can understand the frustration I see around.
It's fair to observe that, what we witnessed today would be comical if the importance of a top four finish wasn't so paramount to the future success of our club. Is that why we're all in a rage? Are we all living on a tectonic set of eggshells causing us to analyse every error and examine every moment in finite detail.
Or is it the hope that as we're only four points away from the top of the league that maybe, just maybe, there's a chance we could clinch the title; that beautiful trophy that's alluded us for nearly twenty five years.
It's somewhat ironic that if you Google 'It's the hope that kills you' the first piece it comes up with is an ESPN article talking about the derby in October 2012. More ironic if you consider that most fans would have taken fourth place in an instant at the start of this season. Now we're talking about titles. This is a time to be enjoyed, we're so far meeting our objectives.
If you step back and appreciate just how far Liverpool have come, you should begin to appreciate how far our club has improved this season. Yet we choose to look to the darkness and not the light. Even the appearance of David Ngog seemed to put fear into our hearts today. This can't be logical thinking surely?
Of course we must beware that there are huge issues in the defence and to a degree our midfield. Our squad is smaller than it should be. There are issues still being ironed in the management structure. The January transfer window was a failure. This team is far from perfect. In other news the world is round and the sky, most days, is blue.
This is not the time to be disheartened, neither should we continue to live in fear that something so earth shattering such as a goal conceded, or a stray pass that might end up causing us issues. This is a time to enjoy the adventure, it's our chance to experience, and for some, to remember what it was like in days gone by.
A friend of mine who's a season ticket holder and an Anfield veteran of 56 years told me that back in the day, four points off the top meant you were well placed to win the league. This coming from a man who has experienced a consistent nirvana with our club, he's also, like most of us, been to hell and back in recent years.
OK, we won't win the league, or we could, but who knows? But maybe, just maybe we should at least be enjoying being in the conversation, or on the roller coaster ride that is an interesting league campaign. We've not been here for years.
I feel like I'm at the fruit machine about to gamble on the top prize with my money already committed in the bank. I cant lose. I've got that rush of blood; isn't that why we all love football?
Despite defensive incompetence, our team has grown balls in coming onto win a game that hung perilously in the balance. That's twice now in as many weeks. It's interesting that in absence of a team of world class galacticos that we all crave in the transfer window, this team, the group, has shown togetherness and unity when before it was normally one or two good-un's that saw us through.
Now that the team are proving themselves, maybe it's time we learned to just enjoy the game again? Yes, appreciate the tactics, analyse the stats and write our blogs. But our primary job is to support and believe.
Ian Doyle made an interesting observation in his post match tweet which got me thinking:
"Bit of an education for many fans at Anfield lies ahead. Panicking with 11 games to go, will inevitably be transmitted to the team".
He's right… Let's just be the 12th man for a change. Give the players our support rather than demanding entertainment. This is not gladiators going to battle, this is the Redmen on a matchday, what else could we wish for? I suppose what I'm trying to say is thus, just get behind the team. After-all, that's what Liverpool fans (you and me) are meant to do.
Are you from near the Midlands area? If so you should attend A Night in Birmingham with John Barnes, John Aldridge and Jason McAteer!

Former Anfield Index Podcast guest host Noreen Khan is the host and there's a three course curry on the menu! All proceeds to charity!