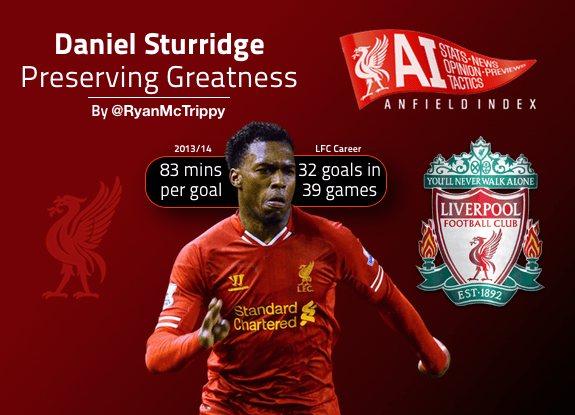 Daniel Sturridge: Preserving Greatness

"Ability is what you're capable of doing. Motivation determines what you do. Attitude determines how well you do it." – Lou Holtz.
As he caresses the pitch into submission to his talent on the ball, Daniel Sturridge is rapidly proving all the doubters wrong. Signing from Chelsea for £12million at the dawn of 2013, his signing was met with eyebrows raising across the Liverpool fan base, while other sat in excitement at the prospect Brendan Rodgers had acquired.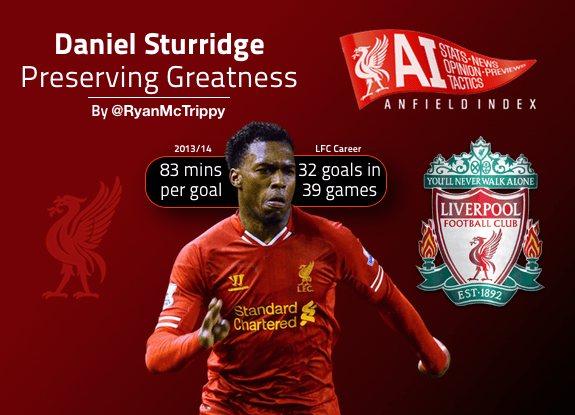 Having been labelled as a self-centred, greedy and rapacious striker, Sturridge had found himself on the outskirts of the Chelsea setup since the departure of Andre Villas-Boas. Yet 13 months later, Sturridge comes off the back of an eight consecutive Premier League game in which he has found the back of the net equaling a record held by Manchester United's original prolific Dutchman, Ruud van Nistelrooy.
Not only has Sturridge let his feet (and head, and right elbow) demonstrate just how talented he is, he is casting aside those who have labelled him an egotistical player. His goal tally is impressive, but with a supplement of chances created and an assist figure just as healthy, England's most likely candidate for the number 9 jersey in June will more than likely be full of confidence, ready to announce himself to the World.
That is unless he makes it to the World Cup.
Unfortunately for Daniel Sturridge, the fear of picking up an injury is very much in the back of many people's minds, due to his recent troubles with keeping himself physically sound to play football throughout the footballing calender.
The last great striker Liverpool had at their disposal, before the Uruguayan virtuoso Luis Suarez, suffered from a string of injury problems during his three and a half years at Anfield.
That man is of course, Fernando Torres.
Once the darling of the Kop, Torres is now labelled as many things: Judas, Failure, Washed-Up, Flop. But, regardless of Fernando's decision to leave the fans that adored him beyond reasoning, completely besotted on the footballing liquor that was served by the blonde-locked Spanish bartender, mesmerising the crowd and impoverishing Premier League teams and Europe's elite from clean sheets. He was magic, he was El Niño, but more importantly he was Liverpool's number 9.
Watching the man that now plays for Chelsea following a British transfer record of £50million is not the player fans once knew and adored. And as much as Liverpool fans may enjoy looking at Torres' demise, and speak of how he ruined his own career, the question has to be asked: is the Fernando Torres we see now a physical victim of the Hicks & Gillett reign of terror?
As much as Torres is labelled injury prone, the only periods in his career truly hampered by injuries were his three and a half seasons at Liverpool. The statistics used here were based on the league weeks that Torres was available to his respective teams: Atlético Madrid 2001-2007, Liverpool 2007-2011, and Chelsea 2011-2014.
Torres' knee injury is ultimately what truly destroyed him as a footballer. Reliant on his speed and skill, it was evident following surgery on his knee at the 2010 South Africa World Cup that there was something uneasy in the Fernando Torres camp. He was simply not the same player. Although we now know that Torres was receiving injections to get him through games due to Liverpool's lack of options up front, and yes Torres may have had a deal with Chelsea before he ultimately left in January 2011, Liverpool were not selling the same player they had purchased. Torres was a victim of lack of options, forcing him through games which have ultimately cost him the type of career his talent deserved.
And thus leads us to Daniel Sturridge.
Sturridge has suffered a similar faith to Torres in terms of injuries; his career has been relatively spared up until recently.
Although having played less games due to being sparingly used by Chelsea, Sturridge began to pick up injuries in the last two seasons, which began with him contracting malaria in the Summer of 2012. When he joined Liverpool at the turn of 2013, he picked up a hamstring injury one month later, and having finished the season strong he picked up a serious ankle injury in an International friendly for England against the Republic of Ireland, Liverpool fans could feel the sweat gathering behind the ear as they faced a preseason without their new striker, and for Sturridge it would be another missed period to get himself 100% fit again.
This season Liverpool were missing Sturridge for two months, but luckily Luis Suarez was more than capable of carrying the goal-scoring load in his absence. The manner in which Sturridge picked up his injury left many fans infuriated at Roy Hodgson, as he revealed he purposefully played him through injury to test his resolve. Sturridge is dreaming of dancing the Samba in Brazil, while Hodgson attempts to implement the Charleston.
Daniel Sturridge must look at what is in front of him and his club. Although he is well aware of the task that Liverpool are left with in the title run in, the faith shown in him by Brendan Rodgers and the Club itself will come before his thoughts on Brazil. What Liverpool must ensure in the future is that they do not have a repeat on fallen Fernando Torres. Sturridge has many wonderful attributes to his game, but his electrifying pace sets him above the rest. To maintain this devastating quality Sturridge must be nurtured and developed without being rushed back through injuries. Although being forced back into the first team selection due to Luis Suarez's infamous 10 game ban, Rodgers will hope he is not left with this dilemma in the near future.
Sturridge deserves to be amongst the best in the world come June, and in Europe next season. To maintain his future at Liverpool, he must dedicate himself to developing as he has done until now, while the management and medical team ensure everything is done to elevate Sturridge's game to the next level physically.