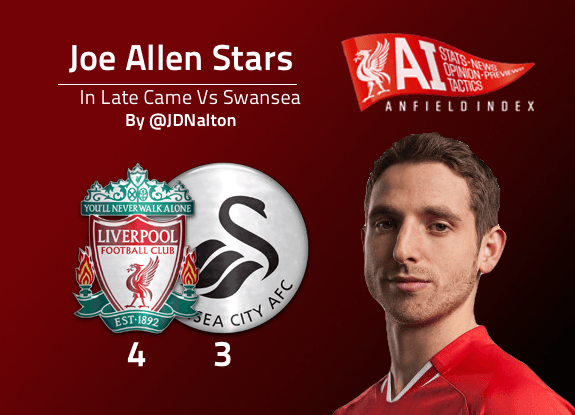 Joe Allen Stars in Late Cameo vs Swansea
Joe Allen is a player in whom Brendan Rodgers has invested a lot. Whilst at Swansea, the Welshman was a mainstay of their Championship play-off winning side, and the diminutive midfielder's performances brought lavish praise from his manager.
…while he is not at the same level, he is that Xavi or Iniesta type of player. He's 5ft 7in, not physically tall or great in stature but he is brilliant on the ball, has great intelligence and good mobility.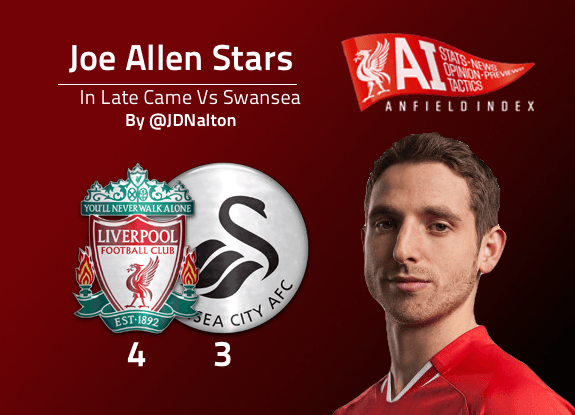 When Allen signed a new contract with The Swans ahead of their debut season in the Premier League, Rodgers commented that it was a big signing for the club. He repeated this big signing shortly after becoming manager of Liverpool, when he paid a princely £16.7m to ensure the continuation of their working partnership.

So far in his Liverpool career we've seen glimpses of the player which Rodgers regards so highly. An up-and-down first season ended with an injury in March, and this second season has seen him in and out of the side thanks to injury and fluctuating form. But against Swansea last weekend we saw an outstanding cameo performance from the bench, in what was an inspired 32 minutes of football.
Allen entered the fray against his former team like a man possessed. Taking up the role in midfield previously occupied by Philippe Coutinho, he offered an element of control in the centre of the park, as well as some much needed energy. It was as if Jordan Henderson and Philippe Coutinho had somehow morphed into one player, as Allen was winning the ball back one minute, then sending Sturridge through on goal the next.
His stats stack up against these claims, so there's something to support what everyone thought they saw at Anfield on this lazy Sunday afternoon. The passing was typical Allen, with 18 of his 19 attempted passes find their target and giving him a 95% success rate. 68% of these passes were made in the opponents half, which is a good indication of where he and his team played most of their football after he came on.
There was a moment of interplay between himself and Coutinho which delighted the nervous home fans, as the pair outfoxed several Swansea defenders down the left wing with their quick feet and control (about 2 mins into the video at the bottom of the article). The graphic above shows that he spent a fair amount of time down the left hand side, helping out in both attack and defence.
It was in defence where Allen excelled himself, getting around the pitch in both halves to put pressure on opponents and make some crucial interventions. He won the most tackles in the Liverpool side with five out of five successful challenges, and won a total of seven ground duels which put him level second with Jon Flanagan, behind Glen Johnson's eleven.
The chart below shows the areas of the pitch where he won back possession for his side, and you can see a couple of these were a result of his pressing in the attacking third. On top of this he also recovered seven loose balls.
Around 16 seconds into the video below, you can see his willingness and ability to drop into the defensive half and cover for a poorly positioned defensive unit. He catches up with Jonathan de Guzmán to put pressure on his attempt on goal, as Agger is once again out muscled by Wilfried Bony, Skrtel plays the Dutchman onside, and Gerrard looks on hoping Mignolet will save.
After taking all this in, it's worth repeating that he only played 32 minutes of the game. These numbers would be impressive for a player who'd played the full ninety, but somehow Allen managed to fit a near man-of-the match performance into less than a half of football. With business about to pick up at the top end of the league, Liverpool fans will be hoping from more of the same from the Welsh Couthendiesta.