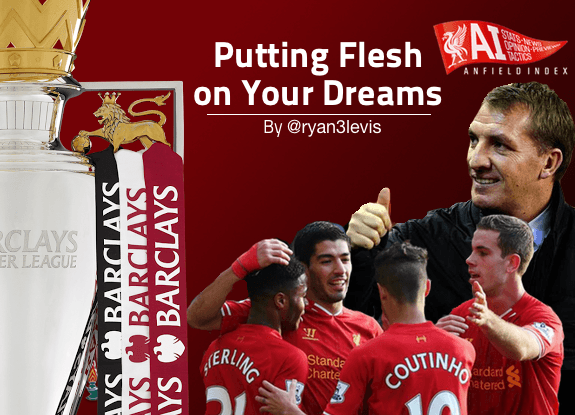 Liverpool FC: Putting Flesh on Your Dreams
And some day soon, maybe next May, maybe the one after or the one after that, a middle-aged man in a suit will wade through a sea of scarves in front of the Kop, pick one up and tie it around his neck like a docker, make a defiant fist with his left hand and hold the Holy Grail in the other, and stare at us the way the risen Christ looked at is disciples, eyes blazing with an intensity that says:
Tell me you never questioned me. Tell me you harboured no doubts. Tell me all the pain and emptiness was worthwhile. Tell me I've just put flesh on your dreams.
– Brian Reade (44 Years With The Same Bird)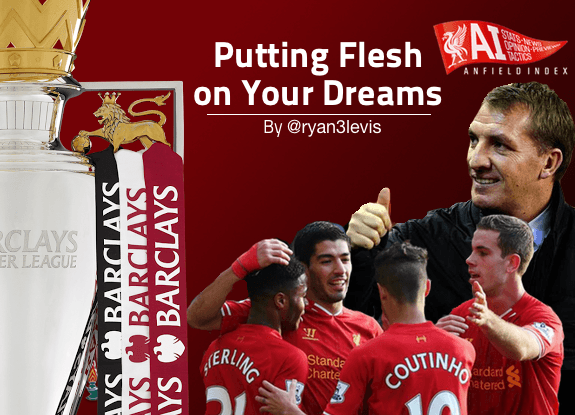 Every night just as I close as my eyes to go to sleep, Brian Reade's words ring through in my head. "Tell me I've just put flesh on your dreams". In my mind I imagine what that day will be like, what that week will be like. As someone who has never witnessed a Liverpool league title, I harp back to Istanbul and how I felt that day, that season.
How I looked on in absolute disbelief, fighting back the tears as A.C. Milan tore my dreams apart. Yet from the ashes of scattered dreams arose the most beautiful of moments, a night I will never forget.
It was a rollercoaster ride. We had defied the odds.
For where we have been over the past 4 years, it is quite astonishing that we have found ourselves on the cusp of a title race. We were not just getting beat in games over this difficult period, but beat in every aspect of existence. Our club was crumbling yet its identity of belief always rang true and sucked the club back into life just as it sucked the ball over the line on May 1st 2005.
It is for quotes like above that this club fought, stayed and now breathes new life across the top table of English football. As a club, logic is trumped by belief that anything is possible. Because we've more than any other club have seen what happens when that anything does indeed become possible.
During the 2008/09 season, Benitez had seemed to have cracked the code to the Holy Grail. Mascherano and Alonso in tandem in the centre of the field, Gerrard and Torres rampant in attack, Kuyt and Riera on the wings, Carragher marshalling the backline, Reina in goal, it seemed pretty bullet proof at times.
Liverpool had a good start to the season but that barely came with anything more than some minor smugness over pint talk. We had all seen good starts come and go without further development ever since the inception of the Premier League.
However in November 2008, Liverpool played Chelsea away and won 1-0 with a deflected strike from Alonso. All of a sudden, our ears began to prick as we started to do the math:
"Beating Man United + Beating Everton + Beating Chelsea = ??".
It all came into our head for a fleeting second that the league title was possible but we immediately rubbished the thought, putting it down to previous embarrassments when doing the working-outs in our heads and ending up with naive conclusions.
Then, when Liverpool walked out onto the pitch at Old Trafford, went 1-0 down to an early Ronaldo penalty and came back at United with 4 goals, we looked on in sheer disbelief. We knew this team was good, we knew they were getting very good. Yet still, previous misconceptions made our expectations barely above the skirting boards, nowhere near the ceiling.
But here we were. In the land of the champions and we had put them to the sword.
So perhaps, it was just possible that the flicker of the league trophy that danced across our minds back in November was a genuine possibility? The ridiculousness of the thought of seeing Liverpool win a league trophy was quickly becoming less and less absurd, and beating Manchester United 4-1 on their own turf should have confirmed that our dreams could become reality.
Yet it didn't. Not quite.
Beating Manchester United 4-1 at Old Trafford convinced us that we were genuinely in the title race. We needed one more big test of character to prove we were genuinely in with a chance of actually pulling the unthinkable off.
That test came at Craven Cottage. It was the perfect tense affair where a well organised lower table team held out valiantly on their own patch. In other words, the perfect game in which we've seen year in year out separate the champions from the rest.  Or in even more words, the perfect game for Liverpool to come unstuck.
On this day, the game was teetering out to plan; a frustrating 0-0 draw. It was getting uncomfortable close to the final whistle as the beads of perspiration rained down from every Red brow across the globe. How could we be so naive to fall for yet another false dawn?
Yet the ball comes to Gerrard on the edge of the box and pinballs behind him over to the right hand side of the box. Standing there is the tiny Yossi Benayoun, with a rare moment of not having a Fulham player crammed up his backside. There's 92 minutes on the clock and the Israeli cracks a crisp strike across the keeper and into the left hand side of the net.
Cue pandemonium.
Cue belief.
I'll never forget it. I remember turning to my Dad, Granddad and Uncles amidst our scenes of jubilation and seeing the same look across their faces that was etched onto mine: "Holy shit. We're actually going to win the league aren't we?"
When the referee blew the whistle, the Travelling Kop's screams of delight quickly turned into a wholehearted rendition of "We're going to win the league". And there it was ladies and gentleman, my first time. The first time I truly believed I'd see Liverpool win the title.
I can still hear that song ringing around Craven Cottage when I instantly think back to that day. It is forever lodged in my memory, only unlockable through the process of goosebumps. There was no jest to the song or sheepishness to suggest only a minority were singing it. It was the entire crowd, including those that had seen many a league title, those that never saw one and those that could count their sober days on one hand. This was Liverpool supporters in unison – optimists and pessimists alike – believing we were going to win the league.
It was beautiful.
Sadly, it would take the best part of 4 years to get even remotely close to experiencing a similar moment.
Beating Tottenham 5-0 made us believe we were the real deal for the Champions League. Beating Everton 4-0 made us believe we deserved a Champions League place. Beating Arsenal 5-1 made us believe perhaps there's a slot for Liverpool in this title race after all.
Enter stage left, a trip to Craven Cottage on a Wednesday evening.
Pretty much every reminiscent of Benitez's troops that gave us the "Yossi Moment" were gone from the club as Brendan Rodgers implemented his very different style in search of his very own "Yossi Moment".
Against Fulham, Rodgers was given a similar test to that of the one Benitez received 4 and half years previously. Fulham had proved to be most stubborn in their desire to send Liverpool back up the North-West with their naively created wounds.
I sat there watching, beads of perspiration and desperation filling up my room as I kicked myself for prematurely getting a ridiculous thought of Liverpool getting within touching distance of a League title.
Sound familiar?
Yet up steps Gerrard and the captain strokes home a 90th minute penalty and Liverpool complete the comeback and win 3-2. As Stevie stood flexing his muscles at the travelling Kop, I got this funny feeling inside of me that some might call 'déjà vu'.
It may not have been as beautiful and awkward as the first time, but the emotions were still the same, especially the inner giddiness where you're half tempted to book off the week of May 16th just in case a plane trip to Liverpool for celebration purposes is needed.
There are currently 3 much better funded teams above us in the league with 11 games to go and 4 points separating us from the summit. Logic says we're the underdogs, the unlikely heroes.
However we're children of Shanks, Bob, Kenny and Istanbul. So if it comes down to that last game of the season against Newcastle and there is a chance of Liverpool clinching that title, you put your house on it that we do it. For that's the Liverpool way. We defy logic because we believe in this club enough. We allow flesh to coat our dreams.