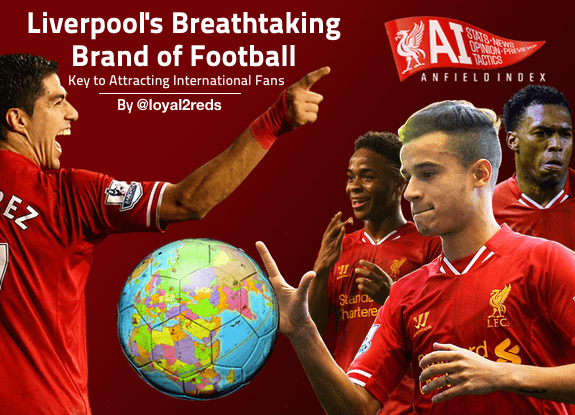 Liverpool's Breathtaking Brand of Football Key to Attracting International Fans

The Premier League's popularity is soaring in the United States, where viewers are developing a deep connection with football (or "soccer") as cable providers afford people access to nearly every match. As American fans select teams to follow by the millions, the ongoing fight between top clubs to capture their rabid support is a key battle in an era of cut-throat financial competition.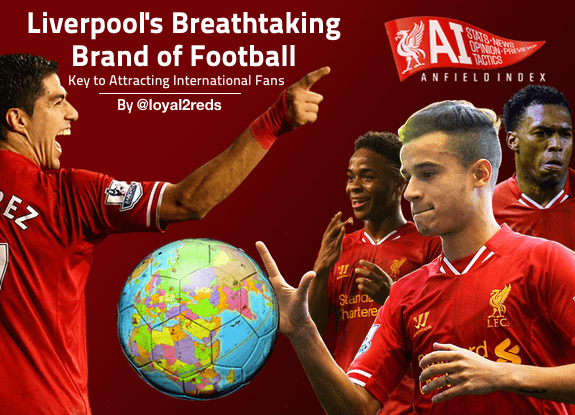 Liverpool's stylistic turnaround and burst up the table, along with their treasured history, make them a sudden candidate for new football fans across the United States (and the rest of the world) to follow. This heightened international appeal comes at the perfect time for Liverpool, because over the past few years there had been a growing sense that Manchester United and Chelsea were obtaining an insurmountable stranglehold, a monopoly of sorts, over American viewers.
The lure of Liverpool begins with Luis Suarez, the most polarizing player in England. Suarez the biter, the racist, the traitor; Suarez, the man who through his inextinguishable passion and skill has placed Liverpool in position to make one of the most improbable runs in football history. Next to El Pistolero, Daniel Sturridge. Sturridge the lazy, the selfish, the wasted talent; Sturridge, second in the league in goals and first in the league in dance moves. Against Everton, people jumped to criticize Sturridge for his demeanor when he was subbed off – surely his nasty side was finally on display. However, the supposed narcissist said in his post-match conference, "I want to apologize if anyone's offended by the reaction, I was disappointed about missing the penalty and I felt as if I'd let myself down as well as the fans," and later, "I was very disappointed with myself, nothing to do with any of the players or the manager." He scored at least one goal in his next four league games.
The wide-ranging appeal of Liverpool's players doesn't end with the redemption stories of the front line. Raheem Sterling and Philippe Coutinho highlight the abundance of talented youth at the club. Jordan Henderson, once a transfer flop and easy punchline, now brims with confidence, displaying boundless energy as he continues his ascendancy into the upper echelon of Premier League midfielders.
Then, amid the new guard that promises to lead Liverpool to success for years to come, there's Steven Gerrard. Gerrard represents a link to success in the early and mid-2000's, but moreover, to the history of the club. He is a Liverpool legend, a player who remained loyal while his peers jumped around Europe in search of silverware. For prospective fans, Gerrard embodies the romantic message they seek in a new team, and an accessible bridge to the past.
Even the shambolic back line provides a reason to watch, if not for comedic purposes then for the deficits they force Suarez and Sturridge to magically overcome. There is no 5-3 win over Stoke, no 3-2 thriller at Fulham, no 4-3 conquest of Swansea without the incompetent play of the defense. The team would be better off table-wise with a solid defensive unit, but their inconsistency has made for some exciting games that surely captured the interest of curious newcomers.
Not only does Liverpool have a likable team that plays the game in a beautiful, flowing manner, but they also have an in-built determination to win football matches. Never over the past few seasons would I have expected Liverpool to claim full points in games that truly tested their mettle. This season Liverpool have repeatedly scrapped out results in such matches, beginning on opening day with their hard-fought 1-0 win over Stoke that required Simon Mignolet to save a last minute penalty. Brendan Rodgers has instilled fight into a side that once folded too easily, and this dogged determination is a major reason why Liverpool are so alluring. Fans appreciate a player that can do spectacular things, but they worship the rare player who despite his immense talent still pours his heart out into every challenge, every touch of the ball.
The current team contains players who appeal to every kind of fan, and the weekly excitement of watching a Liverpool game simply cannot be matched by the rest of the Premier League. On top of that, Liverpool are the underdogs right now, making them popular among prospective fans who cringe at the thought of following the favored duo of Manchester City and Chelsea.
All of the elements are in place for Liverpool to grow their international fan base significantly, and living in the United States I've observed increased support this year, albeit within the confines of one city (San Francisco). A man working at the coffee shop I often visit now talks to me about Liverpool as he prepares my drink, and I've seen a major uptick in club merchandise around my city. Individually, the Reds are talented and likable. As a group they make for a scintillating watch, a can't miss show that is drawing droves of new football fans from around the U.S. and the world to the club.