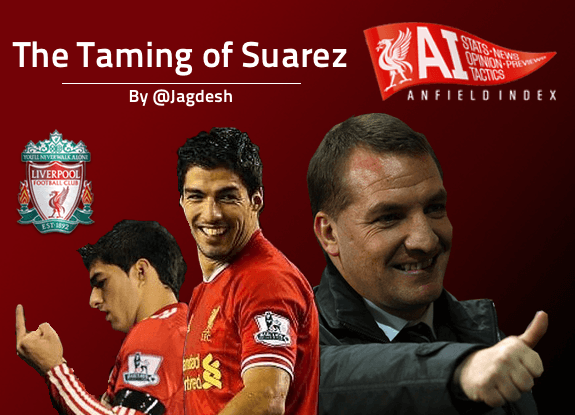 The Taming of Luis Suarez

There's a scene in the highly acclaimed political thriller series 'House of Cards', where the antihero protagonist Francis Underwood is being told by his soon-to-be adversary Raymond Tusk as to which attributes of Francis' makes him the compelling candidate for a major role in the White House (bear with me as I try my best to not inadvertently leak out obvious spoilers from this excellent series).
Francis is told, rather directly, that his penchant for pragmatism, ruthlessness to execute, a 'win at all costs, take no prisoners' attitude made him the perfect candidate. Tusk alludes that these attributes, having allowed Francis' to manoeuvre in the higher echelons of the White House, are unconventional and unethical.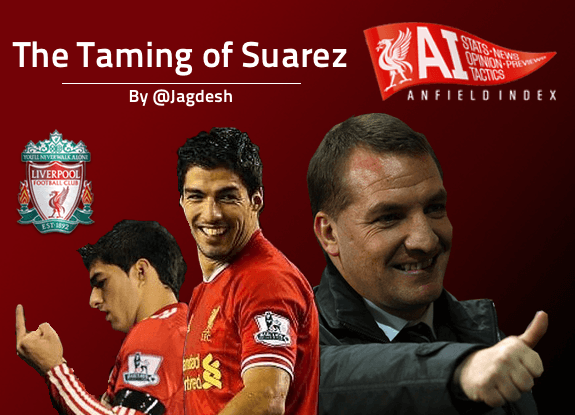 There are strong indications in today's media narrative that Luis Suarez evokes the same emotionally perceived notion of being the antithesis to any honourable likeable footballer (Yes, I realise that's an oxymoron, but stay with me here), but one that produces display of outrageous skills on the football field. Outrageous enough to defy imagination at times mostly powered by the sheer will to win at all costs, ruthlessness and pragmatism at the heart of it all.
An evil genius, if you may, unloved but highly respected. The respect, evidently, grows as each game is won.
Cast your memory back to the beginning of this season. It was an entirely different perspective. Suarez was the pantomime villain, out to destroy everything held just and holy on the football pitch, from alleged racial abuse of an opponent to (even worse) biting an opponent. It was only the right thing to do, driving him away from ruining impressionable minds of young innocent children watching him play week in week out on their plasma TVs. Alas, his skills and productivity weren't appreciated. Respect wasn't 'earned'. The mainstream media campaign to drive him out of the Premier League was not entirely concerted, rather with a slight hint of subtlety. It was no surprise that Suarez wasn't entirely keen on proving them otherwise as well, and he courted Real Madrid as a legitimate 'get-out-of-jail' card, hinting and hinting of moving to a country and league that wouldn't hound him out unscrupulously. Bucking the trend, and realizing what a game-changer he was to be, FSG and the Liverpool Football club manager, Brendan Rodgers, dug in their heels, flipped Real and kept him for the season. The rest, as they say, is history.
But for Liverpool fans though, there was another aspect to Suarez that frustrated them equally. He had a penchant to forcedly take the game by the horns, impatiently ignoring team ethos (if there were any) with his teammates, and score himself throughout the 11/12 and 12/13 seasons. This mercurial attitude of his didn't really bode well with Rodgers' Death by Football philosophy. And it didn't exactly win the number of games needed for Champions League. He huffed and puffed, but we still got 7th the last season. In other words, his productivity was low because no matter how hard he worked at scoring goals, the results from games needed to be won weren't good enough.
So, not only was Suarez considered selfish at times, untrusting of his teammates' ability, Suarez was also the villain that needed to be driven away. How did all this change to the pragmatic evil yet well-respected genius of today?
Let's see what the numbers tell us.
(Disclaimer: The analysis that you're about to read is fairly straightforward, data derived from the WhoScored.com site and do not provide the context holistically, rather just indications that point out than paint the whole picture)
First and foremost, goals win games (stop rolling your eyes and let me just state the obvious). Suarez tally has already surpassed both previous seasons, with 10 more games to go. Much has been written, podcasted and televised about the SAS partnership. The understanding between him and Sturridge has evidently produced the goals Suarez has scored, this is certain. But more importantly, Suarez has abandoned his instincts of not winning the game all by himself, rather he now works with the team for his goals. Assists from Sturridge, Coutinho, Gerrard and even Sterling have amassed Suarez' superb tally thus far.
But what about the other way around? Does Suarez trust those around him to score with his assistance?
There's a significant jump from previous seasons, in an upward trend, of Assists provided that has led to goals scored by his teammates. He clearly is helping them score for the betterment of the team. The next charts further deliberate this point.
Improvements in the accuracy of his passes (crosses, long balls and through balls) all indicate that Suarez is producing more for the team to benefit from.
Clearly, Suarez' productivity is improving. He doesn't just score goals but he also gets the team to perform and produce better results.
Credit has to be massively, if not entirely, bestowed on Brendan Rodgers for instilling this new mentality into Suarez, emboldening him with the team ethos that Rodgers continually puts on the pedestal, game in game out. It's one thing not allowing a player to renege on his contract and force him to stay, it's another to making that player a far more effective one that produces in all games for the team. Rodgers' man-management has been continuously commended by players and observers alike; the improvement of Suarez is most definitely a testament to this forte of his. Not just did Rodgers' make Suarez a happy member of the family, he made Suarez the big brother who cares for the younger ones in the family. Even more miraculous, Rodgers' has changed the media's perception of Suarez. No more the despicable South American, now the flawed genius who should be appreciated.
Suarez is already a shoe-in for the Uruguayan national team competing in Brazil later this year. Surely he wants to ensure his form stays valid and good enough to meet the expectations of his country's pride, as well as the billing bound to be given to him when he arrives there. His maturing productivity, with tendencies to be the team player AND game changer, would be welcomed by his national teammates, almost certainly. He can certainly thank Rodgers for this when the season is over, the campaign a smashing success (I shall not tempt faith by saying we'll win it all), and he's on his way to Brazil in June as a different player and person than he was a year ago.