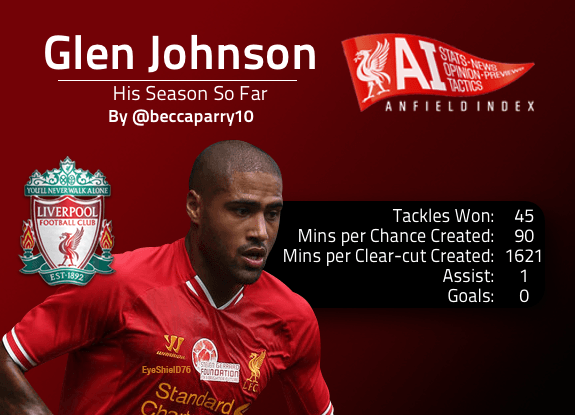 Glen Johnson: His season so far | Stats
Glen Johnson has come out in recent days to say how he's a massive fan of Brendan Rodgers (who isn't at the moment?!) and that he wants to stay at Liverpool for years to come.
As a solid and reliable right-back for the majority of his Liverpool career, Johnson is hitting the milestone of 50 caps for England, but has had an up and down season for the Reds.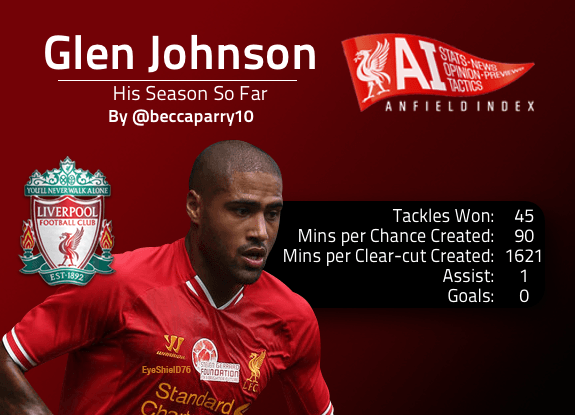 Injuries have got in the way of what could have been yet another consist season for the Englishman, but surprisingly, Liverpool's defence as a whole has been stuttering and unsettled this year.
Starting 19 games in the 2013/14 campaign so far, Johnson has made a total of 48 clearances in defence, 47 of them being successful, and winning 22 fouls alongside that.
Statistically, arguably Liverpool's best performance of the season was also his. The Reds' 5-0 thrashing away to Spurs showcased some of the players' best performances, and Glen was no different. He made 6 clearances, all of them successful, and perhaps even more impressively, made 5 of them with his head.
Digging in and getting involved has also been necessary for Liverpool's defenders, especially with the scrappy but big wins they've managed to grab this year. Glen Johnson won 100% of the tackles he put in against Manchester United at Anfield, as well as being involved in a staggering 15 ground duels.
But although impressing statistically in individual games, he hasn't been at the level of consistency that we know he can be. With the same amount of games in the 2012/13 season, he had notched up 58 clearances, compared to this season's 48, and had a goal under his belt.
He'd also won 90% of his tackles, whereas this season that figure has dropped to 84%. And although this may not sound like such a dramatic decline, Liverpool can't afford for standards to be dropping when on the Champions League, and now even Premier League charge.
But, as we all know, it's not just Glen's defending that is a major contribution to Brendan Rodgers' side. Especially with the way Liverpool are attacking now, it's essential that the wide players are getting involved.
The 29-year-old has created 18 chances for Liverpool's strikers so far this season, an impressive stat for a defender. However, his 34 crosses have only been accurate 15% of the time.
When discussing how the defence is needed in terms of kick-starting the attack, Johnson's stat on chance creation would be seen to be the most significant, rather than crosses. With the counter-attacking football that Liverpool are sweeping teams aside with, the defence are going to be the part of that catalyst to drive forward and punish on the break.
It may have been a mixed season for Glen personally, but it's so rare to find an English right-back with the attributes to get forward and place them crosses in the box, as well as being able to hold the fort at the back.
With an unsettled defence being the one of the things to work on this season, it would be a risk for Brendan Rodgers to mess with of one of the most reliable.