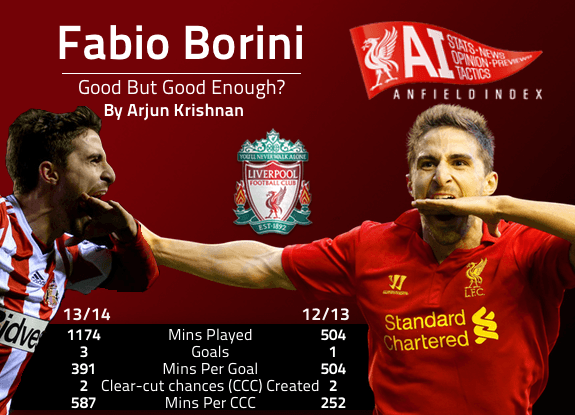 Fabio Borini - Good, but good enough for Liverpool? | Stats Analysis


The Past
I'd be lying if I said I knew a lot about Fabio Borini before he had been linked with Liverpool FC. The hype surrounding him prior to his reunion with Brendan Rodgers was quite unfounded and primarily based on video compilations of his best footballing moments. A section of the fans opined that he was one of the best young poachers around, someone who'd be vital to our surge for Champions League football in Rodgers' debut season as manager. It was hard to disagree, really. Borini had scored 6 goals in 9 appearances for Swansea before moving to AS Roma and scoring 9 in 24 appearances. Between the origin of the rumours of our interest in him and the club releasing a picture of him signing the contract, the hype had spread rampantly. To be honest I was really excited at the prospect of a young non-British player at our club, especially when you take into account the fact that the previous regimes had recruited the likes of Konchesky, Joe Cole, Charlie Adam, Stewart Downing, and……. well, Andy Carroll. The obscurity was new to us – a welcome change – and I embraced it.
The Present
Let's fast forward one year. Borini is currently on loan at Sunderland after a hugely underwhelming season at Merseyside, which was marred by two long term injuries that hindered his development. However, at Sunderland, he's playing a lot more regularly – albeit out of position – and has had a better showing, with 6 goals in 28 appearances in all competitions this season. He's looked sharp, happy and a lot more confident in possession of the ball as well as in front of goal, as opposed to his time at Liverpool – during which he managed only 2 goals in 20 appearances.
The best aspect of Borini's game for me is his work ethic. When Borini signed for Liverpool from Roma, Brendan Rodgers hailed him as arguably the best physical player he's ever worked with in terms of pace, fitness and power. He's a willing runner and always gives 100%. The energy and passion he produces week-in week-out is nonpareil. He's also got a very positive attitude that can easily rub off on his teammates. It doesn't come as much of a shock that he wins fans over wherever he goes. Also, Borini's tactical intelligence and positional awareness is exceptional for someone still in his early twenties. He's always working the channels, pressing opposition defenders and trying to force an error or a back pass – all this, . Judging by the current season, Borini appears to be a man for the big occasion. Each of his 6 goals this season have come in massive games for his club – two in the Tyne-Wear derby and one against Southampton in the league; and a goal each against Chelsea, Manchester United and Manchester City in the Capital One Cup.
Notwithstanding anything mentioned above, a striker is ultimately judged on his goal tally which is predominantly where he lacks currently, although I'm pretty certain the goals will come if he plays alongside better players. This man has the makings of a good striker. A certain level of stability in his career could give him the push he needs.
The Future
With ten games remaining for the season to draw to a close and for his time with Sunderland to expire, the fundamental question in the minds of Liverpool fans is whether or not Borini has a future at Anfield beyond the summer, despite his vehement performances this season which has Sunderland fans holding him in the highest regard – as a paragon, if you will.
One of the best ways to assess his future is by comparing his stats in the 2012/13 season (13 total league apps) with those in the 2013/14 season (21 total league apps).
Attack
In the attacking department, there's no doubt that Borini has improved. Most of the above stats prove it. He sees more of the ball and feels a lot more confident in possession now than before. These stats are also suggestive of the fact that his goal tally for Sunderland isn't a fair reflection of his performances. He does a lot more than score goals. Besides, he's predominantly played out wide. The final stat in the table is quite impressive – Borini now draws fouls off opponents at 1.3 times per game which is almost 7 times greater than he did in the previous season. Whether it's due to his progression as a player or simply a mental boost derived from regular first team football (or even a combination of the two), this improvement is quite remarkable.
Defence
Shifting focus to the defensive aspect of Borini's game, there are again many positives. The number of interceptions made by him on average this season (0.8) when compared to last year indicates that he reads the game a lot better than before. He's also made 1.3 clearances per game this season as opposed to 0.1 last season, which shows that he's contributing in defense as well. There is also a significant improvement in his aerial ability, which is reflected in the number of aerial duels he's won this season.
The Verdict
In all, Borini has definitely grown as a player in his time at Sunderland. Unfortunately for him, stats won't be the only factor deciding his future. There are others, which are more telling, such as our current strike force – the SAS, which is considered to be one of the most lethal attacking partnerships in Europe at present. It'll be next to impossible for Borini to cement his place in the first team by displacing either Suarez or Sturridge, one of whom is a world class player and the other is well on his way to becoming one. Borini is way off that standard.
Another factor to consider is Liverpool's potential qualification for Champions League football. If it happens, I have no doubt that the club will strengthen the squad substantially. The addition of a backup striker (or even a couple of wingers, for that matter) will all but rule out Borini's chances of making the cut at Liverpool. However, I do believe he could be a decent, cost friendly squad player for us in the short term, before he realizes he'd be better off achieving his ambitions elsewhere.
Bottom line being: Borini will make it, just not at Liverpool.