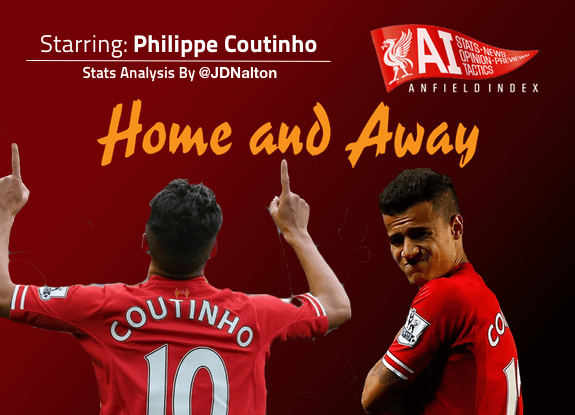 Home & Away: Starring Philippe Coutinho | Stats Analysis
Philippe Coutinho's display in the recent game away at Southampton was disappointing, but not unexpected. Since joining the club he's put in this type of performance on numerous occasions, with the earliest example being a game against Chelsea at Anfield last season, when he was substituted at half time.
A tweet from City Talk's Jay Riley during the game reflected on the inconsistent nature of his performances, and further suggestions were made that he struggles to perform away from home.

@jay_78_ it's the home and away bug mate.

— AnfieldIndex (@AnfieldIndex) March 1, 2014
Let us see if the statistics back this up, and confirm whether Coutinho's poor performances actually occur when he's part of the travelling circus that is Liverpool away from home.
Chances Created
Coutinho's game is built around creating chances, so it makes sense to look at this area of in game productivity first.
Immediately we see the trend, and the theory backed up. Coutinho does what he does best more often at home by a massive margin, with thirty extra chances created at Anfield. He's played 11 games on home soil (in the league), giving him an average of just over 3 chances created per game, and 12 games away from home, which produces a miserable average of 0.42 chances created per game.
The amount of minutes he's played at home is slightly higher, at 921, compared with 830 minutes played on more unfamiliar turf, but this difference isn't anywhere big enough to offer excuses or explanations. One of the stars of the latest Anfield Index podcast, Andrew Beasley, posted a tweet showing Coutinho's minutes per chance created.
2013/14 PL- Coutinho at home: 31 open play chances @ 1 per 30 mins played. Away: 4 (Four?!) @ 1 per 208 mins. 6x more creative at home! #LFC

— Andrew Beasley (@BassTunedToRed) March 5, 2014
Variables
As with many statistical analyses in football, there are always external factors which mean the statistics alone can't explain everything, which is part of the beauty of this unpredictable game. Compared to sports which have had huge success in the fields of data and analytics, association football is infinitely more free flowing, making analysis more difficult, but at the same time more intriguing, rewarding, and entertaining.
External factors such as weather, stadium atmosphere, pitch size, and surface quality can all affect what happens on the pitch, and where this analysis of Coutinho is concerned there are a few in game factors worth bearing in mind.
Tactical set-ups and systems used by both teams

His position within the system

The quality and form of team-mates

The quality and form of the opposition
If you gain a reputation similar to the one which Liverpool has developed for itself this season, then this will also change the way teams approach games against you, even in their home stadium.
Dribbling and Touch
Dribbling is a stereotypical Brazilian trait, and one which Coutinho occasionally excels in. With a drop of the shoulder here and a mazy run there, he's wowed the Anfield crowd with some impressive displays of trickery, but has he done it away from home?
Coutinho has attempted the third most dribbles in the Liverpool side this season with 86, behind Suarez (168), and Sterling (95). 50 of these came at Anfield, with a good amount shown in the clip above in which he slaloms through half the Hull team! This leaves 36 dribble attempts on his travels, and when you consider the fewer minutes played in away games, it's not really a difference to write home about.
In terms of successful dribbles the percentages average out at around 61% successful at home, and 53% in away games, but perhaps a better metric to look at here would be the amount of times he's dispossessed. This metric records the occasions where the player isn't necessarily looking to beat his man, but still loses the ball.
As the crude chart shows, Coutinho has been dispossessed considerably more in the away games, which is something many fans would guess without having to look at any data.
Shooting
An area of Coutinho's game which still needs improvement, is his shooting. The drag wide from distance has become all too familiar, but Liverpool's number ten does have the ability to be a more consistent in this aspect of the game.
Not enough has been made of the importance of his goal away at Fulham, as his deflected effort gave Liverpool a way back into a game from which they eventually took a vital three points. The confidence to take on the shot despite previous failures was a major part of Liverpool's win, and is something the statistics won't show.
However, if we delve into the numbers anyway, we see more evidence of Coutinho's troubles on the road.
At home he's attempted 48 shots, with just 12 (25%) finding the target, and away he has 27 shots with 9 on target, giving him a slightly higher percentage of shots on target with 33. This might be a harsh judgement as these numbers include blocked shots, but even if you discount these, he still has the lowest shot accuracy of Liverpool's attacking players with just 39% of his shots finding the target. It's an area for improvement, regardless of the venue.
Overall Form
Now for something more subjective! After each game, the match reports in newspapers and on websites will often give players marks out of ten based on their performance. One such website is Kop Left, (conveniently run by me) and below is a simple average out of ten taken from Coutinho's rating in each game this season (apart from Norwich at home which I missed).
As you can see, the subjective ratings align themselves with the statistics previously discussed. Coutinho occasionally gets a mark below six in away games, but is often awarded more than seven at home, and has a high of 8.5 from the recent game against Arsenal at Anfield. The full guide to the player ratings system can be found here.