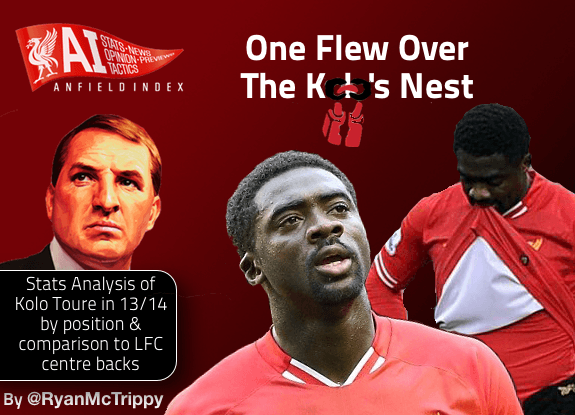 One Flew Over the Kolo's Nest
"No no, no no nono, no no nono, no no nono Toure"
Admittedly, that was poor. But then again, it appears Liverpool's resident Ivorian has been playing in a similar run of form leading many Liverpool fans to sit wincing at their television as Kolo Toure runs  rings around himself, looking as though he is clenching something between his butt-cheeks for ninety minutes a weekend. He radiates nervousness,  uncertainty, and calamity.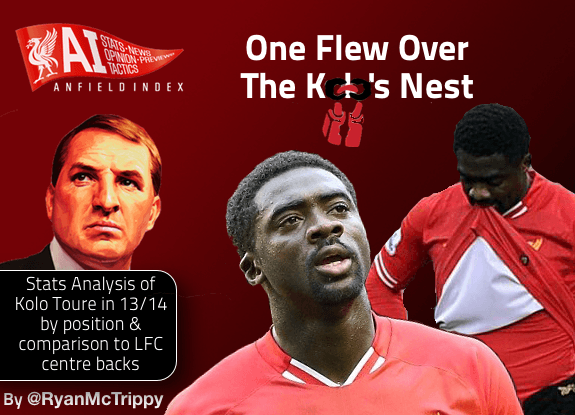 But this was not the Kolo Toure fans had witnessed in his inaugural weeks at Anfield. Having been heralded as the next Gary Mac due to his beaming smile, his interesting running style, and principally his off-field antics; more akin to a 'Fawlty Towers' sketch than the life of a professional footballer.
So where has the milk gone sour on Kolo? Having quashed the devastating peril of Christian Benteke at Villa Park back in August following a fantastic debut versus Stoke City, fans were convinced that Toure was the answer to Liverpool's defensive frailties against physical opponents. But somewhere along the way, beginning with his overactive-groin suffering injury in the League Cup victory over Notts County, Toure's appeal  over fans waned, and his performances fell lifeless.
Since signing on a Bosman free transfer at the beginning of the Summer of 2013, Toure has been deployed in four different positions by Brendan Rodgers in his Liverpool side: as a Right Centre-Back, a Left Centre-Back, a Right-Back, and also on the right side of a back three. Although many believe professional footballers should be able to adapt to whatever given position they are played, many defenders are used to playing in one position throughout their career and become accustomed to the tactical and positional responsibilities of said role. So, has Toure excelled in any particular role, or has there been inconsistencies throughout his time at Liverpool?
Tackling
Being a centre-half in the modern era is sufficiently different than what it was ten years ago. Today, defenders are expected to step out of their position competently on the ball, while also anticipating passes and intercepting balls to break down attacks without making contact with opposing attackers. Yet this is not to dismiss tackling from the game completely, and it is still a key element of a defender's arsenal.
From his five appearances on the right side of a triad of centre-backs, Toure racked up an impressive 100% tackle completion rate, while his poorest ratio of tackles, surprisingly came from his 3 matches in his supposed natural role. However, Toure's ground duel success rate is drastically better than when he played in the other roles, albeit from a reduced number of minutes played. Partnering Martin Skrtel as a left-centre back, Toure has accumulated modest numbers, but on first impression it appears that it is relatively even between playing at RCB in a back four and also as a member of the back three.
Aerial Duels & Clearances
As shown above, the 32 year old boasts incredibly impressive statistics with regards to his clearances from the back, both aerially and along the deck. Yet again it is while playing as a RCB that Toure's numbers drop off, with his 100% record from clearances compromised from his time accompanying Agger, twice, and Martin Skrtel against Hull City at the KC Stadium. The glaring weakness in Toure's game from the above table is his success, or lack of, in aerial battles. Even compared to his main counterparts at Anfield, the numbers show poorly for Toure:
As shown above, Toure and Mamadou Sakho are behind Skrtel and Agger in aerial 50-50s, which may come as a surprise considering the prowess they have in the air while playing. A reason for this may fall to the fact that Kolo and Mamadou are assigned to larger attackers from open play and while defending set-plays, while Skrtel and Agger may have less dominant strikers, considering their struggles against the likes of Romelu Lukaku and Grant Holt (I know, Grant bloody Holt).
Possession 
Brendan Rodgers is attempting to implement a brand of attacking football, laced with possession dominance and ruthless efficiency with the ball. This require every player on the pitch to be technically sound on the ball, while reading the game to press and win it back as quickly as possible. But retaining the ball, and expressing control both mentally and physically are key characteristics to defenders in possession based teams.
Toure's passing statistics are incredibly impressive from his time on the right of a back three, boasting a 97% pass accuracy. This may be explained by the options and shape he had around him at the time. However, the glaring problem from his time in this position is the amount of times he lost possession, a shocking 96 times from just five games. What caused such a rise in this figure? Toure had played in this system briefly under Roberto Mancini in his penultimate season with Manchester City, so he was relatively aware of what is required in this position. Whether he was simply left exposed by his wing back, whether he be Glen Johnson or Jordan Henderson, and both opposing wide players and strikers doubled up on Toure, or he became to complacent in the comfort of two centre-backs beside him, it is a horrid statistic for Toure to hold.
Finally, let us look at Toure's performances broken down into minutes per game.
Again, it is his trio of games in his natural position where the numbers show a differing story for Kolo. His tackling, ground and aerial duels all drop off while in this position, while his brief stints at right back drastically pushes these numbers upwards.
Conclusion
From the statistics gathered, it would appear that Kolo performs less impressively when in the right centre-back position, but watching this live tells a different story. His stints as a left centre-back gives nobody confidence: a bad pass to Victor Anichebe, an own goal against Fulham, and a general recklessness that will cost teams points throughout the season.
Toure's stats from the beginning of the season may tell us one thing however. Daniel Agger is a calming presence to the defending teammates around him, and Toure's casual stats may indicate his less than cavalier play while playing in other positions. Agger brings a soothing presence to the uncertainty Kolo may have developed since his form began to dwindle at the end of his Arsenal career.
Alongside Martin Skrtel, Toure assumes a role that at times does not resemble a footballer, but more of a man plonked into a Premier League football team after being called from the crowd. Almost as if a car salesman ended up with a professional contract.
It is possible that were Toure to resume his role at right centre-back alongside the domineering Frenchman, Mamadou Sakho, or Danish captain Daniel Agger, we would see the Kolo that played impeccably at the start of the season. As a Premier League winning centre-half, it was not what the Anfield faithful expected, but Rodgers probably did not invision himself relying on a 32 year old defender as his defenders spent weeks on injury rehabilitation programmes.
The calming effect Toure was believed to carry has been lost, and a certain Francois has bedeviled the Ivory Coast international. There is still quality in the boots of the African, and his entertainment as a man is not lost on fans. But until we see the confident presence they witnessed in August, Liverpool fans will remain in a state of consternation, their eyes within millimetres of closing at the horrifying sight of Liverpool's defence.