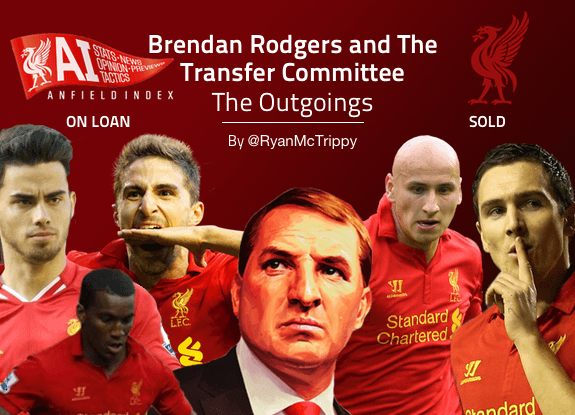 Brendan Rodgers and The Transfer Committee | The Outgoings
Doubters.
Something Brendan Rodgers has had to deal with throughout his brief period as Liverpool manager. Whether it be his credentials, his methods, his transfer signings, his bosses, or his vocabulary, there is nothing that has escaped the manager from ridicule.
With particular regards to transfers, fans have spoken themselves to death in discussing who to sign, how much they are worth, how Ian Ayre will mess it up, what is a transfer committee, and how come we didn't sign a defensive midfielder. Criticism directed at Rodgers signings has also been frequently mentioned, labelling his signings as failures before their respective Liverpool careers have been given a chance to blossom.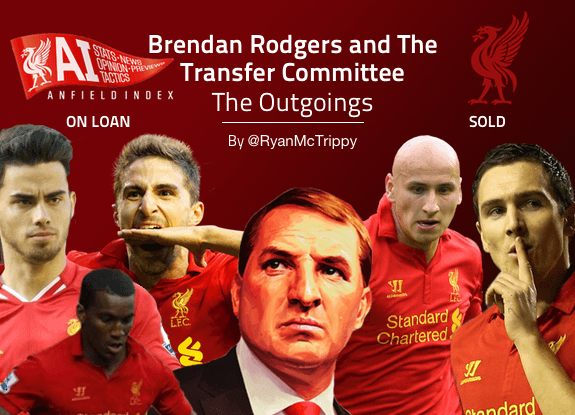 Yet, there is one area of Rodgers' tenure as manager that it is hard to find any faults with, and that is the players he has either sold or loaned out from the club. (Images courtesy of Liverpool Wiki).
Since leaving the South of Wales to assume one of the toughest jobs in England, Rodgers inherited a squad full of mismatches from disastrous tenures, a wage bill of monstrous proportions, and ultimately relying on young, raw talent. One of the key moments of the first transfer window in the Summer of 2012 was the decision to loan out Andy Carroll, leaving Liverpool with only one recognised and experienced striker. Although fans, and staff alike, were under the impression that Clint Dempsey would make a deadline day move to Merseyside, the deal failed to materialise as Spurs managed to sign the Texan in the dying embers of August 31st. Coupled with the loss of Dirk Kuyt, Craig Bellamy and Maxi Rodriguez, three transfers out of Rodgers' control, and Liverpool looked as though they had came out of a transfer window worse for wear.
The signings of Fabio Borini and Joe Allen were met with initial pleasure, thanks to the young Italian's impressive stint at AS Roma, and the diminutive Welsh international's performances for Team GB at the London Olympics. But these deals failed to cover up the outrage at Liverpool's lack of business that summer, as the loan signing Nuri Sahin would be shipped back to Borussia Dortmund on an 18 month loan from his parent club Real Madrid.
However, these four major outgoings have turned out to be good business for Liverpool, as the wages they released to be spent in the future on younger players with potential and desire benefits the club in the long-run (see Daniel Sturridge and Philippe Coutinho for any evidence needed). The deal for Andy Carroll to leave on loan, would ultimately be the correct decision, as seen the following Summer period.
And leads us to the previous two transfer windows. Again, fans have criticised the incoming signings from the Summer of 2013, but inspecting the transfer sales and loans out from the club, it appears Rodgers has again come up trumps. Managing to recoup £15,500,00 on one of the biggest transfer disasters in English football history was an incredible achievement, stemming from Rodgers' decision to loan the Geordie to West Ham for one year to pursue his own football perfection, disregarding the fans' calls for having a plan B. Sales of Jay Spearing and Stewart Downing were also met with acceptance, as the Northern Irish coach sought to improve the quality of his players to compete for the Champions League qualification spots.
What has been questioned of Rodgers is his decision to loan out young players without the option of having too many options at his disposal, and subsequently when injuries ravaged the squad during the late Autumn and Winter period. The other major talking point among fans was the decision to allow the Rafael Benitez veteran Pepe Reina to leave the club on loan to rejoin, in his own words, "the best manager I have worked with".
Andre Wisdom, Suso, and Fabio Borini are young players who contributed to Liverpool's 2012/13 campaign as Rodgers struggled to keep on top of his lack of options in the squad. The decision to loan out these players, along with Oussama Assaidi (one of the most bizarre transfer signings in recent memory) left many fans scratching at their scalp in bewilderment due to the scanty squad, again, at his disposal.
Yet again, all of these transfer have been justified as Brendan Rodgers proves he knows what is best for his team and the football club.
Firstly, the trio of Wisdom, Suso and Borini.
Andre Wisdom was shifted between playing right back and centre-back during his debut season for Liverpool, having made his way through the academy. Joining Championship outfit Derby County in September 2013, it was accepted that Wisdom needed experience away from Liverpool playing weekly in a competitive environment. Having made 23 appearances under Nigel Clough and presently Steve McLaren's team, Wisdom has receive praise from both managers due to his performances.
Fabio Borini has also been a similar case, as an injury laden 2012/13 campaign halted his development and left him desolate of any confidence on the football pitch. While he may not have scored as many goals as we would have wished, Borini has performed impeccably for Sunderland in the "big games". A stunning goal in the Tyne-Wear derby, a penalty against Manchester United in the League Cup semi-final, and most recently the opener at Wembley versus Manchester City, Borini has proven he is adapting and developing in English football and starting to show some of the promise he did for Chelsea and AS Roma.
And finally, the loanee to recently promoted Spanish outfit Almeria, Suso Saez. A player that fans have watched attentively since signing from Cadiz under Rafa Benitez, Suso is clearly an incredibly gifted footballer. His time in Spain has been observed by fans and journalists as his impressive statistics and performances continue to capture the eye, and the imagination, of Liverpool supporters (and keen FIFA 14 gamers).  Two goals and 8 assists in all competitions in Spain, Suso looks set to come off his loan spell away and into the Liverpool match-day squad, even opening a case for a starting position.
However, recent speculation from Spanish media states that the 20 year old may be in talks with Sevilla for a permanent move away from England, even though Suso recently stated himself he wished to sign a new contract with Liverpool.
"I've got a season [left] at Liverpool, but I think it would be best for me if I prolong my contract with them and then have another year at Almeria."
Yet, only one week later the rumours of Suso wishing to sign for the the Southern Spanish outfit began circulating on social media. In fact, Suso has added finite resources to the flaming breakdown among many fans by stating in an interview with Estadio Deportivo:
"Sevilla would be a good place for me… But I know nothing (about their interest). Maybe they have talked to my agent. I have always liked Sevilla because how they live football, their character and their stadium. Furthermore, it is only an hour from my house."
Suso, however, also mentioned that:
"I'm talking to Liverpool regarding a possible renewal. Next year they will probably play in the Champions League and I am thrilled about playing it."
So, from these two quotations we can gather one thing. He is open to offers, but is currently in some form of talks with Liverpool about a new contract. Although there is the possibility of Suso wanting to permanently play in his home country, it appears that he is simply using it as leverage to negotiate a better contract out of his current club.
These three young players are all doing wonderfully at their respective loan clubs, improving their stock and ability to play at the highest level of football. Brendan Rodgers recently spoke of his delight with the loan players, proving he was correct in his decision at the beginning of the season.
"The loans have certainly been beneficial… There are different types of loans for different players. In particular for the young players it's  very important for them to gain that experience."
It would appear that all three players are in the consciousness of Brendan Rodgers as he plans for next season, with the experience they have collected playing a huge part in his final decision as to what the next step of their career will be.
Even if bids are made for any of the loan players, or for the first team itself, and the club accept them it is hard to find evidence to say Rodgers will have made a bad judgement. Of all of the transfers out of the club, only Shelvey may be questioned by fans, but his sporadic performances accompanied by a poor mentality meant Shelvey may never have made it at Liverpool.
While the committee may still be a work in progress, the outgoings of the club have benefited both the manager and the players. Come what may of our loan players, Rodgers will more than likely have made the correct decision.