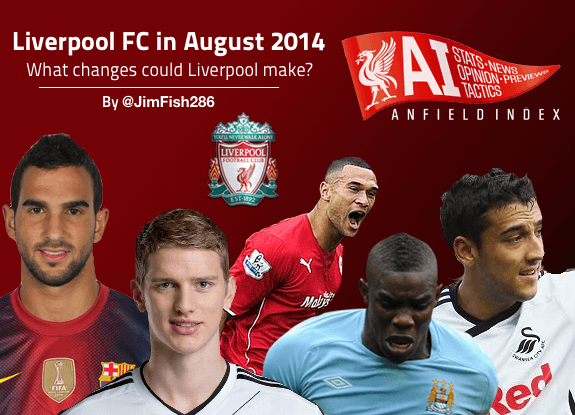 Liverpool FC in August 2014 | What changes could Liverpool make?

Thanks to Brendan Rodgers and his team's work so far this season I am going to suggest that we have already done enough to secure a top 4 spot this season.
We have 10 games left to try and finish as high as we possibly can in the Barclays Premier League.
The Champions League is where this club belongs and with it comes the prestige and the extra funding the club requires to maintain our aim of eventually winning our first Barclays Premier League title.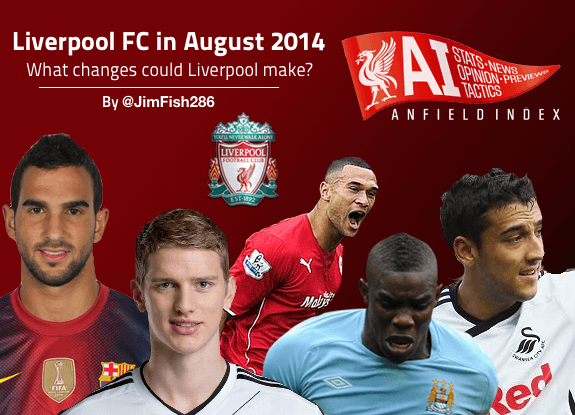 With that in mind and with the extended break until our next fixture, away at Manchester United I thought it would be interesting to see what changes would take place over the Summer months and how we could line up come August 2014.
The changes I will mention are my preferred options and players that have already been mentioned with potential moves to the club. I will also look at the players who should leave the club and again give my opinion why.
Right Back: Martin Montoya
This young man has been linked with Liverpool for a long time now. He is the heir apparent to the Barcelona and Spain Right Back position. Unfortunately for him, Barcelona have a certain Dani Alves in his place and as of yet, they are showing no signs of letting the Brazilian leave the club. Montoya has rejected all offers of a contract extension at Barcelona and as our very own Dave Hendrick said, even if we were to get this lad for 3 seasons before he returned to Barcelona, he would be ideal and then we have Ryan McLaughlin ready and able to step into his shoes
Other options were: Micah Richards and Nathaniel Clyne
Both English defenders were considered but I feel that Richards is no longer physically capable playing as a right back every week, he seems to be breaking down almost as regularly as our own Martin Kelly. Although he looks as though he will be leaving Manchester City this summer, his wages could also prove to be a stumbling point.
As for Clyne, he is a player I like a lot. He should have an England cap or 5 by now. Unfortunately for us, Southampton will more than likely sell Luke Shaw for a large amount this summer and will be under no pressure to sell Clyne aswell. It would take a huge offer from us to even tempt them and i think the money could be spent in other areas.
Left Back: Neil Taylor
Welsh international Taylor is coming back into his best form for Swansea after a long spell out with injury and we were rumoured to be in for him during the January window. He is better than Jose Enrique with and without the ball, has European and International experience and has worked with Brendan Rodgers previously.
Other options were: Luke Shaw and Ashley Cole
Luke Shaw is the dream signing this summer for me. He is an incredible talent and one who could be our left back for the next 10 years and beyond. Unfortunately we are going head to head with Chelsea and Manchester City for him. We cannot win in a bidding war between those teams and Shaw is a confirmed Chelsea fan. My money is on his replacing Ashely Cole for both Chelsea and England.
Ashley Cole is an interesting option. Out of contract in the summer, it seems highly likely that he will leave Stamford Bridge. He may have 1-2 years left in him at the top level and would bring with him a wealth of experience. His sky high wages could scupper and potential deal however.
Right Centre Back: Steven Caulker
I was very surprised Tottenham let him go last summer and I was slightly disappointed that we weren't in for him then. However, his season at Cardiff City has given him the exposure he needed to top flight football and I would expect him to go to the World Cup with England this summer. Playing in a defence that has conceded 50 league goals so far this season, Caulker has, incredibly made zero errors that have led to goals. How I wish we had a right sided centre back like that already at the club.
Other options were: Micah Richards
I personally feel that Richards is now suited to playing as a centre back. The problem is that he has had little or no game time there in recent times. We are looking for a player who can come straight in as a starter and improve the back 4. If there is enough in the kitty to get both then I would happily welcome both to Anfield.
Midfield: Lars Bender
Bender is a German international currently plying his trade under Liverpool legend Sami Hyypia at Bayer Leverkusen. He is known for his tireless work rate and incredible stamina. With those attributes he would be the ideal candidate to patrol just in front of the Liverpool back 4 and in covering for the full backs. Bender can also chip in with the odd goal and has managed 12 goals in 120 games for Leverkusen. Bender is also able to play in a similar role to Joe Allen or Jordan Henderson if Rodgers plans to use Steven Gerrard in the deep lying role as he has this season.
Other options: Javier Mascherano, Yann M'villa and Ivan Rakitic
Mascherano would be yet another dream signing. The very best defensive midfielder I have seen at Anfield, his return would be a very large statement of intent from the club. Unfortunately it is extremely unlikely. Barcelona will not want to sell and Mascherano and his family are very settled in Spain. This signing is only likely to happen on FIFA or Football Manager.
Yann M'villa was linked strongly in January and the French international would be at the top of many people's wish lists. It was a close call between him and Bender but I feel Bender's ability to play further forward and Rodgers' reluctance to sign an out and out defensive midfielder makes Bender the obvious choice for me.
Rakitic is another name that keeps cropping up. Personally I don't see him getting in our team. He can't play as the deepest lying midfield player and I don't see him offering more than Joe Allen, Jordan Henderson, Steven Gerrard or Phillipe Coutinho.
Attack: Yehven Konoplyanka
There should be no other name on the list. This was the man we wanted in January and I have no doubt that the club will be working hard to get the deal completed ready for the Summer. An exceptional talent who can play on either flank. He would be an ideal option to replace Raheem Sterling in the Liverpool starting line up.
That's 5 first team players arriving this summer. I would be reluctant to introduce any more than that. We do not want to be making the same mistake Tottenham have made.
We also have an incredible team spirit and again I would not want to risk upsetting that.
As with every club, when players come in then invariably some have to leave.
That time has come for Pepe Reina, Glen Johnson, Martin Skrtel and Daniel Agger. All are Rafa Benitez signings and all have reached the end of the line.
In Johnson and Reina's case then we may have to accept a low fee in able to get their extremely high wages off the wage bill. As for Agger and Skrtel then this really is the last chance we have to recoup some of the transfer fee's we have laid out on the pair.
This is the team I would like to see start the first game of the season:
With the return of Suso, Fabio Borini, Andre Wisdom and Thiago Ilori then I feel we will have a larger enough squad with enough quality in it to cope with our return to the UEFA Champions League.
Who would be in your team for 2014/15?