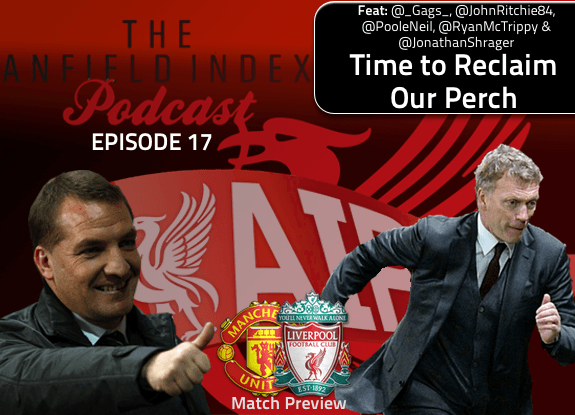 Anfield Index PODCAST | Liverpool FC: Time To Reclaim Our Perch
Episode 17: Time To Reclaim Our Perch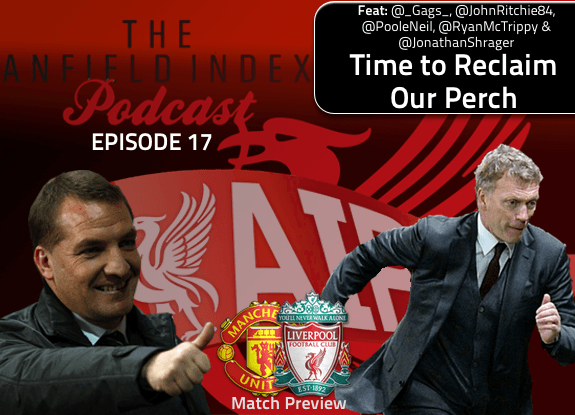 Date: 13th March, 2014
In this episode of The Anfield Index Podcast the team look at Liverpool's potential slip ups from their remaining games, the likelihood of winning the Premier League and Jose Mourinho's antics!
Host John Ritchie, regular analyst Gags Tandon and guests Ryan McTernan and Neil Poole then fire questions at Manchester United fan Jonathan Shrager. They discuss Moyes, United's style of play and their position as they preview the big game on the weekend: Manchester United Vs Liverpool.
There's plenty of banter and a whole lot more on this episode of The Anfield Index Podcast!
Download on iTunes
(Only subscribers will receive new episodes immediately)
Host: John Ritchie
Guests: Gags Tandon, Ryan McTernan & Neil Poole
Opposition: Jonathan Shrager from StrettyNews.com
You can listen to the podcast by using the embedded player or you can use the links beneath it.
Listen to this podcast episode | Download this podcast episode (right click and save)