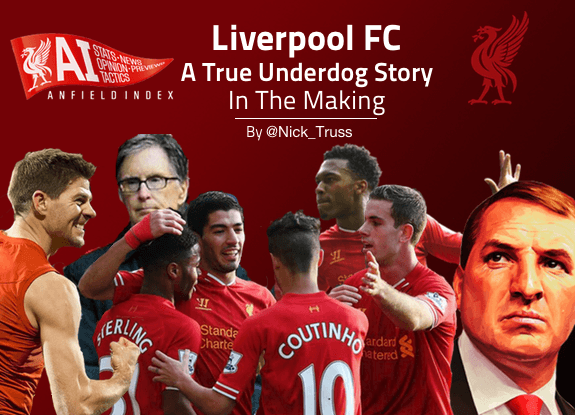 Liverpool – A True Underdog Story (in the making)

It's August 2009 Liverpool travel down to White Hart Lane for the opening game of the Premier League season. Xabi Alonso, Sami Hyypia and Alvaro Arbeloa had all departed Merseyside for pastures new and in came Alberto Aquilani, Glen Johnson and Sotirios Kyrgiakos. Expectation was high after strong previous season with many expecting Liverpool to kick on after narrowly missing out on the title to Manchester United. Liverpool lost the game 2-1, a sign of things to come with the Reds finishing 7th  that year.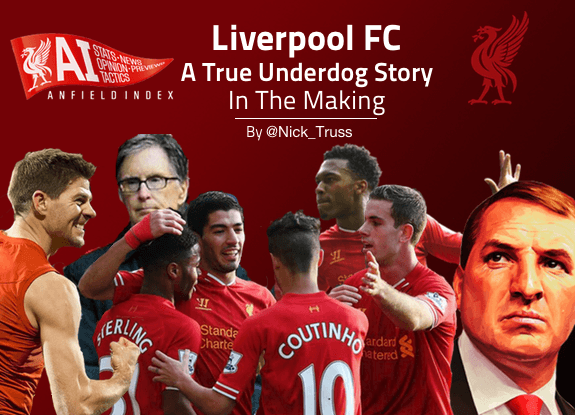 This would be Rafael Benitez' final season as Liverpool boss after 6 years at the helm.
Things did not improve for Liverpool; the beginning of the 2010/2011 season was showered with turmoil both off the pitch, with the ownership Hicks and Gillet, and on the pitch, where fans were left to suffer watching Hodge-ball.
Liverpool Football Club was purchased by Fenway Sports Group in October and a new era began. Roy Hodgson was relieved of his duties in January 2011 which paved the way for the King to return, Liverpool ended the season in 6th place. During Dalglish's 18 months at the helm Liverpool spent well in excess of £100m on transfers, many of which were unsuccessful – most notably the £35m purchase of Andy Carroll from Newcastle. Dalglish's only full season back at Anfield was one of mixed fortunes, winning the Carling Cup and reaching the FA Cup final wasn't enough to save Dalglish's job after an 8th place finish in the league.
Brendan Rodgers was the man trusted to replace the King. This was a decision which, given his lack of experience and empty CV, which did not go down well with the fans devastated by the sacking of a club legend. Liverpool finished the 12/13 season in  7th place with a small section of the fans calling for Rodgers head despite a 9 point improvement on the previous season's tally.
The 2013/2014 season began; Liverpool fans were targeting a top 4 challenge. Although the UK media gave the reds a slim chance with the Guardian writers predicting a 6th placed finished.
Liverpool have performed well above those expectations, sitting top of the Premier League table on Christmas Day and currently unbeaten in 2014. On the 16th of March 2013 Liverpool beat Champions Manchester United at Old Trafford which completed a run of 5 league wins in a row for the first time since the title challenging season of 08/09. A stark difference from the period between December 2011 and December 2012  in which Liverpool failed to string together 2 league wins together.
So why have Liverpool performed well above expectations this season? Below are the 5 "S's" of Liverpool's Successful Campaign so far….
Set Up
Brendan Rodgers has completely revolutionised the way Liverpool play football. His attacking philosophies  are the polar opposite of Hodgson's negative defensive football. Liverpool have scored goals for fun and are the league's top goal scorers with 76 goals from 29 games. The scouting and recruitment systems at Liverpool have also improved under Rodgers; after wasting money on transfers fee's and wages for the likes of Andy Carroll, Stewart Downing and Joe Cole, the signings of Daniel Sturridge, Philippe Coutinho and Simon Mignolet have all improved the squad whilst decreasing the wage bill. Not only has Rodgers purchased better players but he has also managed to get the best out of the players he has at his disposal. Luis Suarez has transformed into a 20-30 goal a season striker showing his true potential as one of the best players in world football. Raheem Sterling has also come a long way from being the new kid on the block to becoming one of Liverpool's top performers since December. Jordan Henderson is another one of Rodgers success stories, after almost being used as a make way in the Clint Dempsey deal he has gone on to become on the first names on the team sheet and a shout for future Liverpool Captain.
Squad
As mentioned above Brendan Rodgers has managed to improve the Liverpool squad whilst cutting the wage budget. Binning players such as the previously mentioned Andy Carroll, Joe Cole and Stewart Downing (Thanks West Ham!) but also selling Charlie Adam, Jay Spearing and Jonjo Shelvey. Replacing them with the likes of Daniel Sturridge, Philippe Coutinho, Joe Allen, and then filling out the squad with a mixture of youth and experience. In have come the likes of Kolo Toure, Mamadou Sakho, Simon Mignolet and hopefully Borini, Alberto and Ilori in the future, Rodgers has strengthened the squad in quality and in depth, although there is still some work to be done.
Not only has the squad improved quality-wise it is also apparent that the team love playing for Liverpool and strive for each other to succeed. One of the most memorable moments so far this season came a White Hart Lane when young Jon Flanagan scored, every Liverpool player was made up for the lad (especially himself)  displaying a sense of togetherness throughout the squad.

Saves
With long serving goalkeeper Pepe Reina's very public quest to sign for Barcelona, Liverpool decided to make the first move and bring in Belgian shot stopper Simon Mignolet. A lot has been said about this decision, more so recently as Pepe Reina claims he was forced out of Liverpool by Brendan Rodgers. He wasn't. Reina wanted Barcelona to come in and they didn't. Reina had been out of form for the previous couple of seasons, granted he wasn't entirely dreadful but he wasn't close to the standard he had set for himself so maybe it was a good time for a change.
As things go it turns out that it was a fantastic time for a change. Simon Mignolet has been fantastic for Liverpool this season. Usually it takes a goalkeeper at least one season to start performing to a high standard at a new club, although Mignolet had Premier League experience following a great season at Sunderland. Mignolet's first big contribution came in his first competitive game for the club, a penalty save against Stoke in the dying moments of the game earned Liverpool a valuable 3 points. Mignolet's standout performance came in the Merseyside Derby at Goodison Park. Yes, he did concede 3 goals but he made a total of 9 saves in the process including several 1 on 1 saves. Mignolet has made 87 saves this season which equals a save every 30 minutes and has kept 9 clean sheets this season, not a bad return from a team which such a terrible defence!
Skipper
Steven Gerrard. Stevie G. The One Club Man. Captain Fantastic has been immense for Liverpool this season. Despite being deployed in a new position which he struggled to deal with at first he is slowly but surely making the deepest midfield position his own. Nobody wants Liverpool to succeed more than that man does, which was summed up by his celebration after scoring a late penalty to beat Fulham 3-2 at Craven Cottage. Steven Gerrard has kept his calm on 8 occasions from the penalty spot this season securing vital points for the reds. Gerrard became the first member of the Liverpool set-up to openly declare Liverpool's title challenge and he will be hoping he can inspire one final push to get his hands on that Premier League trophy.
S A S
So maybe this is 2 S's in one? But the partnership struck up between Suarez and Sturridge has been immense. Luis Suarez has been in a league of his own this season further proving his worth as one of the top 3 players in world football scoring 25 goals in 24 league games so far. Suarez's partner in crime, and 2nd top scorer in the Premier League, Daniel Sturridge has proved all of his doubters wrong this season. The selfish striker who isn't prolific enough to play at a top club lead the Liverpool line at the start of the season during Suarez's absence and scored 8 goals in 9 games. This partnership has scored 43 of Liverpool's 76 league goals this season and is a key reason behind Liverpool's position in the table.
Despite Liverpool's form the pundits refuse to comment on Liverpool's chances of a first league title for 24 years. In the most recent episode of Saturday Night Football with Jamie Redknapp and Gianfranco Zola, Chelsea suffered a memorable defeat to Aston Villa finishing the game with 9 men and manager-less as Jose Mourinho was sent to the stands late on. Following the game was a discussion that Chelsea had handed Manchester City a huge advantage in their pursuit of the title. Not once did they mention a potential push from Liverpool. It is obvious that Manchester City have the upper hand being 6 points off the title with 3 games in hand, do the maths and Manchester City could be 3 points clear if results go their way.
Personally I am perfectly happy for the unlikely underdogs Liverpool Football Club to continue to move under the radar although after Steven Gerrard's proclamation that Liverpool ARE in the title race I'm sure Manchester City and Chelsea will have one eye over their shoulders, waiting for the Reds to come marching up the hill.