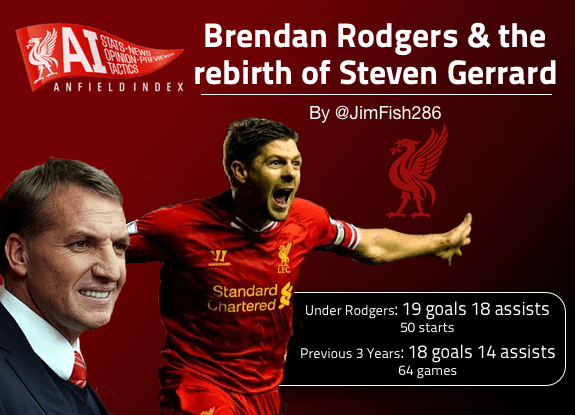 Brendan Rodgers and the rebirth of Steven Gerrard
At a time where many of us are patting ourselves on the back and saying, "I told you Brendan Rodgers was the man for us" and watching in admiration at how he is helping return us to our perch, I feel it is only right that I hold my hands up and admit to an area of his management that I didn't agree with and one I have spoken about on numerous previous occasions.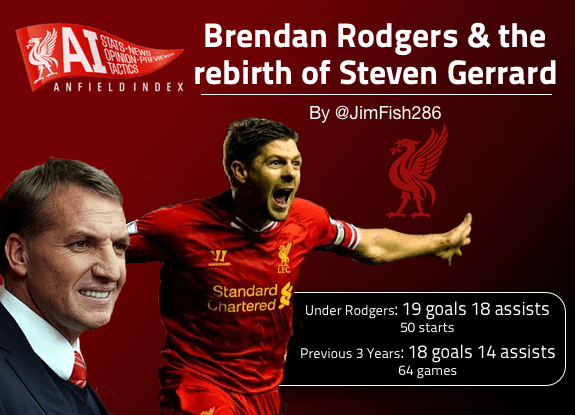 That area is shaped like the Liverpool captain and legend Steven Gerrard.
In one of my very first articles I asked if it was time for Captain Fantastic to hang up his cape?? In hindsight, it's amazing I have been allowed to write another word on Liverpool.
The fact is however, I was wrong.
In my defence, like many others I could see how our team wasn't quite functioning correctly, I could see that a midfield of Steven Gerrard and Lucas Leiva was holding us back and I wanted everyone to know what I could see.
In fact, if I'd have been given the chance, I would have told Brendan himself what I thought.
However, this appears to have been Brendan's plan all along.
I haven't had the privilege of reading Brendan Rodger's 132 page dossier that he presented during his interview for the Liverpool's manager job way back in the Summer of 2012.
However, I am fairly certain that it would have not only laid out his love of working with young British players and selected younger players from the continent, it would have contained a plan for Steven Gerrard.
Rodgers would have emphasised how important Steven Gerrard was to him and his future plans and in all probability he would have allayed any fears FSG may have had over his ability to manage big-name players.
Rodgers knows his team needs experience within the group.
If you look at his Swansea team in their first season in the Barclays Premier League, arguably their stand out player for the first 6 months was a journey man pro named Mark Gower.
Gower had played for Swansea for since 2008 and was predominantly a wide player. When Rodgers took over he moved Gower into a more central role and along with our own Joe Allen and Leon Britton they helped Swansea to promotion to the Barclays Premier League.
Now Gower had never played in the Premier League prior to the 2011-12 season but as I have said, he was a key man for Swansea for the first half of that year until he was replaced by Gylfi Sigurrdson.
Gower had racked up 5 goal assists and created 6 clear cut chances during that period of time. Not bad for a player in a team that was supposed to struggle.
Especially when you compare it to Gerrard's performance this season so far, Gerrard has the 9 assists and has created 7 clear cut chances along with his 10 goals.
There are very few other similarities between Mark Gower and Steven Gerrard but the point is, if Rodgers is going to use an older, more experienced player, then he knows how to get the best out of them.
He has surrounded Gerrard with strong, physically able and tactically able players.
He has Joe Allen, Jordan Henderson, Phillipe Coutinho and Raheem Sterling to all do his running for him now.
Not only that, but Gerrard has himself grown tactically and now looks more than comfortable in the deep lying playmaker role. That says huge amounts about not only Gerrard and his thirst to still improve as a footballer but also Rodgers and his eye for something in every player.
In fact, Gerrard had this to say about Rodgers after Sunday's impressive 3-0 victory over Manchester United at Old Trafford
"I have been absolutely blown away by his sessions, his tactics and his maturity in the job and I am learning off him every single day."
That's quite the compliment, especially when you consider Rodgers has asked Gerrard to totally change the way he plays. He has worked every day on the training ground to stop Gerrard looking for the Hollywood ball he is so fond of.
He has worked with him to make sure he limits his surges forward, to have the faith in his team mates, to stop him wanting to take on the opposition on his own.
A lot of players would feel shackled or rebel against a manager trying to stop them playing their natural game. Not Steven Gerrard, he has embraced the challenge of re-modelling himself.
Of being re-born under Brendan Rodgers.