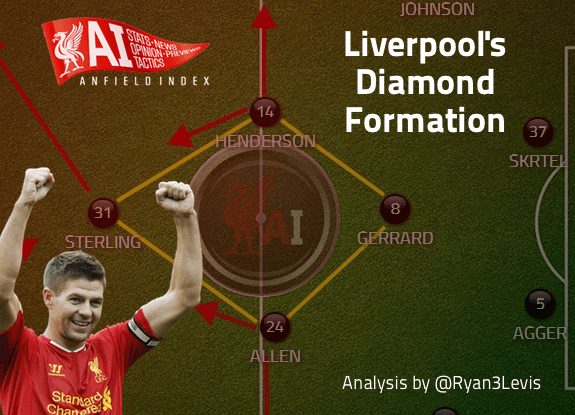 Liverpool FC's Diamond Formation: An Analysis
How very interesting it was to sit down and watch Manchester United in Champions League action against Olympiacos, putting in a much better performance than that of three days previously against Liverpool (you know, the one in which we won 3-0? Remember that? Vaguely?).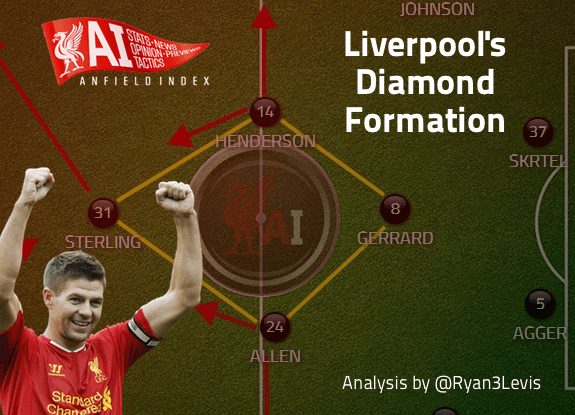 After their midfielders got bypassed and played through by Liverpool, they unearthed from the midst of nowhere, a 'diamond' system for the Olympiacos game which they reaped the rewards from with a much more fluid and controlled display. It was a masterstroke from David Moyes, a tactical message that surely could have only come from a divine power, for the Chosen One's eyes and ears only.

Yet it wasn't  a rare spark of genius from the mind of David Moyes that instantly improved his midfield's performance. It was in fact, a lesson well learned that came from spending 90 minutes on Sunday watching Liverpool's midfield dominate and eradicate Marouane Fellaini and Michael Carrick.
Three days after getting soundly beaten by Liverpool, David Moyes adopted Brendan Rodgers' tactics and installed them into his own set-up for Olympiacos. Could Brendan Rodgers and Liverpool get a bigger compliment then that? Their fiercest of rivals borrowing their tactics to negotiate their way through the Champions League?
I could only imagine Brendan Rodgers sitting smugly watching Sky Sports News as Moyes gets praised for 'turning the corner' for the 146th time this season, knowing that it was his own tactical intuition that saved Moyes his job for the rest of this season… thankfully.
However as Moyes will probably use this blueprint in every game, you will be hard pushed to second guess what kind of set-up Brendan Rodgers is going to implement in Liverpool's next games. We have seen 4-3-3, 4-2-2-2, 3-5-2, 4-1-3-2 and 4-3-1-2 throughout this season, all to their own degree of success. A lot of these changes to the system have been down to coping with injuries and Suarez's suspension but it just goes to show the progressive nature of Rodgers and how he is bursting at the seams with ideas to get the best results for Liverpool.
After last season where it was comical to some to deride  Rodgers and his philosophical way of talking about football and looking at tactics, in 2013/14 we have been left in no doubt that there's substance to this man's guff. For it's not guff at all is it? It's the ramblings of an emerging tactical wizard who is proving he is the best man possible for this job. Get that man a new contract. Get that man a song.
To illustrate to you the cuteness of Brendan Rodgers this season, I've decided to look at a slight tweak the manager made to his teams for Southampton and Manchester United that made all the difference in Liverpool getting 6 points from those two games.
For a moment, lets pause and appreciate what a fantastic achievement that was. Last year we were comprehensively seen off in the first half away to Manchester United and inevitably beaten 2-1, and our 3-1 defeat at St. Mary's was probably the stand-out game from last season where Liverpool were outplayed from start to finish.
To predict 2-4 points from those games would have been the general consensus. Yet to get the maximum points in the form of two 3-0 victories highlights the credentials of this team and this manager to defy what we believed was Liverpool's level and keep us dreaming and believing.
So how did Brendan pull it off? Well, the most important position for me to look at is 'attacking midfield' and how Rodgers changed its personnel to great success for both games.
Under the system Rodgers implemented for these games, this position was located at the top of the diamond, slightly deeper than what you'd expect from a number 10 as Liverpool played with two strikers. So in effect, Rodgers broke down the roles of a centre midfielder into it's four principles and designated one of each to his 4 chosen players:
To anchor the midfield
To support the forwards
To cover the left wing
To cover the right wing
So for example against Southampton, Rodgers gave the holding role to Gerrard who could sit a bit deeper and was given more protection as he had Allen and Henderson alongside him. Henderson took up the role of slightly right of the diamond while Allen was on the left; both expected to do all the pressing and covering of their closest wings. Ahead of them in the forward supporting role was Coutinho.
This change of system was in response to the 4-3 victory over Swansea where the 4-2-4 formation deployed struggled to keep control of the game and left the back-line terribly exposed. Rodgers realised this wasn't the way forward for their following 11 games and created this diamond formation best suited to his team. You don't need to clutter our attack when Suarez and Sturridge cover every inch of grass so effectively in the attacking third. And we all know that the more freedom on the wing you give to Johnson, the better he becomes. All in all, the diamond formation was a wonderfully thought-out change in direction from Rodgers that has kept Liverpool on the right road to glory.
Southampton, as a team, are all about ball retention and they play football in between the lines – in other words, their centre backs step up, they play with a defensive midfielder in Schneiderlin and the likes of Lallana float around up top.
Therefore Liverpool were going to be doing a lot of pressing in their own half and needed to make maximum use of the ball when in possession. With Coutinho as the attacking midfielder, he may not have the pace to take the ball out of the danger area but what he did successfully was constantly find Sturridge or Suarez on the break, or build patiently with either Allen or Henderson. From this foundation, Liverpool eventually wore Southampton down, and picked them off efficiently and swiftly.
Then against Manchester United, Rodgers swapped Coutinho for Sterling at the tip of the diamond. A lot of us looked on slightly confused when seeing Sterling so central yet as the game at Old Trafford kicked off,  it quickly became clear as to why Rodgers had made the change.
United's defence sits much deeper than Southampton's and they also play without a holding midfielder. Liverpool did not need the unlocking abilities of Coutinho as much as they needed someone with pace to drive on with possession in the gaping area between United's defence and midfield.
Sterling, in a role he had never occupied before, was extremely professional and successful. He would carry the ball out of midfield, give it to Suarez who had dropped off, then take up his natural position on the right wing for the attack. When the move would break down, he'd make it back to his central role as quickly as possible.
It was a masterstroke from Rodgers and one that Moyes or no one for that matter could have foreseen. 12 months previously, Sterling was written off as not clever enough for a Rodgers team. Yet the manager portrayed to the world just how good his coaching is by entrusting Sterling with a mindfully difficult role in Liverpool's traditional hardest game of the season, and come away as a 3-0 winner.
So as we gear up for the most exciting and unexpected run-in to this season, every manager will fear Liverpool not just because they have the deadliest strike partnership in the league, but because they will not know what tactical bomb Brendan Rodgers is going to drop when their team turn up to face Liverpool.
Therefore expect many more explosions between now and May, from this, the most exciting team in English football and their diamond manager.