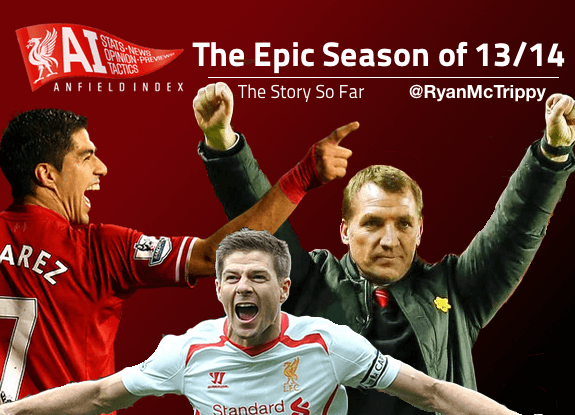 The Epic Season of 13/14 | The Story So Far for Liverpool FC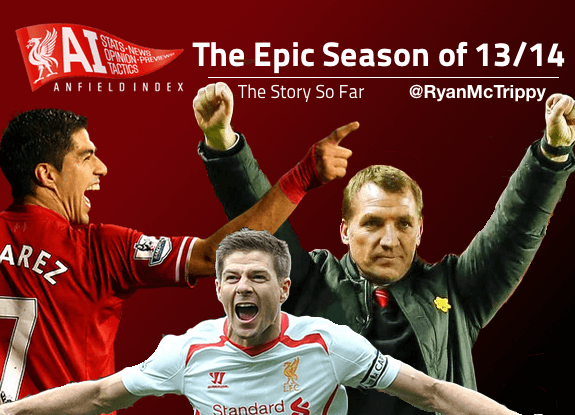 "Can't believe this; same old story again.",
Cried from the crowd before Jon Walter's pen,
"He's goin' to score, this season is shit,
'Look at the bald Evertonian tit."
"Come on Simon, let us see what you're worth!
'Prove to us Reds that you're made for the shirt,"
The crowd became tense, and the scene was set,
Arses in ribbons, heads beaded with sweat.
'DID THAT JUST HAPPEN? OH NO, A REBOUND!
He spread himself big and stayed on the ground,
The team ran over, they hugged and they screamed,
They cleared the corner and our faces beamed.
Games rolled on,and the anti-hero was back,
Trying to get his career back on track,
It didn't take long, as goals soon went in,
With teams and John Ruddy left in the bin.
December came, did our eyes deceive us?!
Top of the league, have a Merry Christmas,
Alas it was short, thanks to Manchester City,
Followed by blues of losing to Chelsea.
"Here we go now, we'll get some new players,
Shut up the Mancs and all those naysayers.
We'll get a new midfield and we'll really push on,
Show us the Dunkin' Donuts money, John!"
"It's almost eleven, we're losing time,
Just one signing please, and then we'll be fine.
A winger? How will that help the defence?
Sod it, he'll do." We waited in suspense.
The news came through, had the Gulag won?
"What's happened, tell us please,  has it been done?
What do you mean, no Konoplyanka?!,
Ian Ayre; IT'S YOUR FAULT, YOU INEPT…nitwit…"
"This can't be real, we'll never get fourth place!
Looks like we'll be left with egg on our face,"
Thanks to the coach, and the stars of the show,
How this is happening, we'll never know.
The season began with shock and with glee,
Rodgers' team on a goal scoring spree,
Laced with our doubts, and the questions were asked,
'Where is the DM?'…'Past teams we will blast.'
"It cannot be done, that doesn't make sense,
You're trolling us all with our shit defence?"
"Respond how you like, I know it'll work,"
Said with a wink and a glint in his smirk.
Put five past Arsenal, Tottenham too,
Left Everton for four; shocked me and you,
Flanno got excited, shown in his pants,
And how we've all loved seeing Sturridge dance.
The captain knows it, and so do the fans,
It's on, or is it? It's all in our hands.
We are Liverpool, tra la la la la,
Hasn't been like this since under Rafa.
And if the impossible comes to pass,
Eleventh of May, on the Anfield grass,
A team of heroes, but one is the star,
Destiny fulfilled for Steven Gerrard.
Unbeaten this year, the title? We'll see!
Is it so hard to believe what may be?
'In nine games time', do we so dare to dream?
Is this really it; the year of nineteen?