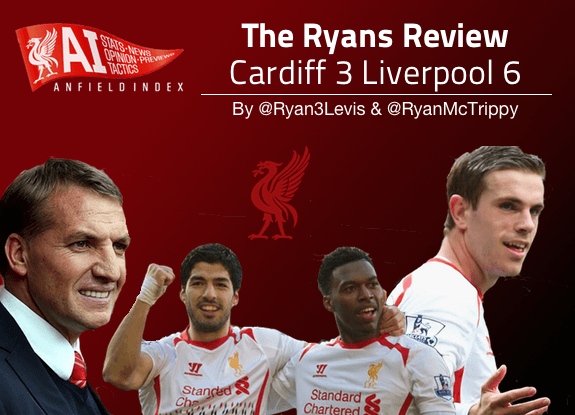 The Ryan Review | Cardiff 3 Liverpool 6 - Reaction, MoTM, SAS Watch
Anfield Index's resident Ryans share their thoughts on the weekend's game against relegation fighters, Cardiff City. Levis and McTernan come together for the 'Ryan Review'.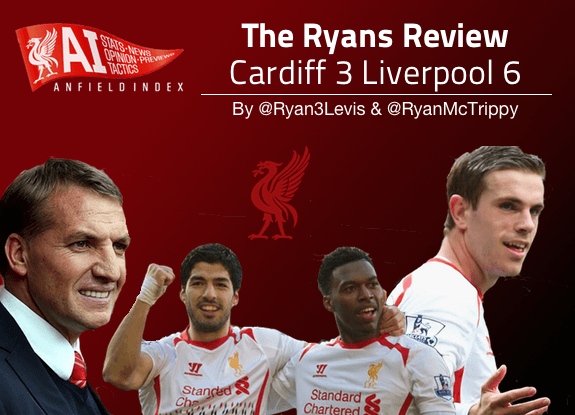 Initial Reaction
Ryan Levis: *Takes in a deep breath after the lunacy I've just seen* So Ryan mate, initial thoughts after that barmy 90 minutes of football?

Ryan McTernan: Well, Ryan, that was brutal and beautiful all at once. Watching the first half was really deflating in some ways, it felt as though we were going to be out-thought by a glorified super-sub, but then again Brendan knew what he was doing… Maybe.
RL: Brutal and beautiful it sure was! Hard to get your head around a game like that. We just don't care half the time, we just say 'sure fuck it' and go for the juggler every time! It's coordinated madness! Even when Cardiff were on top and deservedly ahead, you just knew once we found our feet in their half, we'd cut them open… and we did… all the time. Defending is just not in our repertoire at the moment and our attitude seems to be that we'll just compromise by going even more 'all-out' up top. Will it bite us in the backside later on this season? It should, but then you look at what we have up top and you realise it may not actually matter…
RMC: Y'know what, the only team that can genuinely stop the two maestros up front is Chelsea. I can't see how any team will stop us from banging them in. I mean City are dodgy at the back, particularly with Demichelis, the Spurs game is going to be madness I'd say, literal madness! Two coaches… Well, one coach and one very sad South Londoner who both try and attack as much as possible. we'll outscore them, but they could score five or something and we'd have to score eleven. Basically, if Carra is in the studio as a pundit he will combust at the lack of defending! Nobody can stop us, only ourselves… Bar Mourinho.
RL: I think that says it all mate. This is our 'initial reaction' and it's all about looking ahead at the big games on the horizon and what is possible from them. This is where we are at right now: Not too caught up on the glaring flaws that appeared in the 6-3 result, but what the win means with 8 games to go. The Spurs game is going to be ridiculous, put your house on another 6-3-like result that day. City are probably the only other team that could match us 6 goals for 6! And as you said, Mourinho is a cute whore, he'll have a game plan to nullify our top two. But right now, unbeaten in 2014 and 6 wins on the bounce, over-analysing can be put on hold and the future can wait, this is a moment to enjoy!
Moment of the Match
RMC: Okay so onto our own personal moment of the match. Now I don't know about you, Ryan, but there are probably many definitions of what constitutes as a moment. But for me the best incident of that match had to be the sight of Mamadou Sakho making his return from injury after week-in-week-out hearing he was nearly there, when in fact he was further from playing than Charlie Adam was all the times he was set for his medical.
RL: As you said, there are many different definitions for what a moment actually represents in this game and for me it's the period of time just before the first goal. After what was a rocky opening 10 minutes in which we went down 1-0, I was sitting there just thinking to myself "if we just relax, compose ourselves, knock it about for a bit, we'll open them up easily''. Too many times over the past 3 or 4 years we've gotten too jittery in moments like that and thrown it all away. So it was bloody fantastic to watch the lads settle it down, get their passing going and bide their time before inevitably cutting through Cardiff. It was an important sign of maturity for me and a moment that illustrates how confident this team is right now.
Man of the Match
RL: Right then, who's the Ryans' Man of the Match? Well this Ryan is going to go for Martin Skrtel. In a game where the defence was being exposed at a ridiculous level, in fairness to Skrtel, he for me was the only one with a bit of composure about him (Johnson not far behind him to be fair). But mainly, I feel it's time to appreciate his goalscoring prowess at the moment. He has definitely taken over the Sami Hyypia role as far as scoring from set-pieces goes for us! And that is a huge bonus and a relief to our SAS up front that we now actually have a chance when a ball is swung into the box. Today, we needed that relief and Skrtel provided it. He may not be the most accomplished of defenders, but today was one of his better days and his effect in the opposition half was vital today to our win. My MOTM.
RMC: Well this Ryan is on the verge of a brain aneurysm at seeing Hyypia and Skrtel in the same sentence!! To be fair though, Mr. Levis, you are spot on. We haven't had a goal scoring centre back, and Martin loves to put them in both nets. It is hard to fault Skrtel today, he followed up a great performance versus Manchester United last Sunday with another solid runout. I personally have to hand the award to the man at the other end of the pitch, Luis Suarez. 28 goals and 11 assists in 25 appearances speaks for itself. That is as good as practically two goals created or scored in every game. Phenomenal.
RL: Yeah it really is phenomenal! It nearly gets to the point that if Suarez doesn't do something truly out of this world, handing the Man of the Match award to him nearly seems too easy! I mean, he scored a hat-trick today and that is still mild by his standards!
RMC: I think I'd pay good money to watch Luis Suarez just run at Skrtel and Toure for 90 minutes. I can't even imagine the comedy that would become of that, and it's not knocking the two centre-backs (well, a tiny bit) but I could honestly name every centre-back pairing in the league and he'd make a show of them, and he has done so this year.
RL: Think you might have just discovered the problem to our defensive problems mate, Suarez has them looking like arses in training, their confidence is shattered come matchday!
RMC: We could concede 8 goals in a game (no, seriously, we could) and the entire defensive unit could say "It's been worse, he scored ten yesterday." *Cheeky Luis grin*
RL: Haha!
Thoughts on Cardiff:
RMC: One thing that I'd imagine left a number of fans scratching their chin over was the fact Cardiff lined up with three centre backs today. It was brave, and credit to Ole Gunnar Solskjaer it worked for the opening 45 minutes. I assume he has watched our midfield diamond the last two occasions and lined up with what would be a traditional counter to the system with a 3-5-2. It was one that Kenny implemented against Chelsea in 2010/11 at Stamford Bridge when Fernando Torres made his debut, as the three centre backs match up against the three in front of them: two centre-backs marking the two centre-forwards, with a roaming destroyer covering them in behind, or stepping in and cutting off the number 10. It was bold, and coincided with his claims that we are a counter-attacking team, which we will move onto later. All in all, I commended the approach, but even if you want to line out with 5 defenders against our front two… All the best.
RL: Yeah I agree, to be fair to Solskjaer, he had a plan today to counter Liverpool which was more than what Moyes could say after last weekend. As you said, he'd the 3 centre-back's to counter Suarez and Sturridge and played everyone else in between the lines. This certainly caused us problems on the defensive front, which makes you slightly worried when you think what Hazard and Silva could do in those spaces. But that's another day's worry. Cardiff were plucky but in the end, they just had no quality at all to stem the tide or hold onto their lead. At no stage – despite leading twice – did they seem capable of controlling the game even for 5,10 minutes. They were up for it today because it was Liverpool they were facing but the signs for me are saying they are a team fit for the drop.
SAS Watch
RL: Who needs a defence when you have Luis and Daniel eh mate? I always find when I watch these two play that they get frustrated with each other about every little thing that doesn't go their way and it's because of this reluctance to be content with what they get during a game is what drives them on. The backheel from Sturridge to Suarez was just mesmerising and I truly believe Sturridge just had the instinctive knowledge to know that Suarez was going to be there. Another point I'd like to make about these two is how when one goes on a slight drought (and I mean 'slight'), the other has always been there to pick up the pieces. We wouldn't be where we are without both of them. The day they both get a hat-trick during the same game is just around the corner…
RMC: Y'know what, Ryan, I had the same thought. That's the beauty of this attack we have at the moment; if one gets injured or drops off (as much as these lads can drop off performance wise), the other steps up again. It's something I've never experienced as a fan having two world class forwards, because we know what Suarez can do and the level he is at, but Daniel isn't far behind. If he can stay relatively injury free next season, I think all of Europe will be salivating and soiling their pants watching Sturridge emerge as one the best pure number 9s on the continent.
RL: Yeah that's the thing a lot of us haven't quite got our heads around yet: we have TWO world class strikers! Suarez is such a diamond and attains all the attention that Sturridge is sometimes seen as the secondary player (we're talking here 'secondary' at the highest order). There should be no doubt that we've stumbled upon a strikeforce that can do serious damage in Europe next year.
RMC: At some stage I think we'll need a song for Daniel, because it is truly bugging me that he is yet to have one. Songs on a postcard please!
Captain's Logbook
RMC: Oh Stevie, our captain. He's been brilliant since February, and as someone who never believed he would discipline himself into the role as a controlling defensive midfielder, he has proven us, well, me, wrong. Today may not have been his best performance of the last three away games, but I'd imagine a ridiculous yellow card for his first tackle held him back from really throwing himself about in the game. His passing was crisp, and he hit one particular long pass to Jon Flanagan in the first half that undoubtedly brought a tear to Xabi's eye. All in all, a solid performance from the man dragging his team towards the ultimate prize.
RL: That yellow card annoyed me. It was a definite foul but I thought Neil Swarbrick was a bit trigger-happy with producing the card! The game was 2 minutes old!! However despite that, it was a quiet afternoon from the skipper, probably as you alluded to, down to his booking. He has definitely proven he is capable of playing in this new holding role but I still think he needs help there and he didn't get that today. I find when he's isolated with a number 10 he becomes a bit lost. So thinking like this, I'd be worried for the City and Chelsea game. HOWEVER, what keeps me sane about those games is thinking back to the Arsenal game. They were a team that should have ripped Stevie a new one but Rodgers got the team around him and we were compact. Therefore Gerrard could do his thing with all the help he needed. Today, when isolated defensively, it was a different story. Thankfully, Cardiff didn't have the power to fully punish. So a solid afternoon but there'll definitely be better days ahead for him than what he produced today.
The Flannackle Award
RL: Suppose we better explain what this special award is all about? So basically, we want to acknowledge during a match, the moment when a Liverpool player shows raw, gutsy, ballsy, passion! Preferably in the form of a crunching tackle that is just shrugged off Flanno style…. So for today, in my opinion, we unfortunately hadn't too many moments to call upon mainly because Flanagan had his worst performance of the season! So I'm going to hand the award to Luis Suarez for his little spat with Medel. No idea what they said to each other, but Suarez was never going to take any shit off anyone. Whether he was right or wrong in the argument I don't know and I don't care, it's just nice to see someone stand up for themselves and our team when we're currently fighting for people's dreams.
RMC: Ryan, I can't help but agree that Suarez's spat with Medel takes it this week. Medel is a nasty piece of work, which I absolutely love and would be having the pitbull in our squad next year should Cardiff go down. However, I might just have to break the rules a little bit, mate…
RL: Break the rules?
RMC: Break the rules I hear you say?! HAHA I do what I like!! No, in all honesty, as this is the inaugural Flannackle award, I have to give it to Flanno for absolutely mangling Januzaj, Mata and Rafael last week. He destroyed them, and that's why this award is here right now. I don't think I've ever laughed as hard when Flanno jumped in repeatedly at any player that came near him, stood up and sucked in his chin as if to say "YER WHA?! ER WASN' ME?!". Beautiful.
RL: Hmmmm. Think I vaguely remember this game you are on about? Didn't we win 3-0 or something? In Old Trafford?
RMC: I don't remember too many mid table opposition games, unfortunately… Are they the ones that Oasis like? Meh, irrelevant.
RL: Irrelevant they most definitely are…
Impressive stat:
RMC: Alrighty, since this is a statistical based website, we have got to throw in our favourite stat of the game. For me, it has to be the fact that we had 66.6% of the ball compared to Cardiff's 33.4%. I believe at one stage those numbers peaked at 75%-25% during the second half. Astonishing stats considering Solskjaer considers us a "counterattacking" team. Today we dispelled that myth, and invented our own brand of football:
Counter-aTikiTaka.
I'll leave you with that one, guys and gals…
RL: Counter-aTikiTaka… Clutching at straws there anyway mate…. Anyway, I'm going to be a bit of a party pooper here and look at something slightly negative.There's a stat called 'Final Third Entries' which analyses how many times a player enters the most attacking areas of the pitch from midfield. Steven Gerrard tops the chart from today's game with 20 entries, which is remarkable given how deep he was. Johnson is next with 14 and Little Phil is 3rd with 12 entries.
However my attention here is on the midfield as that's the group who should be topping these numbers. Henderson brings in a return of 9 entries which isn't too bad. It's Joe Allen though who has a measly 2 entries into the final third that catches my eye. That for me epitomised where he was mentally today: not a great afternoon and had very little effect. He's been excellent since coming back into the team but it's days like this when he becomes a bit anonymous that he needs to get out of his game. It just stains his obvious talent and worth when he can't find something from deep to pull himself out of the doldrums.
RMC: In defense of my Counter-aTikiTaka comment… Well, I simply don't have one.
RL: A bit like Ole after he was asked could Liverpool win the title…. *ba dum dum tsssh*
RMC: Haha! For those of you wondering what Mr. Levis is referring to… Watch this.
The Heart In Your Mouth Award:
RL: This award is basically for that moment during a game where you excrete bricks….. And for me, although I didn't get too close to actual bowel movements today, the two free-kicks Cardiff had with the score 5-3 and 5 minutes left on the clock had me worried for a second…. This is us we're talking about, can you seriously say 5-5 is an impossible scoreline?!
RMC: *Nods in agreement*
The Clay Davis Moment:
RMC: So, for those of you yet to watch The Wire, Clay Davis is a character with a particular catchphrase (if you can call it that), so to quickly familiarise yourself with it, you can watch this very short clip.
So now, instead of saying "tekkers" or some other overused Soccer AM term, when you see something obscenely good watching football you can go "SHEEEEEEEEEIT". Because that is a Clay Davis moment.
So this week, I think Ryan and I are pretty unanimous on this, but the Clay Davis award simply has to go to the entire team for the first goal. Particularly Henderson and Suarez, with Johnson sandwiched in between, but it was one of the best team goals we have scored in recent memory. Truly Barca-esque. Ryan, what do you think mate? Any other Clay Davis moments for you?
RL: Nope, I agree completely. Particularly Hendo for that defence-splitting pass to Johnson, Clay Davis would have been all over that! Only other thing I'd like to throw in here, is how Sakho bares a striking resemblance to Omar….
RMC: Sakho has actually gotten bigger since his injury… SHEEEEEEEEEEEEIT!
Looking towards Sunderland:
RL: Sunderland. At home. After 3 difficult away games. We should have them put to the sword after half an hour. We're too far gone as a team right now to be even slightly worried of slipping up. An efficient job is what I expect and the usual 5-5,000 goals scored…
RMC: Mid-week game with a big atmosphere, three points are vital and fully expected. Plus, Sunderland will be without their key man… Fabio Borini. Poor souls. Expect about 72 goals and a Martin Skrtel over head kick from his own box past Ustari, the Slovak is defying all the odds!
RL: A mid-week game with a big atmosphere? Preparation for next season has started early so it seems…
Sum up your feelings right now in one word?:
RMC: Dreaming.
RL: Believing…. Thanks for the chat Ryan mate. Went as smooth as poetry in motion.
RMC: And to you, Ryan. Tra la laa la laa.