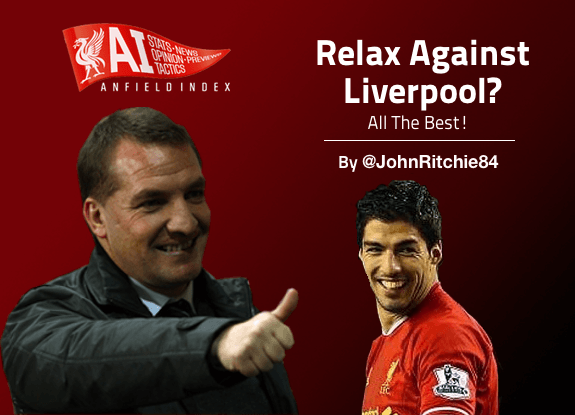 Relax against Liverpool? All the best!

'Relax!'
'Guys, RELAX!' screamed Ole Gunner Solskjaer as his team lead Liverpool 2-1. The Cardiff manager was visibly distressed at seeing his defence crumble with a mazy run into the box by Daniel Sturridge. The move eventually breaking down, the fear, however, remained.
'Relax' he pleaded, 'Relax'. Alas it was too late. For the Cardiff players had already fallen under the spell of Liverpool's attacking threat. In reality Cardiff had beaten themselves before they crossed the line.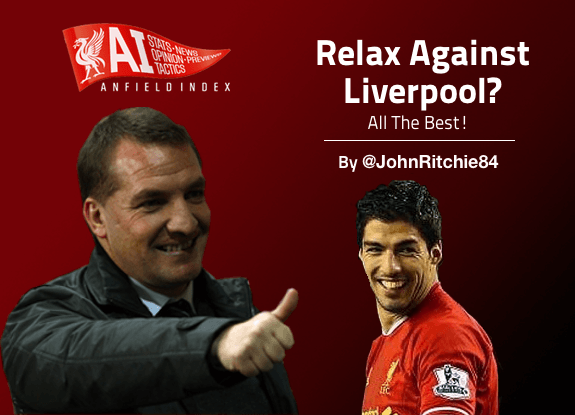 There's not a single defensive unit in the premiership that doesn't have nightmare's about Liverpool's attacking options. Who do they mark? Should they chase the runner on the overlap? In reality, even the analysts and managers have no idea.
Some  defenders must surely now lay in bed at night just scarred by what's happened in weeks gone by. The experience still to traumatic, the test invariably failed in spectacular fashion.
Whilst the Red's have been culpable for some kamikaze defending this season, it matters little for now; anything they can do, we can do better profess Rodgers men. You score one, we'll score three, four, five or maybe even six.
High lines, deep defences, three at the back? Managers have tried and so often failed to cope with Liverpool this season. When a player like Suarez can have nine shots, five on target and three goals in just one game you're already at a disadvantage.
Add to that Daniel Sturridge, a player proving all the doubters wrong. A man who asked Rodgers to work the magic of his kaleidoscope in order to turn around what looked to be a career that had stalled.
The same kaleidoscope that's created a new position in football, it's neither Steven Gerrard the DM or Steven Gerrard the holding midfielder. It's just Steven Gerrard playing the way only Steven Gerrard could. A man enabled to do so by two baiting dogs willing to pounce on any loose ball, or break in behind the lines.
Then there's the small matter of Coutinho who's subtle class off the ball, as well as his endeavours on it mean there's space even when there's not. As exhilarating as his skill, flare and passion is the moment in which one pass can change a game. A player who creates clear cut chances for fun but who's learning with every game.
So as Solskjaer cried 'Relax' the Cardiff players only saw a vision of hell awaiting them. Liverpool didn't even need to move out of second gear. Cardiff were beaten and they didn't even know it. They just couldn't deal with the fear.
When Rodgers first talked about death by football, nobody dreamed he meant the relentless slaying of one side to the next. Liverpool haven't just beaten teams this season, they've destroyed them; never knowing when to stop. Even at 5-2 the team wasn't happy. They pressed until the final moment when Suarez sealed his third Hatrick of the season.
As a team go on a run, one in which they score a frightening thirty nine goals in just nine games, you start to realise just how far we've come. This is not death by football, it's total football. It's the stuff childhood dreams are made off; those ones only usually made a reality by the latest Fifa on offer.
Whilst a league title may well prove to be a stretch too far, you must enjoy what it is we're seeing. Manchester United, Everton, Tottenham, Arsenal and many more have now been have now been put to the sword, there's no reason to fear anymore.
So as Ole cried Relax, his players were looking back thinking 'relax against Liverpool? All the best'.
Relax against Liverpool? All the best!