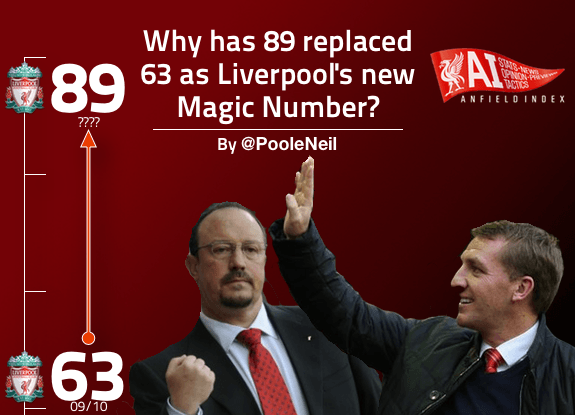 Why has 89 replaced 63 as Liverpool's new Magic Number?
Neil Poole explains the significance of the number 63 in Liverpool's recent history and why 89 is now the new number on the block.
The complete irrelevance of the number 63 in the world is quite startling. At best, it's the year that Joseph of Arimathea went to Glastonbury on the first Christian mission to Britain. Back then you could still pay somebody £10 to climb a ladder over the fence. There was no sitting on 'GetRinsedTicketing.Com' for two days for young Joseph.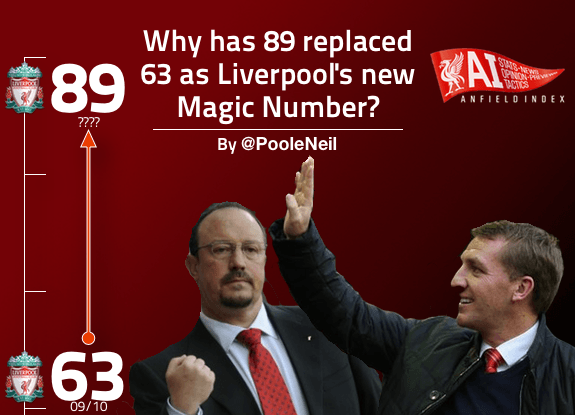 At its worst, it's Hostel 63, 'London's Number One Budget Hotel'. Looks a bit snide.
There's honestly very little in between.
Nonetheless, since the 3rd June 2010 when Rafa Benitez left Liverpool by 'mutual consent' (fired by Hicks, Gillett and Purslow), the number 63 has occupied and busied my tiny mind. Of course you will know that 63 was the total number of points the Liverpool hierarchy deemed insufficient in the 2009/2010 Premier League season.
Like a petulant child I spent the first two, of the last four years with my arms crossed, snot bubbles ballooning from my nostrils, defiantly proclaiming that until another manager bettered the points total that got Benitez the sack, it was impossible to argue that the departure of Benitez was a correct and progressive move forward for Liverpool Football Club. In the last two years this stance has mellowed, yet it's still a number I've kept in the back of my mind in my special 'Benchmark' section. What? You don't have one of those too!
I'll nip something in the bud now. This is not a Bentiez vs Rodgers piece. It is a complete fallacy that the most ardent supporters of Benitez have been anti-Rodgers.
Anti-Hodgson, yes.
At worst, the opinion of Rodgers held by real human Liverpool Supporters I know has been very much of the 'let's give him a chance, let's see what he does' variety. It's surprisingly possible to like two things at once.
On Saturday, the rather prophetical 6-3 win over Cardiff meant that Liverpool crossed the 63 point boundary for the first time since 2009. As I write, we sit on 65 points. By the time the Sunderland game is over I fully expect that to have risen to 68.
The question is, does the surpassing of 63 points have any meaning anymore?
The deceptively complicated answer is no. Which, in turn, means yes. Bear with me.
If we were to limp past the 63 point 'sacking marker' in our final game against Newcastle, then some significance could be placed on this total points haul. We could finally exorcise our inner chimps and soothe ourselves with the statistical truth that we are a team that amassed more points this year than we did in 2010. After, years of uncertainty we could say we have finally progressed.
However, when this team has already volleyed the 63 points total over the Anfield Road end with 8 games to go, and done a little dance, it's time to find a brand new ball to play with.
Why labour, kicking the carcass of a Texan bull around when Dad's just bought you a shiny new casey you can curl with ease into the top right corner? (Note: Casey is Scouse terminology for a case football.)
Of all the players who figured in the final depressing nil-nil draw against Hull on the final day of the 09/10 season, only Agger, Gerrard and Lucas have made Premier League appearances for Liverpool this season.
63 points is a distant echo of the final death march of the Gillett and Hicks era. It was an excuse to get rid of the remaining resistance within the club. It represents a great manager driven to distraction by off-field antics. It represents the splitting of the players, of the fans and the onset of a depressing downturn and malaise.
It bears no relevance to Liverpool Football Club today. We are on an upwards trajectory akin to a rocket, fuelled by the solidarity between FSG, the management, the players and the staff. And every single fan, bar none, has bought a ticket. Or at the very least is now asking around for spares.
63 isn't relevant any more. As we move increasingly up and away from it over the remainder of the season it will soon be a distant speck below us.
Yet, the insignificance of that 63 benchmark is itself actually very telling. Simply put, we're on a different planet now, and there is unchartered territory for us to explore. We haven't simply moved on. We've made a quantum leap.
I was originally inclined to say that the new magic number and relevant benchmark should be 86. This was the points total amassed in Rafa's most successful Premier League season in 2008/2009. Reach this and we would be statistically comparable to a team that contained Gerrard, Torres, Alonso and Mascherano at their Liverpool peaks.
However, 86 points although admirable, wasn't enough to win the league 4 years ago. A rough estimate of the likely points haul over the remaining games by Man City and Chelsea indicate 86 points would probably fall just short again of bagging a 19th league title.
It's time to stop looking to the past and trying to replicate it. It's time to find a magic number for the future…
The maximum total number of points Liverpool can obtain this season, at the time of writing, is 89. As difficult as it is, that must be the aim. I have no doubts that in Melwood and in the Anfield changing rooms this, at least subconsciously, is the goal.
89 points may just be enough to win Liverpool the league for the first time in twenty four years. Win it, and 89 points may well be a number that is relevant for Liverpool supporters for generations to come.
Like an opposition free kick ballooned over the bar, it's time to point and jeer at the number 63 with a chorus of, 'What the f*cking hell was that!'