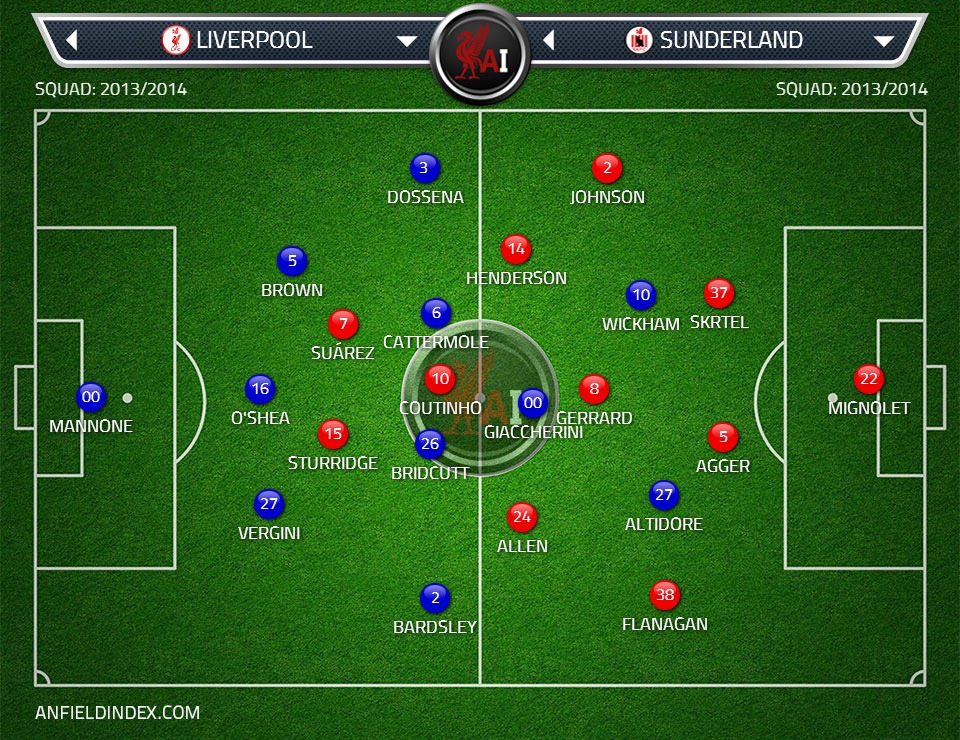 Liverpool 2 Sunderland 1 | In-Depth Tactical Analysis
Liverpool continued in the 4-3-1-2 diamond-type shape from the last three matches. Coutinho remained at the tip with Allen and Henderson playing as the shuttlers outside of  Gerrard.
Possibly the best way to describe the shape Poyet played was a 5-2-1-2. Bridcutt and Cattermole played as defensive midfielders in front of the backline and Giaccherini played in front of them but often making a front three with Altidore and Wickham when attacking.

LIVERPOOL'S MAIN PROBLEMS
The main feature of this game was always going to be how Liverpool could break down Sunderland's defensive block.
It was clear from the start that Poyet was trying to clog up space centrally with the use of three centre backs and two defensive midfielders in front and this was always going to make it difficult for Liverpool to penetrate and create meaningful chances. Suarez and Sturridge were at a numerical disadvantage through the middle – instead of being 2v2 they were 2v3 against the Sunderland centre backs and when Sunderland dropped into a low block, there was little space behind to attack into.
Sunderland's game plan was not particularly brilliant nor executed especially well but it did make it very difficult for Liverpool to break down, both when in a low block and also high up when Liverpool were in the first build up phase:
SUNDERLAND'S LOW BLOCK
The main issue for Liverpool, as mentioned, was when Sunderland dropped into a low block on the edge of their area. It was clear that this was going to be the main problem right from the start – Liverpool dominated possession and because of that, didn't really get opportunities to use the strengths of Suarez, Sturridge and Coutinho on transition. The approach had to be different.
One of the main approaches was trying to get in behind the outside centre backs. Both Brown and Vergini looked to come out of position when Suarez or Sturridge came short between the lines and this would leave space for third man runs and wall passes.
This specific kind of example was rare to see – Liverpool, due to their narrow midfield diamond, didn't have much depth to their play out wide. The width was generally provided by the full backs, one going forward at a time (more on this later) and even then, wall pass combinations were rare. It could be said that Rodgers was wrong in playing a midfield diamond in this match because of this – playing someone like Sterling high and wide in possession, on the shoulder of the wing back, ready for wall pass combinations to get in behind would have been ideal in breaking the lines of the compressed Sunderland backline. Having a midfield diamond meant the penetrative runs had to come either diagonally across the five defenders (not ideal when there wasn't much space between defenders) or straight from midfield.
This did happen but it meant the play was very narrow:
This example partly shows why better depth in the wide areas and wall pass combinations would have been so problematic for Sunderland – their biggest strength was having five players in their backline to make sure the play was in front of them but had Liverpool got behind them in the wide areas more often, as in the example when Johnson was caught offside, it would have forced Sunderland to drop VERY deep, leaving them susceptible to the cut back:
Width was an issue for much of the attack. One of the problems with a 4-3-1-2 is the precarious balance between width and narrowness, both defensively and offensively. It requires well coordinated movement as a whole team. There is a particular pressure on the full backs and the shuttlers in regards to this.
Rodgers had clearly instructed only one full back to go forward at a time. With both Allen and Henderson playing high up and with Gerrard always trying to act as a free man to receive the ball, the centre backs would have been left 2v2 with Wickham and Altidore who stayed high up the pitch, wide of their markers. This wasn't necessarily a problem on it's own but Rodgers especially did not want Giaccherini running past Gerrard on the counter to make a 3v2, even temporarily. When Liverpool attacked on either side (though the play heavily leaned towards the right), only one full back attacked at a time, generally Johnson.
However what this did mean was when play was switched from one side to the other, Liverpool couldn't take advantage quick enough or ended up crowded out. This was much easier for Sunderland to deal with:
This happened numerous times throughout the match – play would be switched and there would be very little opportunity to create space between defenders because one full back would always be back providing cover. Again, Rodgers may have been better reverting to 4-3-3 and playing Sterling wide from the beginning, making the attack less dependent on the full backs for width.
In all truth, despite these small problems, Liverpool's main issue was that the final pass was continually poor, often overhit. Tactically there was very little Rodgers could do with that. Liverpool were in control but struggled to penetrate Sunderland's deep, if reactive, block.
Indeed, it could hardly be said to be a surprise the way Liverpool's goals came about – one from a free kick, the other from 20 yards out with Sturridge cutting in from wide on the right, a ploy he tried three times within the course of the ninety minutes.
DEFENSIVELY
A few comments on the defensive scheme from Rodgers – since the diamond has been played, no opposition team has particularly taken advantage of it's inherent weakness; it's ability to lose shape through dynamic width. This has been partly due to poor opposition play and partly due to the organisation of the way Rodgers has set it up defensively.
The use of Allen and Henderson as shuttlers is one of the biggest assets in playing the midfield diamond – they both recover quickly, they work extremely hard in supporting the full backs when needed and covering their double roles – one to support the middle of the pitch, both in possession and out of it, and the other to be able to cover the ground out wide when play is switched. If one of these two players was missing from the shuttler position, Liverpool probably don't have another player with the skill-set to come in and play there.
However much of it comes down to the organisation of Rodgers. Indeed, when Sunderland switched the play from one side to the other, Liverpool often used this as a trigger for the full back to come out and close down, while the rest of the team was able to cover across and adjust their positioning.
It has been especially noticeable how much Liverpool want to press the ball against the sidelines. This has been evident for much of the season defensively but especially key with the diamond – because it is susceptible to the switch of play and quick overloads in the wide areas, it is very important to try and negate this. This can be done, either through playing deep, with little space behind the back line, allowing the team to shift across from side to side, or by aggressive pressure, delaying or completely stopping the switch of play.
THE LAST TWENTY MINUTES
Liverpool were relatively in control of the game for the most part, not including the last twenty minutes. This was in part down to the substitutions of Poyet – Ki in particular was precisely the sort of player Sunderland needed from the start of the game; there was often space around Gerrard between the lines when Henderson or Allen were forced to defend wide and for much of the game, the away side had nobody to connect play through the middle. Ki brought more assurance technically in that area and led to better control in attack. Cattermole also started to attack the space either side of Gerrard and indeed hit the crossbar from a cutback.
Liverpool, it must be said, dropped off too much towards the end of the game. There was less pressure on the ball, more retaining of shape and space opened up too freely between the lines. Rodgers tried to change things by switching to the 4-3-3/4-5-1 bringing Sterling on and trying to control the width Sunderland were starting to use. Suarez was too sloppy and selfish in possession around this point and the dominance on the ball for much of the game disappeared.
Maybe it was nerves, maybe it was a reaction to Sunderland, maybe it was tiredness but the team will have to learn from the last twenty minutes and get better at controlling a game without the ball. Defensive set pieces were again a big issue – Flanagan let go of Ki from a corner, resulting in the goal and O'Shea got a free header in the last few minutes which he fortunately didn't get a proper connection on.
CONCLUSION
Ultimately, the positives have to be taken out of this game; the team won when it wasn't at it's best and for much of the game, controlled it fairly comfortably. Even without creating as many clear cut chances as usual, there still could have been three or four goals had the final pass been right or had there been a bit more fortune.
The main weaknesses to taken out of the game looking forward are defensively: lack of focus from set piece defending is still a worry, and the team is very open between the lines in the space around Gerrard (Sunderland didn't have a player to use this until Ki came on). That area will certainly be the thing to concentrate on with Chelsea and Man City coming up.