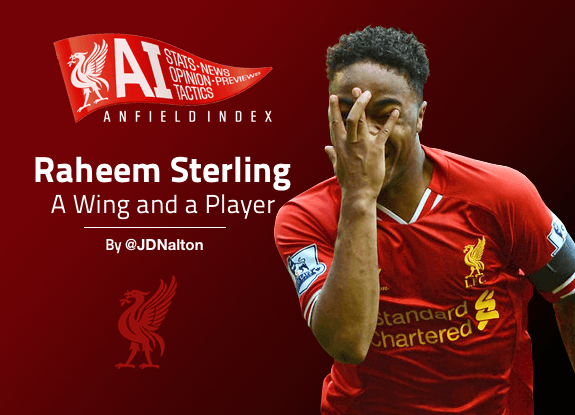 Raheem Sterling - A Wing and a Player
Brendan Rodgers once spoke of his reluctance to give a young player a lucrative contract early in their career. The thinking behind this is that the natural hunger for the game which players possess at this age, can transform into a hunger for their next pay packet or bonus, and have an adverse effect on their performances.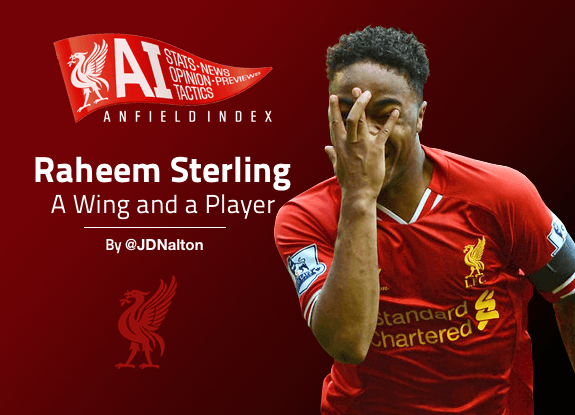 Not long after he became Liverpool manager, Rodgers had this to say on the subject:

"I believe a young player will run through a barbed wire fence for you. An older player looks for a hole in the fence, he'll try and get his way through it some way, but the young player will fight for you."
It's fair to say that the likes of Jon Flanagan, Jordan Henderson, and Philippe Coutinho have suffered their fair share of barbed wire inflicted wounds, but their manager has rewarded their efforts with prominent places in Liverpool's title chasing team. Another player you can add to this list is Raheem Sterling, and our Jamaican born England star has embodied the process Brendan Rodgers goes through when dealing with talented youth players.
Sterling is the third youngest player to make the first team at Liverpool, thanks to his substitute appearance against Wigan back in March 2012. After a handful of impressive first team appearances at the start of the 2012/13 season, he became an often used part of what was a thin and inexperienced squad.
This was thanks in part to the departure of several of the old heads, including Dirk Kuyt, Maxi Rodriguez, and Craig Bellamy, and a failure to replace them. All played in the wide position Sterling can occupy, so it was natural that he and fellow youth team player Suso, made more appearances than they might have anticipated.
It was around this time that the calls for a new contract began to rear their head, and whether these were fuelled by an agent, the media, or the player himself, Rodgers moved quickly to assert his authority on the situation, coming out with the following pearls of wisdom:
"I worked with players at Swansea who had spent their lives in football and not earned more than two grand a week. They had played 400-odd games and were at the end of their careers. Now you see young players who are multi-millionaires. No matter what you say, it takes the edge off them. The point I have made to Raheem — and he has been brilliant, to be fair to him — is that he will earn it.

"I want to manage the expectation of the kid. The last thing we need is Sky Sports coming up with the yellow bar saying he has signed a five year contract after two games."
Sterling deserved a new contract, and was eventually given one at the end of December 2012. He was made to work for it though, starting all but two of Liverpool's games prior to Christmas. Then came the January arrivals of Philippe Coutinho and Daniel Sturridge, and as a result Sterling rarely featured in the rest of the season. This was where the hard work really started for the young player.
In and out of the side, and in and out of form, the short termism that drives football opinion had him down as unfulfilled potential – the type which Rodgers warned us about. Surely Jordan Ibe deserved the chances Sterling was getting? A loan might be the best thing for him? An article on this very site said what many were saying and thinking, and you won't have got too many arguments against this assessment. Fans of other clubs didn't mind Sterling either, he was branded a one trick pony (source tweets since deleted…) who wouldn't trouble them much.
This is where Brendan Rodgers comes in again. Just as our manager currently has Iago Aspas, João Teixeira, and Luis Alberto playing three-and-in with Colin Pascoe in preparation for next season's European campaign, Rodgers had Sterling mulling over the thought of a summer holiday in Brazil, playing football against the likes of Andrea Pirlo, Diego Godin, Giorgio Chiellini, and club-mate Luis Suarez.
A return to regular action in December 2013 saw Sterling propelled into the England reckoning, as his impressive all-round performances saw him win his second international cap in March. A more physical presence, he now has some sustained speed to match his natural acceleration, and is able to hold off players as well as close down effectively and put in tackles of his own. These assets always go down well when it comes to England, and Ashley Brewers proposal on Anfield Index earlier in the year that Sterling might take Theo Walcott's place, seem more and more likely each week.
Thoughts of Brazil might have helped his game, as he's turned into one of those all-round attacking midfielders which Brazil churns out on a regular basis. The winger has evolved into one of the club's best central attacking players, as Rodgers utilises him at the tip of his diamond formation where he can use his pace, touch, dribbling, and passing ability to make incisions through the centre of an opposition defence. Perhaps the best example of his new-found playmaking ability, was the assist for Daniel Sturridge in the recent home game against Swansea
https://www.youtube.com/watch?v=VwcNZHQciEc
What we now have in Sterling is a tactically aware young footballer, rather than a potentially good winger. There are parallels with Arsene Wenger's trust in Alex Oxlade-Chamberlain and his desire to play him in more prominent central areas, recognising that there is more to his game than just wing play.
At the age of nineteen Sterling is still learning, but his manager now trusts him to play in a variety of systems as shown in recent games. He's played on either of the Suarez and Sturridge partnership, and his combination play with the SAS has led to his inclusion in a new SSS. He took up a position on the right at home against Everton, and put in an outstanding performance on the left in the following game at Anfield against Arsenal, in which he scored twice.
Liverpool formation v Arsenal at Anfield – 08/02/2014
He also scored away at Southampton after being brought on in the second half to replace Philippe Coutinho. On this occasion he was stationed centrally, and impressed sufficiently to start ahead of the Brazilian in the same position at Old Trafford.
Formation against Manchester United at Old Trafford – 16/03/2014
Fast forward to the last game against Sunderland, and we saw him brought on as a right winger in a counter-attacking 4-3-3 system, with Suarez through the middle and Coutinho on the left.
This versatility will be vital next season as Liverpool will need options within the squad to challenge on all fronts. New signings are almost certain to arrive in order to manage two games per week and the return to European competition, but Raheem Sterling's new-found maturity could mean he takes a place in the starting eleven more often than not.