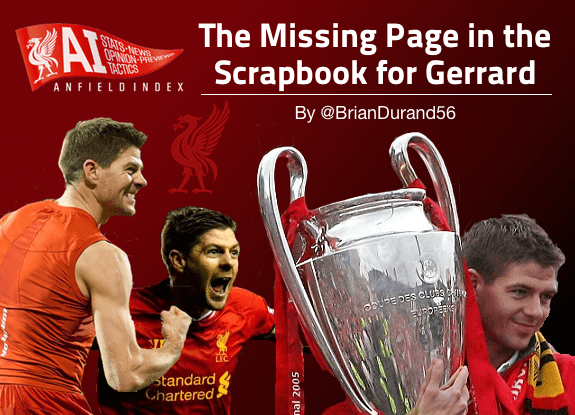 Steven Gerrard and The Missing Page in Liverpool's Scrapbook
As I write this Liverpool Football Club sit proudly at the top of the Premier League table and for want of a more suitable phrase 'this shit just got real'.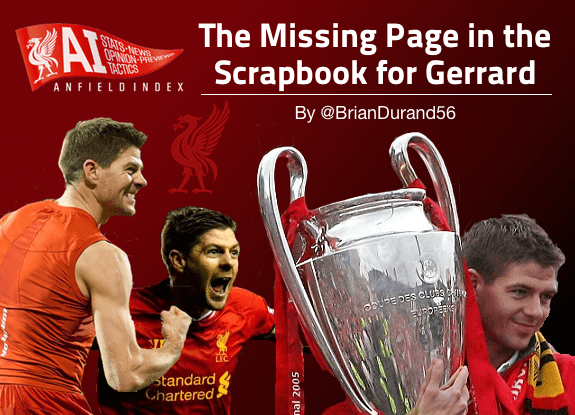 Of course there's a legion of old-timer Kopites who have seen all this a dozen times or more, but similarly there is a whole generation of reds who have never been caught up in such a groundswell of optimism and belief that the title might, just might, be coming back to Anfield.
The city is buzzing.
Liverpool and Everton have both completed a 100% successful month of March, each winning 5 out of 5 whilst Everton's former boss Moyes is systematically unravelling the tapestry woven over 2 decades by Alex Ferguson. These are happy days indeed.
If Brendan's charges can pull off what has previously seemed unthinkable, I will celebrate as wildly as the next fan, drunk on adoration for my cherished football club.  Adding  to the enjoyment and pride will be the overwhelming sense of joy that I would feel for all those younger fans who have eaten, breathed and slept LFC for their whole lives without witnessing a championship winning team parading around Anfield Road.
Being a soppy old sod, who still gets emotional during 'You'll Never Walk Alone', there is one sight that I have only ever seen in my recurring dreams, that I just know will finish me off….
Back in April 1999 a young Huyton lad called Steven Gerrard joined the action for his first taste of a Merseyside derby with just  20 minutes remaining and the reds hanging on to a single goal lead. Twice in the final moments of the battle Everton shots eluded David James and a goal seemed inevitable. Twice the young number 28 stretched to clear the danger from almost on the goal-line. Leaping up, the leggy teenager pumped his fists in celebration and was mobbed by his team-mates.
Steven Gerrard had arrived in earnest. If he had never done another thing in a Liverpool shirt, he would be remembered forever.
Two years on and it's 31st March 2001 and Liverpool were going head to head with Manchester United, at the peak of their powers. Gerard Houllier was at the helm and optimism was rife as the reds headed towards a cup treble. Steven Gerrard was now a fixture in the side and the match against champions-elect United was seen by some as an irritant ahead of a midweek trip to face Barcelona at the Nou Camp.
However no match between LFC and MUFC is played at anything other than maximum intensity. After 15 minutes Steven Gerrard provided one of the great moments in recent Anfield PL times. Up against Roy Keane, Gerrard dominated from the right side of midfield and on the quarter-hour mark he advanced forward and, measuring the distance, unleashed a snorter of a shot which seemed to accelerate as it travelled, screaming its way past Barthez' despairing dive and ripping into the Anfield Road net. A thing of beauty.
Steven Gerrard could have hung his boots up that night and he would always be considered a legend.
Later that year Stevie celebrated cup success in Cardiff (again) and Dortmund, and helped his mates qualify for the Champions League.
The Champions League has been blessed with many great Stevie G moments over the years, and in December 2004 it was Steven's right foot which spawned the 'Oh…..You beauty…!!!' classic by Andy Gray to secure Liverpool's passage beyond the group stages at the expense of Olympiakos.
Once again, this moment alone (because of what it ultimately lead to) could justify legend status.
Better was to come. Istanbul 2005. We all know the story. Every moment is etched in the memory of every reds diehard. The sight of Gerrards header sailing beyond Dida, and the skipper's call to arms to the vast support as he raced back for the restart is as familiar now as it was 9 years ago. (Yes, nine years!).
But there was so much more to Steven Gerrard that steamy evening. He was a hero amongst heroes. As the game went into extra time and legs were being seized by cramp, Stevie filled in as emergency right back and produced a display based on pure guts and willpower.
By now Steven Gerrard was almost beyond legendary status.
How could he top that?  Impossible, surely. However, we now know otherwise. Cardiff 2006 saw the greatest rescue act in the long history of FA Cup finals. As his 30 yard shot screamed into the net in front of us as the game entered injury time, we danced in delirious joy.
Once again, if Steven George Gerrard had walked away from football that night he had already done more than enough to become the stuff of folklore.
2009 saw his partnership with Fernando Torres, and Rafa's Liverpool playing some exhilarating football. In one magical week the reds smashed four goals past Man United at Old Trafford and Real Madrid at Anfield.  Gerrard was the dynamic force behind both victories. Who will ever forget his kiss for the camera?
Getting boring now… Gerrard's legend status was raised a notch.
Throw in a hat-trick against Napoli and a treble against the blues from across the park, as well as so many sweet strikes, whipped crosses and pin-point cross-field passes, his development into a mature ambassador for the club and  you'll see that Steven Gerrard has done just about everything in a red shirt.  Everything – except for one thing.
There's still one page missing from the Steven Gerrard LFC scrapbook.
And that is why this particular lifelong LFC supporter, who has followed the Reds around England and across Europe, and who has seen some truly great, great players wearing the Liver Bird on their breast, will without doubt be dewy-eyed with a giant lump in his throat if he gets to see Steven Gerrard lift the Premier League trophy this spring.
For all the memorable moments he has given us and we have shared in, the Holy Grail is now within touching distance.
If any Liverpool player deserves it, then our inspirational number 8 deserves it.
Come on … make me cry.