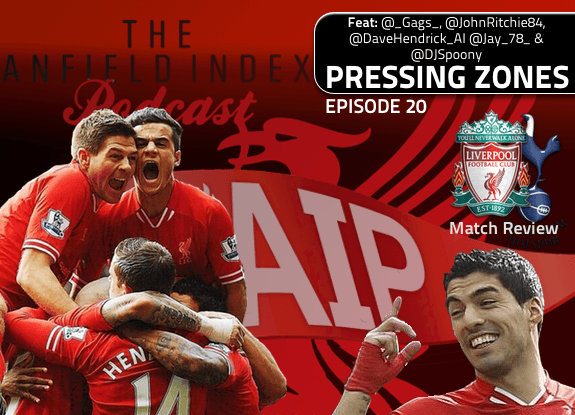 Anfield Index PODCAST: PRESSING ZONES: Liverpool 4 Spurs 0
Episode 20: PRESSING ZONES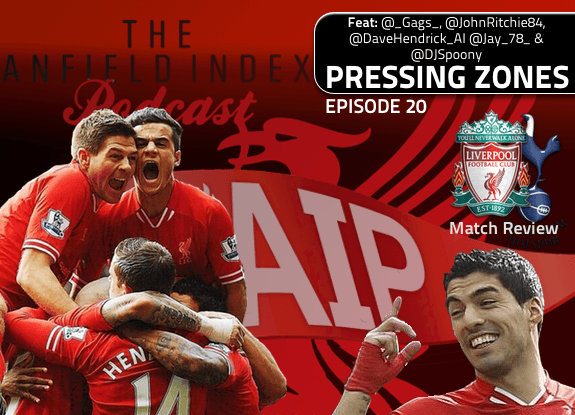 Date: 31st March, 2014
DJ Spoony and Jay Riley return to the Anfield Index Podcast this week with regulars John Ritchie, Dave Hendrick and Gags Tandon.

The panel discuss the excellent result against Spurs as Gags goes into detail about Liverpool's pressing with exclusive pressing action stats available no where else. Gags also has stats on Liverpool's improvement since their loss to Hull.
The discussion revolves around the team, Daniel Sturridge, Steven Gerrard & Jordan Henderson whilst DJ Spoony leaves the show early with a bit of a transfer bombshell!
All this and more… it's the Anfield Index Podcast!
Download on iTunes
(Only subscribers will receive new episodes immediately)
Host: John Ritchie
Guests: Gags Tandon, Dave Hendrick, Jay Riley & DJ Spoony
You can listen to the podcast by using the embedded player or you can use the links beneath it.
Listen to this podcast episode | Download this podcast episode (right click and save)