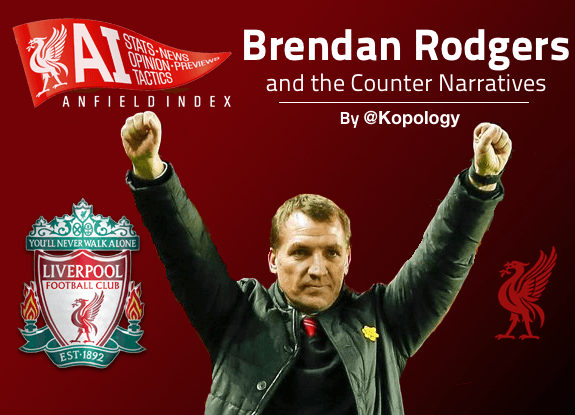 Brendan Rodgers and the Counter Narratives
From the first moment Brendan Rodgers was appointed as the new manager of Liverpool Football Club, fans angry with FSG for sacking a club legend couldn't wait to see him fail. First, his team played too many passes sideways. Then, Rodgers was 'too idealistic'. He talked too much, had no Plan B and up until we could routinely thrash them, we couldn't beat the league's top sides. And so on, and so on.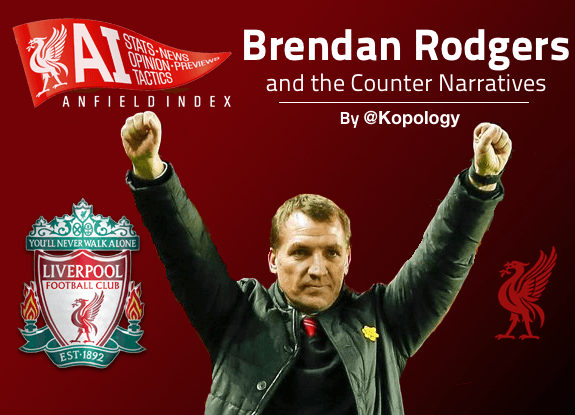 Now that the quibblers have been dismissed and the fence-sitters have found their feet, most fans are viewing Rodgers' 'philosophy' with a newfound interest and respect. On the other side of newspaper paywalls, however, where it is perpetually the 80s, philistine journalists continue to mock the very 'philosophy' that has seen Liverpool return to their perch at the top of the league. Football might have been a "simple game complicated by fools" at the time when Shankly uttered the kind of soundbite Rodgers is routinely ridiculed for, but it simply isn't true in today's game of vast economic inequalities, elite sport science and marginal gains. Managers today must embrace complexity and managing holistically to have any chance of competing with the Premier League's the oil-rich juggernauts Chelsea and Man City. The best managers can coach, motivate, strategise on the pitch and represent the club to a demanding media off of it. In all of those criteria, if not yet in trophies, Brendan Rodgers looks like a genuine world class manager.
As Liverpool's rise under the Northern Irishmen has gained momentum, his most public critics have fumbled for excuses as to why they got it so wrong. Those who bemoaned Rodgers' inexperience and naivety only last season now claim that he has learned on the job, when in reality it is they who have been given an education in football. Revisionists are desperate to convince us that Rodgers was destined to fail with his idealistic 'philosophy' before heeding their advice and arriving at a more 'pragmatic' solution they are calling 'counter-attacking'.
Back in the present, Rodgers' Reds have scored just eight goals from counter-attacks all season, which might seem a lot, but when you have scored as many goals as Liverpool, eight goals do not define your style. Rodgers' side have also scored 21 goals from set-pieces, but nobody is calling them a set-piece team. They have scored more goals from set-pieces, penalties and indeed counter-attacks than any team in the league, and only Man City have scored more goals from open play with 52 to Liverpool's 47.
Counter-attacking football is characterised by a team sitting back and ceding possession to their opponents, encouraging them to attack and then countering quickly and directly when those attacks break down. So far in 2014 Liverpool have had less of the possession than their opponents on only four occasions, against Stoke and Southampton away and Arsenal and Everton at home. In Liverpool's last four games our share of possession has been 64%, 59%, 61% and 67%. In Rodgers' first four Premier League games in charge of Liverpool against West Brom, Man City, Arsenal and Sunderland the share was 50%, 49%, 53% and 66% respectively. Possession stats are also impacted by the narrative of a game. Take the lead early as Liverpool have become accustomed to doing and the other team is forced to attack, usually impacting on how much of the ball you see.
Through pressing high up the pitch, Liverpool win the ball closer to goal than a typical counter-attacking team, which means they need less possession to create scoring opportunities as there is less ground to cover. Liverpool don't wait for the opposition to attack; they try to take the ball from them before they can even transition out of defence. If on regaining possession there is no immediate gap to be exploited, Rodgers' side still recycle the ball, transition as a unit and probe opposition defences with Coutinho coming to the fore.
The first goal against Spurs at Anfield came after a slow build up of 24 passes – mostly in the defensive third – when Coutinho changed up the tempo of the attack on his fifth possession of the sequence with a diagonal ball to Johnson. At its most effective, this patient, probing style almost hypnotises defences to its slow meandering rhythm before catching them off guard and out of position by suddenly becoming more direct. The genius of Rodgers' tactical approach is not that his team attack brilliantly in any one way, or even that they can change approach from game to game, but that they go into each game with a Plan A, B and C to be carried out in unison. Play a high line and they are the best rapid counter-attacking side in the league. Sit deep, and they have the discipline, creativity and players capable of making something out of nothing. If neither of those threats get you, their 'press and punish' defending from the front probably will.
As Rodgers himself has stressed, a team's style is in part dictated by the strengths and weaknesses of the players at the manager's disposal. So if his side lacked a cutting edge before Coutinho and Sturridge's arrivals, it was more down to a lack of senior offensive players than it was a flawed style of play since discarded.
The Psychology of Success
 While Rodgers' coaching skills and tactical prowess are now being widely acknowledged, his ability to motivate is still unappreciated by some who see him as smarmy and verbose. Many felt that Rodgers talked too good a game for a manager who had proved little, but with every convincing win his critics pay more attention to the ideas he articulates and less to their own hang-ups about his character.
Despite his juniority Rodgers has started to replaced Ferguson as the statesman figure of the Premier League, exuding similar authority and wisdom but with an added charm slowly winning over journalists and fans alike. Being likeable is one thing, but as footy villains Ferguson and Mourinho prove, being a winner is quite another. Nice guys don't always come last, though, and Rodgers has shown an impressive grasp of psychology in his man-management and ability to motivate and resurrect players, bringing high praise from sports psychology guru Dr Steve Peters.
When he first arrived at Anfield, Rodgers spoke of the need to lift the weight of the heavy Liverpool shirt from his players' shoulders. Less than two years on his young team plays with the carefree swagger of bare-chested schoolboys on a warm summer evening. After making his debut as a sub as Liverpool trailed to Fulham, Joao Teixeira revealed his managers words as he sent him on, "…he said be confident and to shoot at goal too because he believed I was going to score." Perhaps it's something all managers say, but whether they really believe it or not, their faith isn't always transferred to the players themselves. Judging by the way Teixeira tried to fulfil his manager's prophecy, he took Rodgers words as gospel.
"He manages every single player," said captain Steven Gerrard, who has been given a new lease of life at 33. "He knows we have different characters in the dressing room. His one-to-one management is the best I have known. He makes you go out on to the pitch feeling a million dollars, full of confidence and belief." A team that plays without fear terrifies its opponents, and while success is best measured in points, perhaps the greatest change Rodgers has brought to the club is in lifting 25 years worth of anxiety from its players. While David Moyes takes sadistic pleasure in making his dogs run until they vomit and Jose Mourinho and Tim Sherwood publically humiliate theirs, Rodgers prefers to educate and empower his footballers, who he says he wants to help grow as people as well as players. "He's like a teacher," said Jon 'Cafu' Flanagan, "You listen. If you take his advice on board and give everything, the opportunity will come. But every day, it has to be 100 per cent. You have to take it seriously."
And that is Rodgers' one prerequisite. As much as he is a great lover of technique, as long as you show a willingness to learn and the commitment and determination of a winner he believes he can coach you and the door will always be open. So far Jose Enrique, Stewart Downing, Jamie Carragher, Jordan Henderson, Raheem Sterling, Martin Skrtel and most notably Flanagan himself have all come in from the cold by adapting to a new role, improving their games or showing newfound leadership qualities.
This meritocracy of attitude above all is helping to create a culture of patience, perseverance and humility within the club. While Rodgers has overlooked players who haven't quite seemed up for the challenge, such as Nuri Sahin, Iago Aspas and Victor Moses, he's had no qualms in throwing rookies in at the deep end, giving Jordon Ibe a run out and Brad Smith a debut in similar circumstances to Teixeira, despite having more senior options available to him. Giving young players opportunities at vital moments makes it clear to the others that if they work hard enough and do well in training they have a genuine chance of playing in not just cup matches but in the very biggest games. As well as acting as huge motivation for the youngsters, the knowledge that a good attitude and hard work will be acknowledged and rewarded also teaches the senior pros a very clear lesson: reputation and seniority alone will get you nowhere here. If you don't prove that you merit your place, someone else who is giving their all will take it, regardless of how young they might be. It goes some way towards creating a genuine, healthy meritocracy and competitive culture.
The relentless drive of Luis Suarez helps. The Uruguayan marries his sublime skills with a will to win unmatched by any other player in the world. If your best player is superb but complacent or lazy, youngsters looking up at him might think that they can get away with the same lax attitude. Liverpool's array of bright prospects look up and see a player who is one of the best in the world in part because he always tries harder than anyone else on the pitch, even though he's usually the most gifted as well. The results can be seen in the squad's exceptional team spirit. There is no complaining from those on the fringes, only support for those playing and a desire to be amongst them. It is a motivated, determined and happy squad of talented young players showing no signs of pressure or complacency. These are the fruits of Brendan Rodgers' much maligned 'philosophy', and boy do they taste sweet.
Look out for part two of this article, The Fruits of the Philosophy, on AnfieldIndex.com next week.