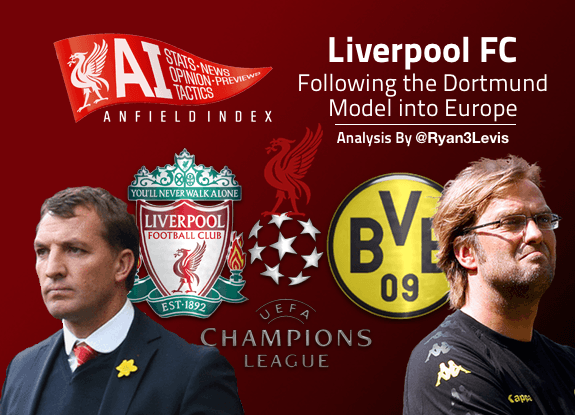 Liverpool FC: Following the Dortmund Model into Europe
Back to the Holy Land
It's that time of year again isn't it? That annoying period in a season where every player, manager, pundit and fan peddles out the most irksome of cliché's in the game: "if you offered me this position we're in right now at the start of the season, I'd have bit your hand off for it!".
*Patiently waits for the next passing bus and jumps out in front of it*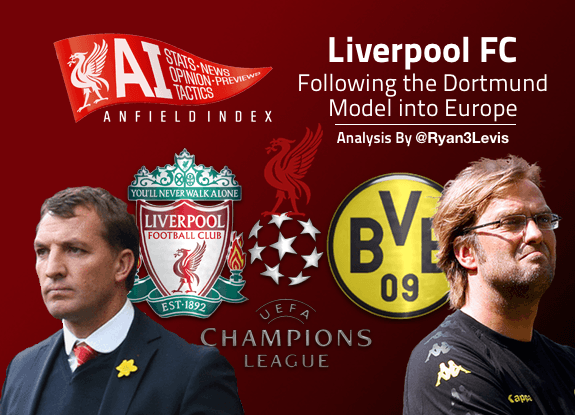 However I think an exception to the rule can be made in the case of Liverpool at this very moment in time. Because if you told me back in August that come the start of April, we'd be so embroiled in a title race that automatic qualification into the Champions League would pretty much be a given and a secondary concern, I'd not only have bitten your hand off, but your arm, leg, body, head and unlike Daniel Sturridge, probably your private parts too.
Barring a complete capitulation in form in these final six games, Liverpool are certain to end what will have been a 4 year absence from Europe's top table. If the Premier League is the holy grail then the Champions League is the holy land. Whether your abiding memories are St. Etienne and Rome or Chelsea and Istanbul, being back in Europe's top competition is going to be a restoration of normality after 4 years of depression and residing in the wilderness of the game.
Liverpool is a sleeping a giant and in 2014 it has awoken. Right now, this revitalised beast is firmly putting its claws into the English game but come this September, the beast turns to Europe and the treasures that lay there.
Last time we graced the Champions League
In Benitez's 6 seasons of having Liverpool in the Champions League, his first 5 campaigns can be seen as nothing but a success. Getting out of the group stage should and always be Liverpool's minimum requirement (even next season) and Benitez achieved this every time… except in his final season.
The 2009/10 Champions League campaign did not provide any rest-bite from the slow but evident demise that the team was suffering in the Premier League. Liverpool scored a measly 5 goals in their 6 group games, never managing more than 1 a game and only winning 2 games – to minnows Debrecen by the same tight scoreline of 1-0.
As far as Champions League standards go, 2009/10 can be seen as relatively weak overall. Inter Milan won the competition on the basis of Mourinho's doggedness and tactical nous in denying other teams the right to play and nullifying them. Barcelona were the stand out team of the competition but fell short to Mourinho's tactics. Bayern Munich were in the baby stages of their development into world-beaters and Man United were the outstanding English team relying on the brilliance of Ronaldo to see them through.
Other than that, it was a season where the door opened for lesser teams who could ride on a crest of a wave; just like Liverpool did in 2005. Bordeaux and CSKA Moscow got as far as the quarter-finals but both were clearly only going to ever be one-off wonders. Only Bayern showed the potential for future growth across all 32 teams in the competition.
Football was at the end of the time of true English dominance and the continent was waiting for a new era to emerge. Sadly, Liverpool were not to be apart of this initially. Benitez's 4-2-3-1 did not evolve and his pragmatic use of 2 deep holding midfielders did not advance the team along with the change of times. Injuries to Fernando Torres left us with David N'Gog and Andriy Voronin leading the line at times and an injury to Javier Mascherano meant Fabio Aurelio was trialed in centre midfield along with Lucas also.
It was all a bit of a mess and Liverpool were unsurprisingly dumped out in the group stages. So began an awful time in the clubs history where the Champions League became a distant memory in ultra quick fashion.
European Football Development Since
I believe that the next 2-4 seasons will see the pinnacle of this new generation of football where possession and pressing are paramount to success. These two very important traits come from two superpower countries who immersed themselves in the development of their national identity and youth, and as a result created a clearly-defined philosophy.
Spain and Possession:

Barcelona are the very well documented pioneers in this field, leading the way on the Champions League front in ball-retention football since Guardiola won his first European Cup in 2009. In 2011, Guardiola's team peaked, playing some of the greatest football of all time. The desire to keep the ball on the ground was hugely admirable, working their way up the pitch through triangular passes going across the field and the individual brilliance of Messi, Iniesta and Villa. There was no better football to watch at the time.

Germany and Pressing:

The slick, passing game that Spain epitomised was enhanced with urgency and pressing by the Germans, demonstrated by Bayern Munich and Borussia Dortmund. In Spain you'd hunt in packs but bide your time with the tackle. In Germany you instantly pressurise the opposition as high up the field as you can. This high-energy pressing game allows then for you to break at speed.
Therefore last season it was no surprise that these cornerstone nations of modern football shared all the semi-final places equally between them. The gauntlet had been laid down. This was the blueprint for all to follow in their own distinctive styles. This is what football is to be defined as for the rest of the decade.
Where does Liverpool fit in to this new era?
Out of the ashes of this new era, comes Dortmund from Germany, Atletico from Spain, Juventus and Roma from Italy and Liverpool from England. We've seemed to have identified where football is going and bought a ticket for the ride, costing us the price of a Northern Irishman.
Possession and pressing defines Liverpool at the moment and it's the style Rodgers has been working on for these past 2 seasons. In this era of billionaires and Arab money, the growth of clubs who don't benefit from such riches looks set to continue to improve as smart business dealings, reliance on youth, player development and philosophical coaching starts to reap its awards.
In a lot of ways, Liverpool have bucked the trend of the English model. It was in fact Rodgers at Swansea City who led the way in this new approach in their first season in the Premier League. Therefore FSG deserve incredible praise for having the foresight to see where the game was going, and appoint Brendan Rodgers as Liverpool boss. Last year, we may have took a bit of stick for our lightweight approach to the game and Rodgers' perceived over-the-top expressionism's on the game but now, people are starting to realise that they were perhaps blind and ignorant to what really was going on.
English tradition demands speed, strength and simplicity. Supporters and the media are therefore skeptical of what they believe is an over-complicated approach to the game. However it is this thoughtful and tactical approach that has come to the fore on the continent and Liverpool, Swansea and Southampton have led the way in enhancing this way of playing in the Premier League.
If Liverpool were to win the league this year, expect a lot more to follow suit in opening up their opinions to the ideals of European football.
The Dortmund Blueprint
So where Barcelona and Bayern Munich illustrate the pinnacle of how the game should be played, it is Borussia Dortmund who created the framework that Liverpool can look towards in inspiration.
We have heard this so often that Dortmund should be our role model in our attempts at getting back into the big time. However it is very hard to deny the truth in this statement when so many similarities are obvious.
Dortmund finished outside of the top 5 in the Bundesliga for six consecutive seasons between 2003 and 2009. Jurgen Klopp was appointed manager in 2008, the season after Dortmund finished 13th. It was Klopp who then focused on youth development and smart scouting, feeling it was the only rational way forward to close the gap on Bayern Munich and get back into the Champions League.
The club successfully produced talent we all know so well today, such as Mario Gotze and Marco Schmelzer, while clever cheap signings such as Mats Hummels, Sven Bender, and Robert Lewandowski shaped what would become the foundation of Dortmund for the best part of 5 seasons. In 2010/11, they won the Bundesliga and successfully defended their crown the following season. While in this position, the smart signings continued, including Marco Reus from Monchengladbach.
Dortmund were in a perfect position under Klopp with this young, vibrant, high-pressing team to take on Europe.
Dortmund's first season in the Champions League was rather unspectacular however. They finished bottom of their group with only one win – a narrow home victory over Olympiacos. However in their second season – when they got to the final – they successfully managed to top their group which involved Real Madrid, Ajax and Manchester City (the group of Death).
What is interesting to analyse here is how there's not much of a difference between line-ups when comparing and contrasting seasons. The back 5 of Weidenfeller, Subotic, Hummels, Piszczek and Schmelzer remains exactly the same with only Gundogan for Kehl and Reus for Kagawa as the midfield and forward changes.
Those that uphold Klopp's philosophy remain through thick and thin. However that extra bit of quality is also recognised as necessary to achieve in this competition.
So what does this show us?
Well first of all, it's that experience in the Champions League counts for a lot no matter how revolutionary you are in your domestic league. The variation of approach that Dortmund would have encountered from Arsenal, Marseille and Olympiacos would have stood in stark contrast to the similarity of challenge they'd have been used to in the Bundesliga.
Just like Liverpool are currently experiencing, you can get yourself in a routine in league games and know exactly what to expect from game to game. Liverpool have bounced from Cardiff to Sunderland to Tottenham to now West Ham knowing exactly what challenge laid before them and that even though there are contrasts between these sides styles, the core principle of English football – directness and pace – resonates in all of them still.
So when you end up playing Italian teams who's core principle is to squeeze you, or Spanish teams who want to retain possession for as long as possible regardless of their goal threat, that takes adapting to. It caught Dortmund out cold a bit in their first season and Klopp knew that for his second attempt in the competition he needed to improve his squad instantly with top players but do it without effecting his team as a whole.
Therefore the following season, Dortmund's players knew what to expect in a lot of ways. They also became a lot more solid on the counter thanks to the inclusion of Gundogan, and the trio of Gotze, Reus and Lewandowski peaked.
In the Champions League final, Reus, Lewandowski, Grosskreutz and Blaszczykowski made a frontline wall of four, all pressing each one of the back four, preventing forward passes into Bayern's holding midfield pair. Bender and Gundogan then took care of what ever trace of Bayern possession crept behind the front four.
Bayern struggled with the early pressing from Dortmund, forcing Schweinsteiger to drop in alongside the centre-backs to gain possession. Even though Dortmund would eventually lose this game 2-1 – due to a high-defensive line and second half tiredness – the game characterized what Dortmund are all about.
On reading that, it is very easy to imagine the current Liverpool side doing the same. Suarez, Sturridge, Sterling and Henderson providing the pressing, Gerrard sitting in behind them, picking up the pieces.
You look at the role of Bender and Gundogan, you think straight away of Gerrard and Henderson, playing a similar game in their own way. Realistically, we could do with either a Gundogan or Bender alongside Gerrard and push Henderson on, our best player at pressurising the opposition.
The front four comparisons do not work identically as Dortmund play a 3-1 (Blazczykowski, Reus, Grosskreutz – Lewandowski) where as Liverpool play a 1-3 (Coutinho – Sterling Sturridge Suarez) however the principles of high intensity pressing and quick, effective ball retention remains.
The similarities are there and the lessons are there to be learned from. We are currently in the exciting class of up-and-coming European teams with the potential for greatness. However the Champions League is a mind-field in terms of contrast of styles and tactics. There is no doubt that Brendan Rodgers possesses the ability to get it absolutely spot on in Europe however there will be structural issues needed to be dealt with – in particular in a defensive sense – and an overall improvement of the squad.
However the foundation is there for a fruitful return to the Champions League. So if we are to fall short in this ludicrous assault on the title, we can take the most comforting of solace in that the bright lights of Madrid, Rome, Amsterdam and Debrecen await our long-anticipated return.
I can almost hear that famous music ringing around Anfield already… quickly followed by our mythical hymn.
It's been too long.
The road to Berlin is just around the corner.