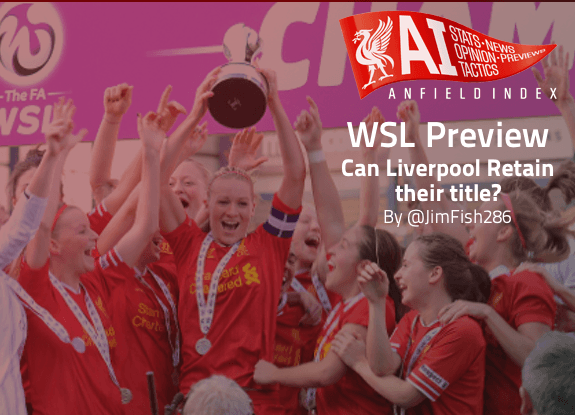 Women's Super League Preview 2014 | Can Liverpool retain title?
Liverpool Ladies are preparing to defend their league title against the other 7 teams in the Women's Super League.
The Women's game in this country has grown massively over the last few years and that is down to the newly formed WSL. With only 8 teams in the league it really is a Super League.
It was set up initially in 2011 with 8 teams and no relegation. The purpose of that was to allow teams to develop and to allow them to concentrate on developing British talent so that all the national teams would benefit and become more competitive.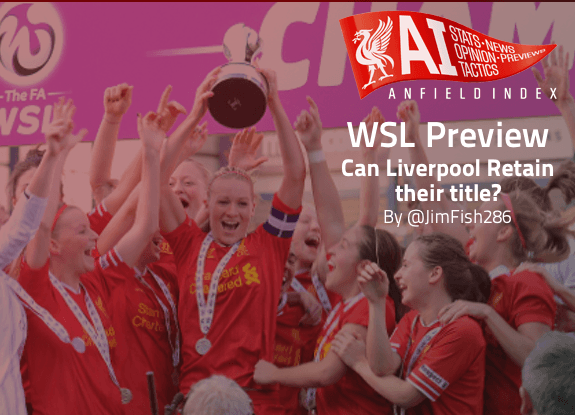 The clubs were given time to build an infrastructure and a club philosophy without the fear of relegation.
The FA also wanted to grow the Woman's game in this country, so that it could rival the USA, France and Holland, where their leagues are extremely well supported and well covered by mainstream broadcasters.
This season has seen the launch of the WSL 2, a second division under the WSL 1 with 10 teams, and from this season there will be a relegation and promotion system in place.
The teams involved this season had to apply for licences and then The FA decided which teams would be in what league. In league 1 there is: Liverpool Ladies, Bristol Academy Ladies, Everton Ladies, Chelsea Ladies, Birmingham City Ladies, Arsenal Ladies, the newly formed Manchester City Ladies and Notts County Ladies.
It is a very strong league.
Although Manchester City are a new side, it will not surprise you to hear that they have wasted no time in spending good money on lots of new players. Amongst them are new England captain Steph Houghton, England striker Toni Duggan  and goalkeeper Karen Bardsley.
All of the sides have strengthened in the off season and last season's runners up, Bristol Academy, have also had to bring in a new manager in Dave Edmondson, following Mark Sampson's departure to take over the England side.
Here at the Anfield Index we have been lucky enough to get to speak to some of the girls from a lot of the teams and along with getting their thoughts on the upcoming season we will also keep you in touch with all of Liverpool ladies' results and how they are performing both in the League and in Europe this season.
First up, we got to speak to England No 1 goalkeeper Siobhan Chamberlain about her off season move to Arsenal and what her thoughts are on the season ahead.
Siobhan Chamberlain:
Hi Siobhan, Thank you for being a part of The Anfield Index Preview for the 2014 WSL Season, Would you tell us a bit about yourself and the Club you play for:
I

 play for Arsenal Ladies. I have only just signed for them this season after three seasons at Bristol Academy. I also play for the England Women's team. 
Apart from your team, who do you think will win with the League, FA and Conti Cup?
I think it's impossible to predict anything this season. There has been so much movement between teams it's going to be very open and more competitive than ever. With the cups it's always nice to get a good draw, and then anything can happen. There are some very strong WSL2 teams which will challenge the WSL1 teams in the Conti Cup as well. 
From your point of view, what are your goals for this season?
First of all I want to play. I've obviously moved from a club where I was number one, to a club which has had the same number one for the past 10-15years (not exactly sure how long). Emma is a great goalkeeper, so for me that challenge is important and hopefully will push us both on. I also want to keep getting selected for England and hopefully play as many games as possible. It was great to be number one at the Cyprus Cup, to play three of the four games and I obviously want to work as hard as possible to try and keep that jersey!
Can you give me the name of 2 players to keep an eye out for this season, they can be from your club or another club.
I'll go for two players from my club. I'd say Shinobu Ohno who is an outstanding player. She's won the World Cup with Japan and previously played for Lyon, so she brings a wealth of experience and is an excellent player to watch. Secondly I'd say Leah Williamson, she's only just turned 17 and made her first team debut on Sunday but she's definitely a player to watch with a very bright future both at Arsenal and with England. 
If you want to plug a blog or anything else feel free here:
Next we got to speak to Notts County's new Scottish international defender Rachel Corsie. Rachel has joined county following a hugely successful spell in Scotland with Glasgow City and brings with her a wealth of experience both in the domestic and international stage.
Rachel Corsie:
Hi Rachel, thanks for agreeing to speak with us, what are you looking forward to in your first season in the WSL?
Having signed for Notts County this year from Glasgow City, I am looking forward to the challenge of playing in the FAWSL. The league this year looks very competitive and all teams have made some strong additions.
From a personal and professional point of view, what are your expectations for this season?
I hope personally that it will bring Notts some success and the opportunity for some silverware and having been used to success at Glasgow I hope I can add to the squad and help the club achieve its ambitions.
Apart from yourselves, who do you think will win the league this season?
I think Liverpool will be determined to defend their title although they have suffered some injuries. It's almost impossible to discount  Arsenal with the quality and experience they have but this season is so wide open, any of the 8 teams could conceivably win the league. It should make for a great season for everyone involved.
Is there any player in the league that stands out for you? If so, why is that?
Its hard to single out individual players but having played against Ellen White last year in the Champions League, I am glad that this season she will be in my team and I hope that she has another great season!
Birmingham City were kind enough to let England legend Karen Carney speak to us and these are her thoughts on the season ahead.
Karen Carney:
HI Karen, thank you for speaking to us, can you introduce yourself and tell us a little bit about yourself please?
My name is Karen Carney, I'm a midfielder predominately playing out wide.  This is my second spell at the club and I will going into my fourth season with them. 
How do you feel this season will pan out for yourself and the club?
I think it will be a challenging year as the league is so strong and competitive and any team can beat another on any given day.  We have an exciting game on the 24th March for the quarter final of the Champions League, which will be at St Andrews and then the away fixture the following week. So there is a real buzz around the club for that competition and upcoming games.  Me personally I just want to stay fit and healthy and enjoy my football.
Apart from yourselves, who do you think will win the league, FA Cup and Conti cups?
I would think Arsenal, Liverpool and Chelsea would be all favourites to compete for the league just because of what they have spent and who they have bought in. The FA Cup and Conti Cup really is anyone's, as it's cup football and you never know on the day what can happen. That is the beauty and fun of the cup games. 
Next up was Jody Handley from the old enemies Everton's, who was kind enough to take some time out of a busy pre-season schedule and give us her thoughts on the upcoming season, whether Liverpool can retain their title and a player to watch on the blue side of Merseyside.
Jody Handley:
How do you see this season developing? Can you see Liverpool retaining their title?
I think Liverpool have every chance again. They have strengthened their squad again and have the winning mentality from last year. However, Chelsea have really strengthened dramatically. Especially in defence, where they were weakest last season. I would expect to see Katie Chapman and Rachel Williams both having a positive impact on their team also.
What are the teams and your own expectations for this season?
As a team we are just working hard in training. We have integrated a lot of young players into the first team squad and we are just focusing on trying to gel as a team and be ready for the first game of the season.

From a personal point of view, I'd like to see us improve on last season's finish in the league. We were all very disappointed with a sixth place finish last year.

I'd also like to have an injury free season as the last few years have been very frustrating for me injury wise. If I am fit and firing then I know I can have an impact on the first X1.
Finally, who would you say is the one player to keep an eye out for as the season develops?
I think there will a lot on the shoulders of Nikita Parish this season after Toni Duggan's move to Manchester City. Nikita is very similar to Toni, she's pacy and can score goals.

She has plenty of talent and hopefully she can hit the standards we all know she is capable of achieving. 
Last but certainly not least, we got to speak to Liverpool Ladies' midfielder Amanda De Costa.
Amanda De Costa:
Apart from Liverpool, who do you think will walk away with the League, FA and Continental Cups?
I think that this season is going to be the most competitive league to date. All of the teams have strengthened during the off season, and the amount of international signings has also increased, making competition within each squad even more intense. Chelsea is one of the teams to watch out for this year and who will most certainly be towards the top of the table. We had some difficulty against Chelsea last season, and with some of the international signings they have made, along with other domestic ones as well, I think they will certainly compete for the league title.

There is also the likes of Arsenal, Notts County and Manchester City who have made some exceptional signings. The introduction of League 2 also makes the FA Cup very interesting. I think there are some match ups in division two with some first division teams, that will prove to be very interesting, one of which is our first FA Cup game against a strong Sunderland side.
From your own and the team's point of view, what are the goals for this season?
This season our team is very focused on defending our league title. We know that with there being so much competition within the league this year, it will be an extremely difficult task that will require us being at our best every single match. While all of the other teams have strengthened, we were busy in the off season as well; one of our bigger signings being Gemma Davison from Arsenal, and an American goalkeeper in Libby Stout. We have also suffered some injuries this pre-season, which were setbacks but the players and staff have done well to keep our focus on the task at hand and are looking forward to the start of the season. 
Can you give me the name of 2 players to keep an eye out for this season, they can be from Liverpool or another club. Can you give me the reasons why:
Natasha Dowie will certainly be one to look out for this season. It is always exciting when a teammate has the type of season that Tash had last year, and it will be equally as fun to watch her look to match her stats this season.

Keeping with the theme, I think Toni Duggan has done well for England so far this year, most recently netting a hat-trick against Montenegro in a World Cup Qualifying match. I know she will be hoping to match Natasha in the goal scoring department, and it will be fun to watch the two of them battle it out for the Golden Boot.
If you want to plug a blog or anything else feel free here:
I blog for my personal training website  www.advantagetrainer.com, where I most recently posted about how I am raising money for Malaria for the Online Soccer Academy and Nothing but Nets.

Follow me on twitter @ADacosta13

There is also season tickets on sale for Liverpool Ladies for the first time ever at www.liverpoolfc.com/ladiestickets 
A pre-season preview would not be complete with out some predictions, so we managed to speak to some of the biggest supporters of Women's football in this country and Wales' best up and coming young manager.
Kieran Thievam is the co-creator to The Woman's Football Pod. A Website and Podcast solely devoted to Women's Football in this country and around the world.  Follow them on Twitter @WFPod
League Champions: Liverpool Ladies
FA Cup: Arsenal Ladies
Continental Cup: Notts County Ladies
Players to watch: Desiree Scott of Notts County and Aoife Mannion of Birmingham City
Hamish Dufton is Kieran's partner on the Women's Football Pod and is also the press officer at Everton Ladies. Please follow him on Twitter @efchamishdufton
League Champions: Liverpool Ladies
FA Cup: Arsenal Ladies
Continental Cup: Chelsea Ladies
Players to watch:  Fern Whelan of Everton and Simone Magill also of Everton.
Jamie Sherwood is the Manager of Welsh Club Cardiff City Ladies. He has years of coaching experience in the Women's game.
League Champions: Liverpool Ladies
FA Cup: Notts County Ladies
Continental Cup: Birmingham Ladies
Players to watch: Remy Allen of Birmingham City and Jade Bailey of Arsenal.
Sophie and Rachel Downey are @GirlsontheBall. We try and cover as much football as we can, both domestic and national teams. We travel all over and provide live feeds for our Twitter followers. We also include blogs, interviews and pictures on our website, www.girlsontheball.com
Both of us work full time but wish we could do this as our job!
League Champions: Liverpool Ladies or Notts County
FA Cup: Arsenal Ladies
Continental Cup: Chelsea Ladies
Players to watch: Leah Williamson Arsenal Ladies,  former U17 England captain, now U19s. Stood out at the U17s tournament and certainly a bright young talent.
– Ogimi, Chelsea Ladies forward. She took a while to adjust last season but having seen her in pre-season, we reckon she'll be a big talking point. She plays some beautiful football.
Finally, no preview or prediction piece would be complete without our very own predictions so here goes…
League Champions: Liverpool Ladies or Chelsea Ladies
FA Cup: Bristol Academy Ladies
Continental Cup: Notts County Ladies
Players to Watch: Danielle Carter of Arsenal Ladies and Anouk Hoogendijk also of Arsenal Ladies.
Women's football is growing dramatically in this country, if you do get a chance over the Summer head along to your local team and support the girls. You will not come away disappointed. The football is great to watch and it's a great family day out.
If you can't get to a game, remember BT Sport will show games throughout the season and follow the official league Twitter account on @FAWSL