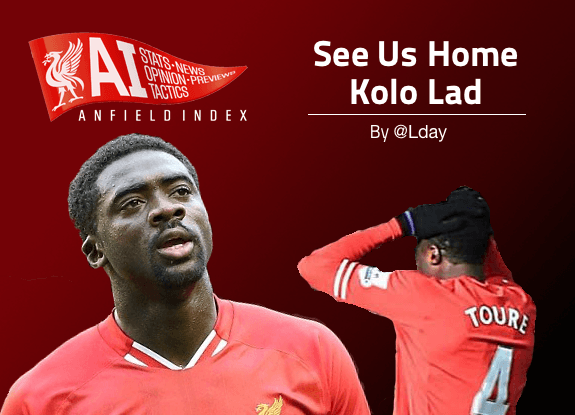 See Us Home, Kolo Lad
What's your favourite funny sight in football?
For me, it always used to be the keeper getting sent off.
There's the hilarity of an outfield player having to go in goal and we are treated to the joy of the massively oversized shirt, the big flapping gloves and, if the footballing Gods are smiling upon us, watching a stand-in keeper trying to organise a defensive wall.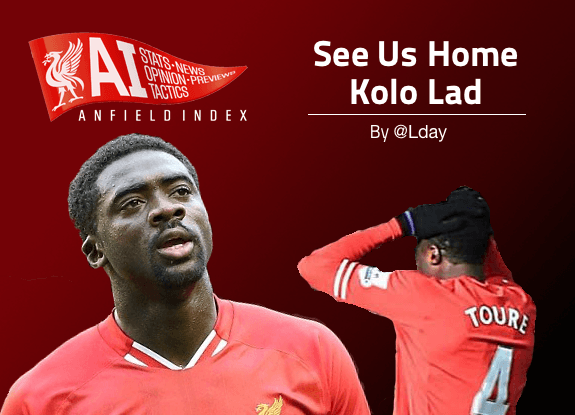 Somehow, an outfield player ending up in goal instantly transforms professional football into a playground kickabout. With a crushed drinks can instead of a ball.
Unfortunately, it just doesn't happen enough these days. Stupid sub keepers.
Look at them, just sitting there, waiting their moment of glory versus Macclesfield in the Zenith Data Systems Cup.
But if there is a sub keeper available, that inevitably means the sacrificial withdrawal of a forward player – usually a skilful foreign winger with a questionable workrate – who will inevitably throw his arms up in despair. Expect the shirt to be removed as well.
A keeper getting sent off will always be funny but it has now been overtaken.
Two things are now funnier on a football field and both happened last Sunday against West Ham.
The first is the now trademarked Luis Suarez-internationally-recognised-signal-for-handball.
You all know it, the crazed look in the eyes, the raise of the bandage-clad left hand and the manic slapping of right hand on left.
It looks like it belongs in the Haka.
Somebody needs to add a soundtrack to it and turn it into one of those Euro-chuff dances that were popular in the early 2000s.
And he's definitely practising it. Definitely.
Can anyone who lives near Melwood confirm?
Are you happily watching Heir Hunters when your peace is suddenly shattered by a Uruguayan scream of HHHHHAAANNNNNNNDDDDDDBBBBBBAAAAALLLLLLLLLL? We need to be told.
The second is the sight of Kolo Toure marching onto the field, having obviously been given instructions to calm things down as the senior old pro.
See us home, hey Kolo lad?
Sixty seconds later, with shorts just a little higher than looks comfortable, Kolo reacts to the ball like it's an unexploded World War Two bomb he's just dug up in his garden.
Composure goes out of the window and there follows a mad swipe of a boot- he doesn't know which boot at this point – and the ball disappears.
Straight up, normally.
A melee follows and Kolo will do his best to score an own goal. Eventually the ball is cleared.
The camera pans to our hero.
Deadpan expression on his face and he's giving it the calm down hands, one, twice, three times.
'Calm down will ya lads, I got this.'
And that, ladies and gentlemen, is my new favourite sight on a football pitch.
Go on Kolo lad, see us home.