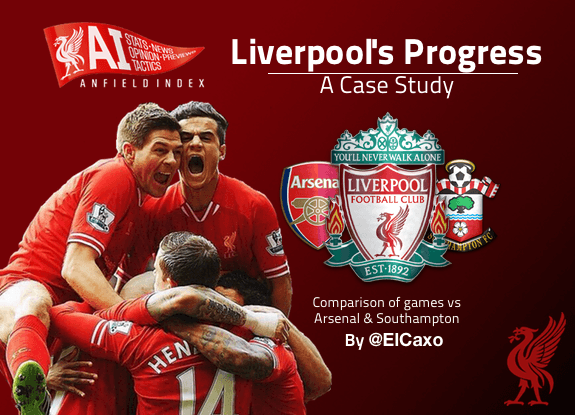 Liverpool's Progress: A Case Study
Brendan Rodgers' first league campaign at the helm started very slowly with three losses and two draws in our first five games and although things did get better as the season went on, we only managed to finish seventh and were left as outside contenders for even fourth this season. The most frustrating part of the 2012/2013 season were the games when we would absolutely dominate teams but only come out with a draw or nick a goal for a close win. It was hard for some fans to accept that this was at all indicative of progress but Rome wasn't built in a day and neither would a brand new Liverpool FC.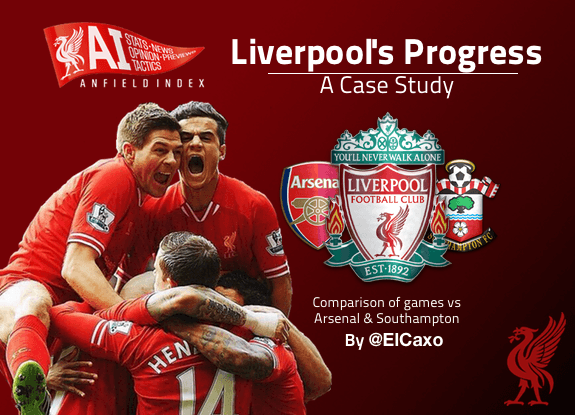 If the barometer of progress under Rodgers last season was the quality of football without any end result, then this year's growth can most easily be measured by the games against Southampton and Arsenal. These matches have been a fantastic measure of how far we as a squad, and Rodgers as a manager, has come this season.

Arsenal
Manchester United aside, this was the first real test against top four opposition and against (at the time) an in form Arsenal we were swept aside pretty comfortably. At this point Rodgers was still trying to shoe horn two strikers into the team by playing a 3-5-2 and the system really fell apart due to not having the right personnel at wing-back. Flanagan had not progressed as much this early in the season and was brought off after 68 minutes and two Arsenal goals. Aly Cissokho was also brought off at half time. Substituting the two most specialised positions in a 3-5-2 away at Arsenal before 70 minutes was a pretty damning indictment of how well the experiment was working.
However all was not lost, Arsenal arrived at Anfield flying high as league leaders, but within 20 minutes they were 4 goals down. This more or less sparked the end of their season as title challengers. In a weird parallel of fates they've gone on to win 3 of their next 9 league fixtures and are now facing a battle for fourth, whereas this game kicked off our unbelievable 10 match winning streak that sees us eyeing the title with 4 games remaining.
This was down to a huge revamp from Rodgers. His paramount success was to move Steven Gerrard into a more withdrawn holding role much like Pirlo at Juventus. The squad, the manager and especially our number 8 are now reaping the rewards of his renaissance and we are seeing him get the best out of his passing and vision in a much less physically taxing position. Liverpool's Captain went from looking like an absolute passenger at the Emirates to dictating completely at Anfield. He made twice as many key passes and hit two assists in the 5 – 1 win. Gerrard also made 3 tackles and no interceptions away to Arsenal in comparison to 7 tackles and 3 interceptions at home.
Southampton
In the final game of Luis Suarez's ban, the Saints came to Anfield with a definitive game plan and to their credit it worked to a tee. Southampton are the only team this season to have visited and gone away leaving us with nothing at the end of the 90 minutes. This says a lot about Mauricio Pochettino and his team but even more about how much of a fortress Anfield has become again this season.
They pressed us high up the pitch all day and came close a number of times, while we never really got into gear. In all fairness it was a deserved win, they were better on the day and their game plan to unsettle us worked very well. They made 38 tackles to our 20 and Simon Mignolet was caught punting it a lot as only 4 of his 21 long passes reached their target. Morgan Schneiderlin and Victor Wanyama looked above and beyond what we could hope for Gerrard and Lucas as a double pivot. The captain again looked tired and Lucas's lack of pace since his knee injury was exposed, as they broke through us with quick one-twos.
Again though, and I think you can see the theme of this piece now, when we made the return visit to the south coast Brendan Rodgers had implemented a new style with Gerrard sitting at the base of a 4-4-2 diamond. Adam Lallana was admittedly allowed a little too much freedom in the first half but in general the middle 3 were solid, with Coutinho operating just behind Suarez and Sturridge. Raheem Sterling came on, promptly scored after about a minute and put in a good case for Man of the Match with only 33 minutes played.
The diamond midfield offered Gerrard the time and space to play his new game while Henderson and Allen were unassuming but effective at creating space for Coutinho and later Sterling to work in. This was a much more impressive and efficient method of getting our two world class strikers into the team while still maintaining midfield control.
Conclusion
As always no team is perfect and there are downsides to both the counter-attacking performance against Arsenal and using the midfield diamond against better teams. In games like West Ham and Fulham away we've found it much harder to break them down with less space in behind and have had to rely on penalties to save us in those two. Gerrard's mobility was exposed by Adam Lallana in the Southampton game but was truly abused by David Silva in the second half against Manchester City. There also is potential for the wide central midfielders to get caught up field but all in all it's a good compromise to get the most from our stellar attack.
The resurgence of Steven Gerrard as regista and Raheem Sterling's new found confidence show that along with mixing up formations for different opponents, Rodgers can man manage as well as any coach in the league. Whatever happens with the title we've still had an unbelievable season and secured the main objective of Champions League football.