"This does not f***ing slip now.
"Listen. Listen. This is gone. We go to Norwich. Exactly the same. We go again. Come on!"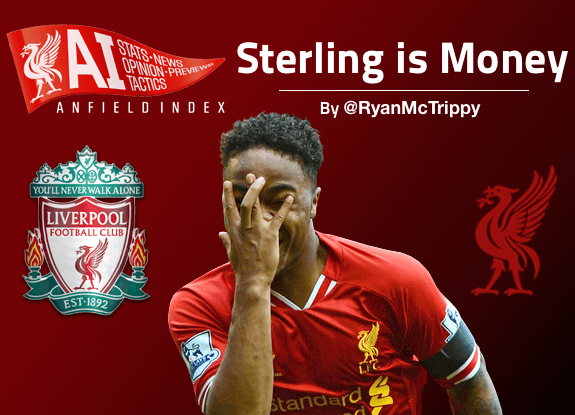 Steven Gerrard delivered the aforementioned words following the most dramatic ninety minutes of Premier League football this season. His side had let slip a two goal lead versus league chasers Manchester City, but a 78th minute striker from Philippe Coutinho edged the Reds further up the hill with the final score reading Liverpool 3-2 Manchester City.
As Gerrard had sheltered his tearful eyes from the cameras beaming his face to millions across the world, the veteran on his final charge, one man on the ascendancy, could do nothing but express the sheer adulation of victory in the biggest game of his budding career.
A face of unbridled joy, a momentous Man of the Match performance from a young man yet to hit twenty, and with his whole career ahead of him, just destroyed one of the most complete squads in world football. Raheem Sterling listened attentively to his captain as he issued the post-match orders, but as soon as the leader was turned the inner mischief in Raheem erupted through his face, like a pupil turning his back on the headmaster. (Steady).
When the team sheets were released at 12:37pm Sunday afternoon, the lineups indicated Brendan had reverted to the 4-3-3 system which had swatted Arsenal, Everton and Tottenham at White Hart Lane (and at times at Anfield). The system is fearless, attacking and if executed with precision: dominating.
However, as the teams kicked off, it soon became apparent that Liverpool had again adopted the 4-4-2 diamond set-up, with Raheem Sterling located in behind the front two of Luis Suarez and Daniel Sturridge. However, where many traditional enganches such as Argentina legend Juan Riquelme allocate themselves in one zone throughout the game, creating virtually every attack, Sterling floats between playing as a number 10, a winger, and a forward. He is given the licence to roam, as are most of Liverpool's front five players, to wreak havoc on defenders without regimenting himself to one position.
Out of this midfield, Philippe Coutinho is the most naturally inclined player to slot into the position Raheem was given by Brendan Rodgers, but by allowing the Brazilian to drop deeper in midfield his natural game begins to flourish as he can influence the play from deep, and get stuck in against City's inherently stronger midfield.
Rodgers also allows Sterling to deceive the Manchester City defenders, as he begins to find vision and precision passing to his game, enabling him to be just as influential through the middle as he is out wide, attacking full-backs.
As Coutinho and Sterling are two of the younger first-team regulars at Liverpool, and given that they have both occupied wide roles and as number tens, allows us to have a brief comparison of the two gifted youngsters.
From these statistics we can see that Coutinho marginally edges ahead of Sterling in terms of chances created, but considering how Sterling has primarily occupied wide positions, it is an impressive stat from the Academy graduate. Sterling's ability as a number 10 is raw, but there is potential for him to develop into the post should Rodgers choose so.
With Sterling's lightning pace, both physically and mentally, Rodgers can situate him behind two strikers who naturally drift wide and as shown above, leave space for him to attack space directly ahead of him, or to stretch the play and the opposition's midfield and defence. Sterling acts like an elasticated number 10, as the opposition must interpret when and where he will drift. As opposed to being a fundamental playmaker or touchline-hugging winger, Sterling has the capability to move along a line of forwards and finish or create chances, directly with the ball at his feet or indirectly through his movement.
Liverpool opened the scoring through the England international on Sunday, as Raheem demonstrated his composure by completely wrong-footing the best centre-back in the Premier League, Vincent Kompany, and England international Joe Hart as he shifted his body to create space to slot home in front of the Kop. This finish epitomised the vast change in fortune for the former Queens Park Rangers youngster, as he demonstrated his education in the game under his manager: movement, composure, and grace.
Sterling is now a big money player. His mental and physical strength, his intelligence years beyond his age, and all the potential to become one of the best forwards in Europe can only mean good things for Liverpool, provided they can hold onto him. In Brendan Rodgers, Sterling has a fatherly figure within football to flourish and grow as a player and human being.