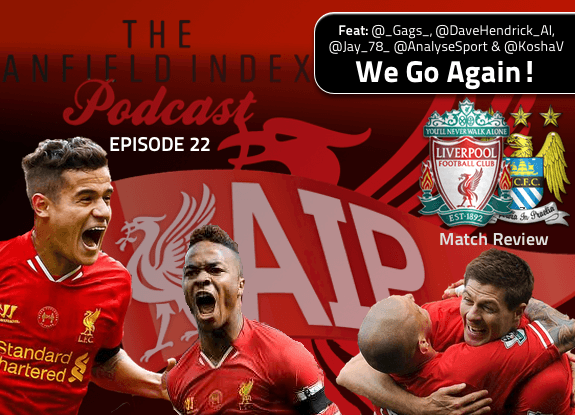 Anfield Index PODCAST: We Go Again! Liverpool 3 Man City 2
Episode 22: WE GO AGAIN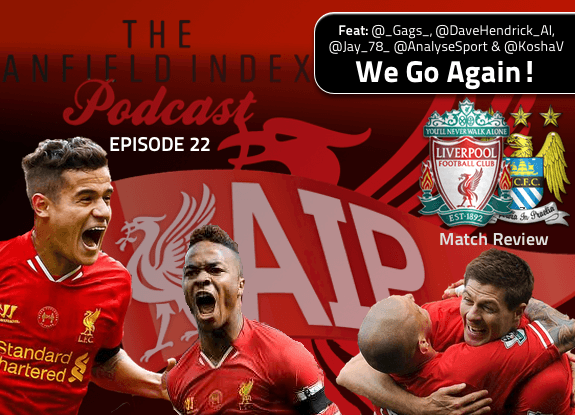 Date: 17th April, 2014
On the AnfieldIndex Podcast this week Gags Tandon hosts the show with guests Dave Hendrick, Jay Riley, Dan Rhodes and Kosha Vyas. The panel discuss impressive Liverpool's tenth win in a row against Manchester City and analyse tactically and statistically like no other podcast will! Jay and Kosha were in attendance at the game so they discuss the atmosphere too.
There are more pressing stats from Gags and comparisons between Henderson, Allen, Gerrard and Coutinho as he compares player pressing actions stats for the first time. There's discussion of the Hillsborough Memorial also and finally a preview of the Norwich City game is also included!
All this and more it's the Anfield Index Podcast!
Download on iTunes
(Only subscribers will receive new episodes immediately)
Host: Gags Tandon
Guests: Dave Hendrick, Jay Riley, Dan Rhodes & Kosha Vyas
You can listen to the podcast by using the embedded player or you can use the links beneath it.
Listen to this podcast episode | Download this podcast episode (right click and save)