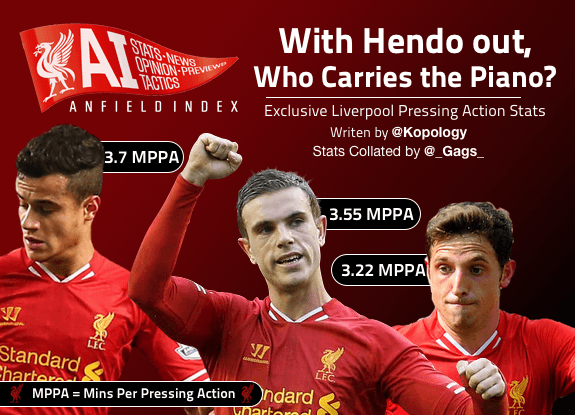 With Hendo out, Who Carries the Piano? Liverpool Pressing Action Stats
Bill Shankly famously said "A football team is like a piano. You need eight men to carry it and three who can play the damn thing." Brendan Rodgers current side is weighted slightly differently, with his team packed full of musicians and often just Jordan Henderson lugging the heavy equipment around.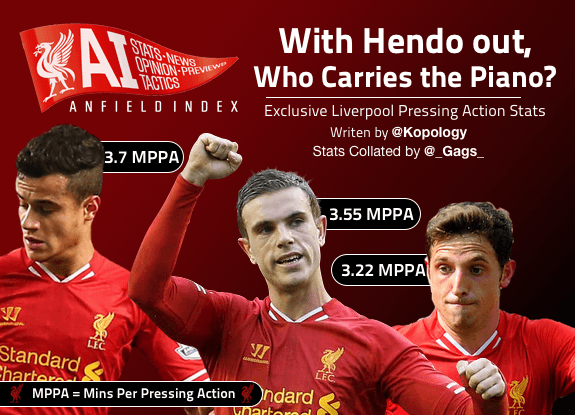 Having first wanted to move Henderson on to help finance a move for Clint Dempsey, Brendan Rodgers has since made the young England international a key component of his team. Up until his sending off against Man City last weekend, Henderson had started every game this season, playing every minute bar 22 against Norwich City back in December.

So the three game ban Henderson picked up for his rash challenge on Samir Nasri (his first red card in 83 games) against City presents a handicap few could have imagined just 18 months ago.
Reducing Henderson to a mere workhorse does him an injustice, though. At his best this season, 'Hendo' has shown himself to be a smart, creative player in and around the box with an array of back-heels, flicks and tricks. Bursting forward from deep, as he did notably against Notts County in the Carling Cup early in the season, Henderson is reminiscent of a young Steven Gerrard, brushing aside opposition players to burst late into the box. But what Henderson provides for the team that no other player at Rodgers disposal can, is his incredible energy and stamina. Well, almost nobody else.
The obvious replacement for Henderson over the next three games will be Joe Allen. Like Hendo, Allen has been slow to win over a fanbase more impressed with the spectacular skills of a Suarez or Sterling than the understated functionality of an Allen, Hendo or Lucas. Of those three, Henderson is easily the most popular, and perhaps that is in part due to his large frame and bludgeoning style, which give him a more discernible presence on the pitch than the deft and stealthy modus operandi of Allen.
Just as the eye often fails to recognise the good work of these selfless types, contemporary statistics are notoriously unjust to water-carriers who do much of the work off the ball, but Anfield Index founder Gags has been single-handedly seeking to address this by compiling pressing statistics to better understand the individual contributions to Liverpool's effective off-the-ball game.
In the 778 minutes of Jordan Henderson's playing time that Gags has compiled stats for, he has pressed an opponent in possession of the ball an impressive once every 3.55 minutes. Such a high work-rate will be of little surprise to Liverpool fans who have seen Henderson run and run all season, but what might be news to many is that Philipe Coutinho has recorded a very similar rate of pressing actions (one per 3.7 minutes) during the 363 minutes he has played in games which Gags has monitored.
Even more surprising though, and perhaps a tonic for those fearing the absence of Henderson's graft as Liverpool home in on a first league title in 24 years, is that Joe Allen betters both his teammates, having pressed the ball once every 3.22 minutes of the 254 minutes Allen has played in which Gags has been compiling the numbers. Against Man City Allen only came on for the final 24 minutes, but in that time he attempted eight pressing actions: one every 3 minutes.For all the hard pressing work Henderson does for the team while the others are making sweet music, Joe Allen appears to do even more, so for those concerned that Henderson's suspension might put the team out of tune, worry not; in Joe Allen we have a readymade replacement.
Comparison between Henderson and Allen when they both completed 90 minutes Vs Southampton and Manchester United away – back to back.
Note: If you use the following stats below you must credit @AnfieldIndex on twitter or place a link to this article or AnfieldIndex.com from any articles you write using these stats.

These stats are collected EXCLUSIVELY by AnfieldIndex.com.
REST OF THE MATCHES COLLATED IN TEN IN A ROW