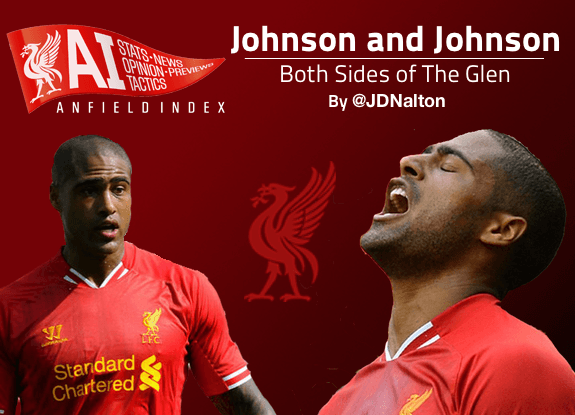 Johnson and Johnson | Both Sides of The Glen
Former Liverpool coach Kevin Keen recently declared in an interview with BBC 5 Live, that Glen Johnson has been "outstanding" for the club this season, and he's not the only one to be praising the Liverpool and England right-back. This article on Sky Sports described him as one of the most effective full backs in the league, with The Daily Telegraph even linking him with a move to Real Madrid, and you half to be half-decent to play for them.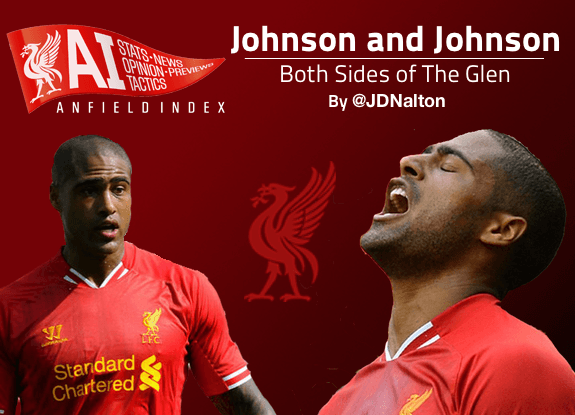 Glen Johnson joined Liverpool from Portsmouth back in 2009, for a fee of £17.5m, and arrived at a club which would have been much different to the one we see today. Since then new ownership, management, and structures have led to doubts over the futures of the old guard, which includes the likes of Daniel Agger, Martin Skrtel, Lucas Leiva, and Pepe Reina, as well as Johnson himself.

Does Johnson deserve a place in the new look Liverpool side, and do his performances merit his old school, pre-common-sense wage packet?
Side A – Attack and Sustain
There's no doubt that he still offers a lot to the club, and is a solid member of the squad as demonstrated by his 25 league appearances (all starts) so far this season. In theory he fits Brendan Rodgers tactical systems perfectly, offering attacking width and support in both the diamond and 4-3-3 set-ups, as well as providing an ideal option at wing-back for the occasionally used 3-5-2.
Never as poor in defence as many would have you believe, Johnson has always performed his defensive duties to a reasonable level if the system he's playing in allows him to do so. Even in the expansive attacking systems practised by the current Liverpool side, he still manages to rack up impressive defensive stats, particularly when it comes to reading the game and intercepting passes. He has the third highest interceptions total in the side, with 45, behind Skrtel (55) and Lucas (48), and lies second in the team when it comes to interceptions per game with 1.8, behind Lucas who averages 2.1.
Whilst his colleague on the other side of the park, Jon Flanagan, has been dubbed the "Red Cafu" thanks his impressive performances, it's Johnson who is perhaps the more Brazil-like of the pair. Throughout his career he's been impressive in attacking situations, and attacking displays which led to three goals and four assists during his season at Portsmouth, convinced Liverpool to splash out and make him one of the most highly paid full-backs in world football.
Side B – Decay and Release
One of the highest paid full-backs in world football.
There were rumours earlier in the season, that Glen Johnson's apparent lack of interest in football was due to the club's reluctance to renew his contract at its current rate. His performances had become inconsistent at best, and a mid-season absence from the team due to injury wasn't noticed as much as it may have been in seasons gone by. There may be non-footballing reasons for his dip in form which aren't known, but from the club's point of view he wasn't putting in performances which warranted him being one of the highest paid players at the club.
The praise he's received recently, as referenced at the start of this article, would baffle those who've watched him for the entirety of this season. He has put in several excellent performances, with notable improvements as the season reaches its climax, but these are outweighed by some displays which were average by anyone's standards, and extremely poor by Johnson's own.
The attacking play his game was built upon has become uncertain and tentative, with poor touches, misplaced passes, and a general sloppiness creeping in. As you can see from the table below, he loses possession more regularly than the majority of Liverpool's other defensive players. (Only includes players who've played more than 500 minutes this season).
In seasons past he's posed a danger in attacking areas thanks to his ability to shoot with both feet, which has also meant he can unsettle an opponent with his ability to take them on on the outside, or cut inside to shoot. These skills have been less evident this season, and he's been unable to get himself on the scoresheet in the twenty-five games he's played, with only four of his fifteen shots finding their target.
With his contract expiring at the end of the 2014/15 season, the club might look to get a fee for their player this summer. However, despite the negatives in his game, could still be extremely useful to the Liverpool squad going into the next campaign. The team are likely to be playing twice a week, and having a player with some previous Champions League experience could be important, especially one who can play on either side of the pitch, and one who fits perfectly into Liverpool's playing style.
As his next contract is likely to be his last major deal, this could mean he'll look for a final pay-day elsewhere. But it would be good for Liverpool if they could work out a suitable deal, and keep Johnson as part of the squad when he returns from Brazil – the spiritual home of Liverpool full-backs.