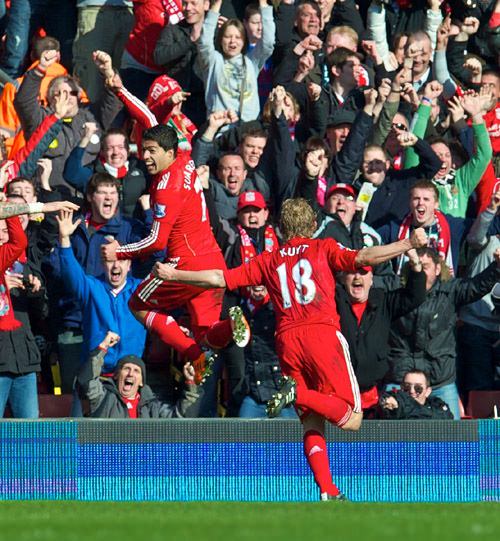 Liverpool Vs Man United - Match Report
Liverpool Vs Man United – Where the Game was Won
Payback is a b*tch and Manchester United's slaughter at Anfield yesterday was just that – Payback. After suffering two defeats at their hands this season the win was very welcome, as I'm sure every Liverpool fan didn't want to even contemplate a third loss, in one season, to them.  Not only was it a welcome win, it was pretty much a hammering which made it even more enjoyable!
It could have been even more though; Suarez could have done better with shot come cross from Raul early on, Kuyt could have thrown his head at a great run and header across goal from Meireles, Glen Johnson played Maxi in behind United's defence only for Van der Sar to deflect his attempted square ball. Stevie also had two shots that were inches wide. Plenty of attempts and good one-touch football was the order of the day, however in which areas of the field did Liverpool win the game?

Surprisingly it was Manchester United's fullbacks that seemed their weak point yesterday. Our right hand side is where our main threat always comes from, as we have previously mentioned on twitter. We are very pass heavy on our right. Playing Meireles on the right was a masterstroke, even though a lot of supporters have said that he cannot play there and was played out of position there when Roy was in charge. His tendency to come infield and then run in-between the midfielders and defenders caused the mancs severe problems yesterday. He also switched with Maxi a few times and one of the goals came when Maxi moved to the right.
One move had Meireles find Suarez in Liverpool's half, who touched then touched it past Evra to race into the attacking half. Meireles sprinted the full half of the pitch to get onto the end of an inch-perfect pass from our number 7, that Xabi would have been proud of, which he headed into the direction of Kuyt but he couldn't connect. It was an example of the hard work Meireles got through in the first half. What helped Meireles more was that he could come in off the wing as Suarez was moving more to the right wing than usual, as previously he has tended to prefer the left wing which is where he's looked most dangerous.  Meireles and Suarez occupying the right wing is one of the reasons I believe Evra didn't make as many moves forward to get involved because of the threat on our right.
A quick look at Evra's passes in the attacking half against top six sides they've recently played (above) shows that he was much more active in and around the box against City and Chelsea than against Liverpool. Rather than giving our defenders the credit I'd like to think it was because of the first twenty minute burst in which wave upon wave of attacks were from our right wing.
We've blasted Evra enough, so onto Raphael who isn't exactly blameless! He was nut-megged for the first goal and then for second just stood around waiting for Nani to clear the ball and we know what happened there.
The second goal came when a Maxi cross was blocked into the path of Suarez who immediately looked for Meireles at the far post. Meireles had managed to cleverly get away from, a ball watching, Raphael, and called for the ball (watch the replay good movement here) which is why Nani had to come back to inadvertently head it to Kuyt to score. On a side note, there were suggestions that the sunlight was in Nani's eyes but he had his back to the beaming rays.
Meireles making clever runs or taking positions into the spaces vacated by Suarez were the plays of the day and, in my opinion, this caused the United fullbacks to sit back a lot more than usual and try to provide support for a soft centre back pairing.
The 1st and 2nd half successful pass chalkboards below show that Liverpool played the majority of football on their right and this went in their favour because it negated Evra's attacking force, leaving United's attack man for man with Liverpool's defence and no overlapping width as their fullbacks usually provide.
Having a look at the stats we have on the game 86 out of our 417 passes in total were on the right wing whilst on 26 were on the left wing. United played 81 passes down their right wing out of a total of 555 passes. Out of Liverpool's total passes 21% were in the attacking right wing area – quite a high percentage if you ask me. In comparison United's use of their right wing was at around 15% of total passes.
They did manage to pass down their left wing a lot more than Liverpool, with 12% of passes on their left wing whilst Liverpool had only 6% of their passes on their left wing (screaming for a left winger but let's leave that for another blog post!).
Back to further examples of some good interplay between Suarez and Meireles. Again down the right wing, at the start of the second half where Meireles used his deft touch to play in Suarez on the right hand side of United's 18 yard box. Suarez flicked it away from Brown and then back again over Brown's head where Gerrard and Meireles had a made a run but the resulting ball from Meireles went into the keeper's arms rather than to the waiting Gerrard.
Suarez's continued success down the right wing was apparent again when skinned Evra in the second half and then easily beat Brown before miscuing a shot into the Kop. More brilliance from Suarez again showed how much joy we had down the right hand side.
Another example of excellent movement from Meireles came in the 62nd minute. The ball broke with Kuyt after a throw in and Meireles' start position was central after pushing in from the right. As soon as he saw the ball break to Kuyt he immediately darted in between the two centre halves to get behind and Kuyt found him with a great ball into the area. The resulting shot was parried by Van der Sar but it was again an impressive display of Meireles' movement off of the ball yesterday.
It may seem like a very pro Raul Meireles article but I was very impressed with his work yesterday, and even though it is correct to give Suarez and Kuyt all the plaudits for their display I just believe that Meireles provided so much with his movement in or around that right hand side yesterday. The trio of Meireles, Suarez and Kuyt caused United so many problems and subdued one of their most important attacking threats. Their left back. That's where I believe the game was won.
This is my first ever article – go easy on me!


Want to be able to comment on the content? Click here to subscribe now for as little as £2.50 per month! If you subscribe before 1st April 2011, we'll upgrade you to one level of subscription higher! To have access to the Stats Centre you must subscribe as a Writer and then be upgraded to a Full Member! Find out which other features you'll have access to: Why Join Us?