It's always a heart-in-your-mouth moment – Martin Skrtel catches your eye, with his arms around an opposition striker, with only seconds to go.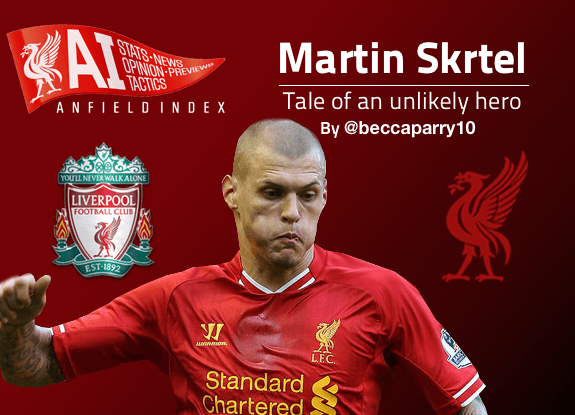 More often than not this season, it's a defensive move that's been effective enough to manage those last minute free-kicks that could have changed a lot of results for us, and who would have thought it?

It was only the start of this season that the rumours of Skrtel potentially moving on were becoming more evident, mostly because of Rodgers' choice to stick with Agger as vice-captain, and the influx of new defensive players. The reality was, he wasn't going to get many games.
Now, late April, 3 games away from winning the Premier League, and you start to look back at the players who have stepped up. This season, we've been lucky enough to say that the majority can be counted in this category.
After an unsettled back four at the start of the campaign, the great start started to fade away slightly. However, 11 consecutive wins later, and Skrtel has been at the heart of the defence, putting himself on the line and making composed clearances to hold onto those crucial points.
Statistically, the Slovakian tops the table for clearances per minute, in games played in for 80 minutes or more. On average, he makes a clearance every 7.5 minutes, making sure he's the first to get his head on the ball when those dangerous crosses are flying in.
Although in the past he's been at the centre of some heartbreaking mistakes, Skrtel has made a total of 3 defensive errors throughout the season, and with only 1 leading to a goal. Although the margin for error is very slim, playing nearly 3000 minutes of football and only being subject to one costly slip up is good enough for someone who was somewhat written off at the start of the season.
In terms of driving the attack from the back, you would expect that type of play to come more from Skrtel's partner, Daniel Agger, however, there have been a few instances this season where his involvement has been significant.
For example, a game which will be remembered as one of the big turning points this season, was the 3-2 win at Fulham away. In this game, it came down to a last minute penalty that Steven Gerrard crucially converted, but Skrtel's passing stats were his best of the season. He made a total of 87 passes throughout the game, with 90% of them successful. It becomes more evident that in these types of games where play has to be patient, drawing out teams, with the risk at the back, can be eventually rewarding.
All 220 of Martin Skrtel's headed clearances have been successful this season – a stat that epitomises how important he has been. With Agger's injury problems of late, and Sakho's stop-start introduction this season, you could say that we would have been lost without a familiar and reliable centre-back to steady the ship.
With 3 cup finals left, all are going to be big tests defensively. A calm, collected and composed continuation of Skrtel's contribution so far is vital.