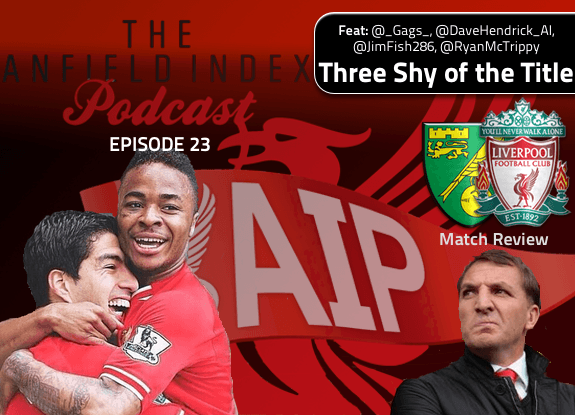 Anfield Index PODCAST: Three Shy of the Title | Norwich 2 Liverpool 3
Episode 23: THREE SHY OF THE TITLE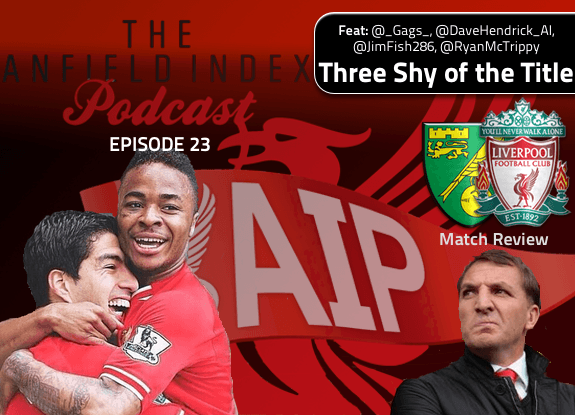 Date: 22nd April, 2014
On the AnfieldIndex Podcast this week Gags Tandon hosts the show with guests Dave Hendrick, Jim Fishlock and Ryan McTernan. The panel discuss impressive Liverpool's eleventh win in a row against Norwich City and analyse tactically and statistically like no other podcast will!
There are more pressing stats from Gags and analysis of Sterling, Allen & Lucas' performances. As Liverpool have qualified for the Champions League already the guests discuss their three players that they'd bring in and three players that they'd allow to leave. Also predictions of the Top 4 and Bottom 3 in the Premier League.
There's also a preview for the massive Chelsea game coming up – the biggest game in 24 years (yes I know we keep saying this!).
Dave Hendrick also has a special and extended Top 5 Bellend of the Week award!
All this and more it's the Anfield Index Podcast!
Download on iTunes
(Only subscribers will receive new episodes immediately)
Host: Gags Tandon

Guests: Dave Hendrick, Jim Fishlock & Ryan McTernan
You can listen to the podcast by using the embedded player or you can use the links beneath it.
Listen to this podcast episode | Download this podcast episode (right click and save)