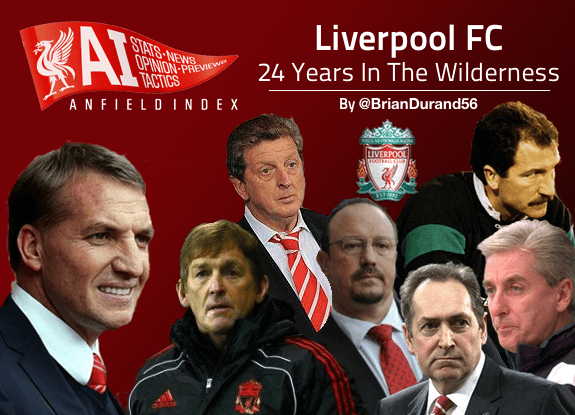 Liverpool FC's 24 Years in the Wilderness
At just about 2pm on the afternoon of 28th August 1990, I reckon I probably said 'tara' and 'see you later kids' as I set off on my regular match-day walk up to Anfield.  I will, no doubt, have promised my 8 year old football mad son, Paul, that I would bring him a programme as he waved me off resplendent in his full LFC kit. (Looking back on family photos, I don't think he ever wore anything that wasn't a LFC kit, tracksuit or Kenny coat!)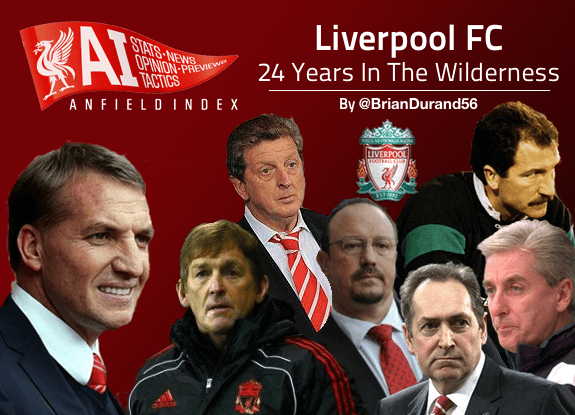 It was the first home game of a new season and Champions Liverpool were entertaining Nottingham Forest. The standing Kop welcomed their heroes and settled down to the customary victory (2-0 Rush, Beardsley).

The footie season was back and normal service was resumed. By early October the Reds had notched up a 100% start, consisting of eight straight wins, and by the time defeat was tasted at the onset of December, the reigning champions had registered 12 wins and 2 draws. Another title was on the cards, surely?
However, that 3-0 defeat at Highbury, was the first setback in an era which would unbelievably see the mighty Reds slip from invincibility and lose their aura of immortality.
Within ten weeks the unthinkable happened. Kenny Dalglish, a living legend in an Adidas coat, bowed to the stresses and pressures brought about by carrying a great club through the aftermath of the Hillsborough tragedy and quit the manager's office.
The season petered out, and a runners up spot was greeted by the vast army of reds as a disappointment but nothing more. A shrug of the shoulders, a new kit for our Paul, and we would be back next year.
Only we weren't back next year. Or the year after.
The year after, actually saw Liverpool FC finish 6th in the final season before football would become a flashy satellite television brand. We languished behind Sheffield Wednesday. An FA Cup win was scant consolation.
The new SKY era dawned and Graeme Souness' rebuilt reds were stuck in 6th (now below such big names as QPR, Norwich and Blackburn) – the crown had well and truly slipped. To make matters worse, Manchester United's rise coincided with the big bucks injected into the game and as LFC waned, the Red Devils prospered.
It got worse. 1994 saw Souness sacked, the end of the standing Kop and a eighth place finish – below Wimbledon for goodness sake.
In came Roy Evans and a young crop of players who brought the fun back into Anfield visits. Attack was the order of the day. Pass and move was the Liverpool groove. There were 4-3 wins, and a return to the top three.
Eight years had passed without a title win, the longest since I had been to my first Anfield match back in 1966. Young Paul was now 16 and was a regular in Block 109, and he was still wearing his treasured Liverpool kits. By now his little sister Rachel had well and truly caught the bug, and her bedroom wall was adorned with Patrik Berger, Jamie Redknapp and David Thompson.
Summers came and winters went. Ten years without a title. Man United racking them up.
I was working in Manchester when they won the treble. Agony.  I remember clearly our Paul punching the wall and stomping upstairs in utter frustration as the 'miracle of Barcelona' unfolded.
We had to endure Clive Tyldesley and co.'s constant reminders of this night during every televised match involving any teams, or so it seemed.
Into the new millennium and the Cardiff trips became a regular entry into our calendars. The kids saw their first trophy success (LC v Birmingham), but then had to shiver their way through a 4 hour February  return journey in a car which had had its window smashed!
By May, Rachel and I were back at a sun-drenched Cardiff for the unforgettable FA Cup v Arsenal. She was on the verge of tears as the clocked ticked down and the Gooners at the far end were celebrating. 'It isn't over, until it's over' I told her. Then came a flash of Michael Owen's right boot, followed shortly by a long ball by Paddy Berger and an amber blur called Owen… The ball headed straight towards us, nestled in the net and delirium.
The 'future Mrs Owen' as she was then (she has since reassessed this) knew then what it was like to be a proper Reds fan. Taken to the limit of despair, followed by unbelievable joy.  It was a pattern which would be set for the following decade.
UEFA Cup followed, and a return to the big time as we were back in the Champions League.
Roy Evans had gone, and genial Gerard was at the helm.
Still no genuine title contention though.
2005 saw the arrival of Rafa and the glory that was Istanbul. The kids were now delighting in proper European nights. The atmosphere versus Juventus and Chelsea, finally brought to life the tales of the Anfield that they had heard a thousand times. I remember how they revelled in the aftermath of the Chelsea semi-final, when residents on Pinehurst Avenue came out of their homes as if welcoming a liberating army.
Istanbul. What else to say about that glorious evening? From the moment the final whistle sounded against Chelsea the hunt was on for a route to Turkey. For two weeks I investigated every avenue. Flights via Germany… via Dublin… via Italy. Possibly Bulgaria then overland? All proved ridiculously expensive. We qualified for two tickets. What to do? In the end I made the ultimate sacrifice and booked them on to official flights and stayed at home to watch on TV. Of course, I had seen it all before, hadn't I?
As we now know, it was The. Best. Night. Ever. (In the history of the universe.)
'We won it five times' we sang. Life was good, very, very good.
Torres arrived. A fair haired angel who would take us to a new level.
This would be our year. Deffo.
Still, no title.
David Moores called it a day, and all of a sudden the heroics of another FA Cup classic and another Champions League final (me and Paul locked out in Athens after an epic journey via Cyprus, Thessalonika) were submerged in a kaleidoscope of confusion involving Texan Cowboys, Rick Parry, Purslow, High Court cases and a safe pair of hands called Roy Hodgson.
By now twenty years had passed without a league title. Paul and Rachel were representative of a whole generation who had not only seen us running round Anfield to the strains of 'Ee-aye-addio', but had almost lost all hope of ever doing so.
Down the East Lancs Road, the other lot gloated as they surpassed 18, went on past 19 and onto 20 titles.
Jamie Carragher had come and gone. As had Robbie Fowler, Sami Hyppia and many other favourites.
Steven Gerrard remained. The hero of many of our greatest days and evenings over more than a decade continued to drive his team forward, week after week. Suffering the taunts of rival fans, his lack of a Premier League medal is the last remaining gap on his sideboard.
After surviving the real prospect of permanent oblivion by the skin of its teeth, Liverpool Football Club had new responsible owners and (after a brief rekindling of King Kenny's reign as boss) a new young manager at the helm.
Liverpool have never gone more than 24 years in their history without winning the League. My grandfather witnessed those barren years between 1923 and 1947. How the post-war Kopites celebrated that 1947 title.
This year marks 24 years since our last championship win.
Almost 24 years since I set off for that Forest game. In that time my kids have grown up from wide eyed junior school pupils to responsible (?!) adults. The one thing which has remained constant is our love for LFC.
Twenty four years on, and we are that close. Three games are all that stands between us and our dreams. A whole generation of players and fans who have been denied the stresses and adrenaline rush of a title run-in are now immersed in an amazing ride. The atmosphere in the last couple of months has been something else. Gone forever are the boring old stories of 'the proper atmosphere of the good old days'. Take it from me, the atmosphere of spring 2014 is as good as at any time in years gone by. As is the quality of football.
Three games, maybe two. Three weeks, maybe two.
Something special is happening. The long wait has made it more special. If we can finish off the job, savour every moment of the last few games. This will take some beating, believe me.
I wrote recently how the sight of Steven Gerrard lifting the PL would reduce me to an emotional wreck. Add to that the sheer contentment of seeing my two cherished 'kids' finally proclaiming LFC as "Champions, Champions" and I may need counselling.
24 years is a long, long time. Too long.
Let's finish this in style and let's party like we have never partied before.