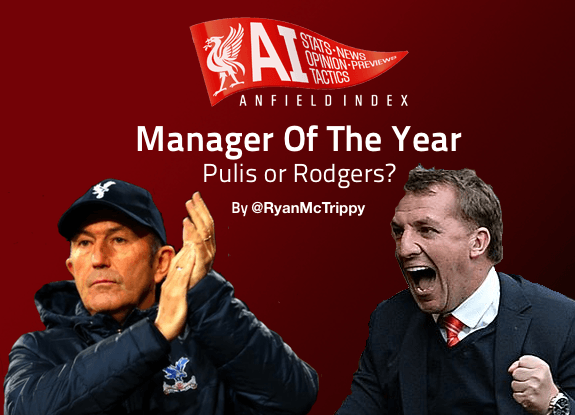 Manager of the Year: Pulis or Rodgers?
As the Premier League draws to a close, the annual award ceremonies will soon begin with accolades awarded to the highest performing managers and players. While many fans' opinions are split, ultimately the eventual winners are unanimously chosen by their peers, journalists and professionals alike, with very little doubt about the players and managers in question.
However, this season has seen two candidates stirring debate with regards to who the manager of the season is: Tony Pulis and Brendan Rodgers? Two managers who have performed impeccably with their respective teams, particularly in the second half of the season. But just who is the better of the two? Or more importantly, whose achievements merit winning the Manager of the Year award?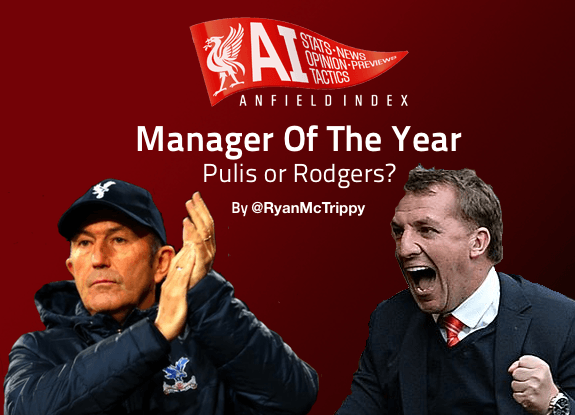 Tony Pulis and Crystal Palace
Ian Holloway guided Crystal Palace to a playoff win from the Championship after taking over from Dougie Freedman in November of 2012. However, after eight games in charge in the Premier League, second from bottom and with just three points on the board, Holloway left the club my mutual consent on October 23rd 2013; less than a year after taking charge. It would take Palace over a month to find his replacement, as they would go on to lose two more games until finally picking up a point, followed by a win against Hull City: their first league victory in almost three months. In fact, between September 1st and November 9th, the date of Palace's draw at home to Everton, the London side had lost 7 games in succession.
Tony Pulis took charge of the Eagles for their 13th league game of the season, having left his position as Stoke City manager the previous May following a lack of progress that year. Since Pulis has taken over at Palace, they've never lost more than two games in a row, and are currently on a five match winning streak. (However, they also went five games without a win, losing three and drawing twice). Having been bottom of the table after Pulis' first game in charge, they currently lie in 11th position, and are mathematically safe from relegation.
Brendan Rodgers and Liverpool
Brendan Rodgers and Liverpool, funnily enough, began their season by defeating Pulis' previous team Stoke City, in a hard fought 1-0 victory at Anfield featuring a dramatic late penalty save from Simon Mignolet. Liverpool's opening three games followed a similar trend: first half Daniel Sturridge goals, followed up by grinding out the victory and ultimately the three points.
Liverpool continued to pick up points going into Christmas, but had hiccups against Arsenal and particularly Hull City, both games away from home. However, as November drew to a close the Reds made their first statement of the season by defeating Tottenham Hotspur 5-0 at White Hart Lane, and ultimately condemned Andre Villas-Boas to the unemployment line. But it was not until February that Brendan Rodgers' Tricky Reds began showcasing the work and effort that both the manager and players had put in; hours upon hours at Melwood and finally translating it to the luscious green of Anfield Road. The performances and style of play we will come to, but the results and records speak for themselves:
11 victories in a row, including wins over Arsenal, Everton, Spurs, Manchester City, & Manchester United, with Jose Mourinho's Chelsea visiting Anfield this weekend.
Undefeated in 2014 – the only team in Europe's top 5 leagues with such an achievement.
Scored a club record 45 away goals, thus far, the previous standing at 42 in 1946/47.
Four or more goals scored in 11 matches, beating Manchester United's previous record of 10 matches.
Club record of 6 consecutive away wins following victory over Norwich.
Their achievements this season has been incredible and breathtaking to observe, and they remain on course to claim their first ever Premier League title after 24 years, further heightened by the fact the Reds finished 7th last season.
The Performances
Crystal Palace
While many expected Tony Pulis' Crystal Palace to resemble his Stoke City side, the Eagles have played football on the deck since the Welshman took over; a far cry from the 'punt it long to Peter Crouch' method at the Britannia Stadium in years gone by. Ian Holloway's all-out attacking methods, expressed through his favoured 4-3-3, had found great success in the Premier League 4 seasons ago with Blackpool, who were lauded for their attacking play, but were ultimately relegated by Manchester United on the final day of the 2009/10 season. Holloway also had a cult following thanks to his comedic quips in interviews that had him heralded by Soccer AM fans and "banter boy" Nandos-goers. (No offence to Nandos-goers. In fairness, I go to Nandos… Shut up.)
But in the four years since Holloway last managed in the Premier League the game developed, particularly in the bottom half of the table, where teams must have solid defensive structure as well as attacking potency. Holloway was simply overwhelmed by this challenge and was found out because of it. Palace's decision to appoint Pulis was shrewd, clever, and in hindsight a masterstroke.
Pulis has many critics due to the brand of football he instilled at Stoke City. It was physical, shrewd, pragmatic, and stereotypical of a Bruising-British team. To his credit, however, it works. Pulis has never experienced relegation as a manager, has runner-up medals in the Football League Championship from the 2007-08 campaign and the FA Cup in 2010-11, ultimately guiding Stoke City into the Europa League.
Pulis instilled organisation to Palace, and began to turn the results around in his first 6 games (won 3, lost 3), finally escaping the drop-zone in his sixth game in charge. Palace had to make it to the January transfer window with one nostril peaking through the quagmire of the relegation battle to even begin contemplating survival. Pulis purchased former Liverpool transfer target Scott Dann from Blackburn Rovers, Joe Ledley arrived from Glasgow Celtic, with Tom Ince ironically joining from Holloway's previous side Blackpool on a 6 month loan. Jason Puncheon was on loan from fellow Premier League outfit Southampton, but Pulis decided to make that transfer permanent, adding four players to the squad while letting a considerable number leave on loan to give him a core squad, and build his own first team.
Pulis' Palace do not possess the obvious brute force and physicality Stoke City did when the Welshman was manager, but they have a mix of height and speed through wingers like Ince, Bolasie, Puncheon and Cameron Jerome through the centre, allowing them to counter-attack teams along the deck as opposed to aerially. Palace's results, particularly in the last month have reflected the work under Pulis as they now lie in 11th place, safe from relegation and have not been in the relegation places in approximately three months.
Liverpool
Since Rodgers' inauguration to his second season at Anfield, his Liverpool side's performances have begun to reflect the possession based, attack-minded vision that the Northern Irishman had in place when he joined the Merseyside club back in June 2012. While many are fast to label the Carnlough native as "pragmatic" and finally relinquishing his deluded fascination with "death-by-football", Rodgers' approach has remained the same: keep the ball, press your opponents into submission, and attack with unrelenting efficiency. Not counter-attacking, but countera-tikitaka.
Liverpool struggled performance-wise in the league up until the end of November and into the Christmas period, as Rogers searched for different ways to accommodate his best players into his set up and vision. Shifting between 4-2-2-2, 3-4-1-2 and a 4-2-3-1, Liverpool were forced to show flexibility in the opening months of the season due to injuries and Luis Suarez's suspension being carried over from last season. Although they were scoring goals and winning games, the Merseyside outfit were lethargic and error-ridden at the back.
Many fans expected Liverpool to strengthen their squad in January, particularly in the midfield area where they were missing steel and presence defensively. It is many people's belief that Liverpool have been relatively injury free and with a healthy squad this season, but compared to title chasing team Chelsea, the squad is incredibly sparse and lacking quality throughout.
Liverpool failed to reinforce in January, unlike Chelsea who added Matic & Salah (and Kurt Zouma, who was immediately loaned out) and their squad includes a host of veterans, league winners and established Champions League quality names. Rodgers came out and proclaimed that his squad would be "galvanised" following the club's failure to land their targets (including Mohamed Salah), and in truth he was correct: since the 1st of February Liverpool have won 11 games in a row and are playing some of the most attractive football in world football.
When one looks at just how many injuries this Liverpool side have had, it is remarkable to see how far Rodgers has taken them through his tactical flexibility and his ability to conform with the thin squad plagued with injuries is a remarkable achievement. In truth, Liverpool only have 14 players who are first team dependable and selected each week, but their squad dramatically dips in quality after these names, particularly in midfield and up front.
Conclusion
Both Tony Pulis and Brendan Rodgers are the standout candidates for the Manager of the Year award. Their achievements, albeit on different scales and with differing expectations, have been remarkable and in retrospect both deserve acknowledgement.
For the first time since the Premier League was re-branded from the Old First Division, Crystal Palace have survived a league season, and considering the atrocious start they had it is a tremendous accomplishment. Many fans and pundits gave them no chance, so to finish a number of places above the relegation zone is a credit to the work Tony Pulis has done.
Brendan Rodgers has also exceeded expectations at Liverpool, whose fans only wanted Champions League football but knew the difficulties of breaking into the top 4 would be considering the squad depth and money spent by the likes of City, Chelsea, and Spurs, as well as expecting Manchester United to achieve considerably more than they ultimately have. On paper, Liverpool should be nowhere near the top of the table, but as many know that is simply not how the game is played. Their first team is certainly top four quality, but their squad is not.
Should Liverpool win the Premier League it will be the first time in 30 years that a team has gone from 7th to 1st; a feat never achieved in the Premier League era. It must also be considered that it is much harder to climb the table the further you go up as the quality of teams and squads increases. Many teams between 8th and 17th can fluctuate in standings, winning two games in a row can see you jump four or five places, and losing can produce the opposite effect. (For example, Palace jumped from 20th place to 16th in one week.)
This does not compromise the achievements of Tony Pulis, but the tightness of the bottom half of the table must be considered.
What must also be considered for Liverpool is their lack of European football and the advantages that brings. More often than not Liverpool play once a week, and have no outside travelling to do such as the top four of last year, and those in Europa League spots. They have extra recuperation time as well as focusing solely on their next Premier League opponents. However, as shown above, Liverpool's squad is sparse, and at times they have resorted to including 16 year old footballers on the bench to simply make up match-day numbers. The squads of Chelsea, City, Arsenal and Spurs have greater depth and are superior to the red half of Merseyside's assemblage, not to mention the financial benefits of Champions League football. Liverpool have sold players in order to buy what they have, but Rodgers has also coached many players he inherited into playing some of the most technical football in Europe.
Also, if this theory was credible we would see teams breaking into the top four every season thanks to the lack of European football. In fact, last time Liverpool didn't have European football they finished a miserable 8th. Yes, Manchester United have declined, but that slot should have been taken by Tottenham Hotspur considering the players they acquired following Gareth Bale's move to Real Madrid, as well as their ascendancy in recent years. If Liverpool fail to win the title, to Kopites throughout the world, their achievement is still more than the 4th placed finish they had wished for; the Premier League is quite simply a lavish cherry on top.
Between Brendan Rodgers and Tony Pulis, fans are given a demonstration as to how varying styles work in opposing scenarios. The achievements of the two British managers have been exemplary in their own right, and their is justification on both sides of the argument as to who should win the Manager of the Year. Experts, pundits and journalists will have their own opinions, but the achievements of Crystal Palace and Liverpool will be met with applause and congratulatory celebrations thanks to the pleasure they have given to the most important people involved: the fans.