Heads fell into the hands of every Liverpool fan around the world when Steven Gerrard slipped to gift Chelsea the lead on Sunday. It was the last thing our inspirational and determined Captain deserved after his work throughout his career and the season.  He's worked his way into the PFA Team of the Season, as well as being a Player of the Year candidate. So what's been so special for him this campaign?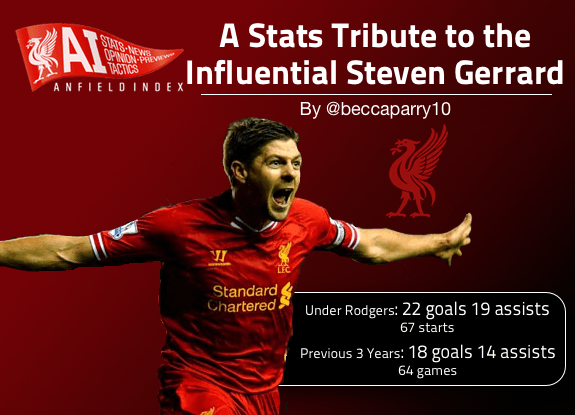 In his new defensive and holding role, Rodgers has found the position to hopefully prolong Gerrard's career that bit longer. Although at first it could be thought that we would miss his presence going forward, the way we have been playing recently has shown this was the correct move. Gerrard has been influential from this position, as the philosophy of attacking from the back has got us to the top of the table.

He's won 72% of tackles all season, and participated in 197 ground duels, showing just how much a potential title would mean to him. There's no doubt that Gerrard puts the same amount of effort into every game for Liverpool, but at the moment, that extra push needed to be in contention for the title just brings out that little bit more in him. He's won 72% of all duels since the start of the unbelievable 11 game winning run, and successfully cleared 7 of Chelsea's potential threats on Sunday, the most he has all season.
Of course, like Sunday, there is going to be some games where Gerrard's presence is still needed going forward. Throughout the season, the Liverpool Captain has created 60 chances in total, and although now sits that bit deeper in his new role, is second only behind PFA Player of the Year Luis Suarez in the PL assists table, with 10.
It's times like yesterday when even though you've got the firepower to match any side in Europe, a captain needs to step forward and give it one final go. Against Chelsea, a few shots right at Mark Schwarzer was as much as he could get through those 'two parked buses' that Rodgers rightly mentioned.
Even though the creativity stats will largely point towards Luis Suarez, Philippe Coutinho and Raheem Sterling these days, corners and crosses figures are dominated by Gerrard – and with both strikers doing so well this season, a lot of it is down to him. He's fired 157 crosses into opposition boxes this season, double the amount of any of his teammates, and in fact, 8 of Gerrard's 10 assists this season have come from set plays. Remember years ago when effective free-kick takers were few and far between at Liverpool? It takes you back to the pictures of Suarez and Stevie play-fighting over who should  be taking them. Options and different ideas are what takes a team to the top – it's why Brendan Rodgers' men have been praised so highly this season, and why neutrals believe that we deserve it.
Even though it's so ironic that it should be Stevie to slip in one of the final games, it's him who has got us here in the first place. Yes, the goals from Suarez and Sturridge are invaluable, but in the last few matches, it's been evident that it's him driving us to the end. Win the league or not, Gerrard along with the team and Rodgers' work have made this a season of incredible progress.