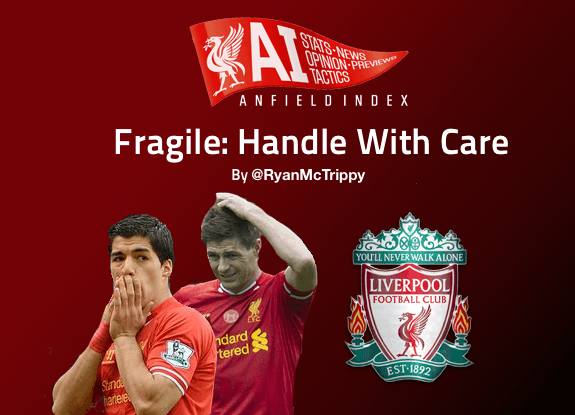 Liverpool FC Fans - Fragile: Handle With Care
It has been a very strange week in the life of being a Liverpool fan. Especially if you have a Twitter account. Oh boy, especially if you have a Twitter account.
Following the defeat that ended, not only our unbeaten outset to 2014, but the incredible eleven game winning streak. The Premier League is also apparently out of our hands, hypothetically, but let us leave that topic aside for just a moment.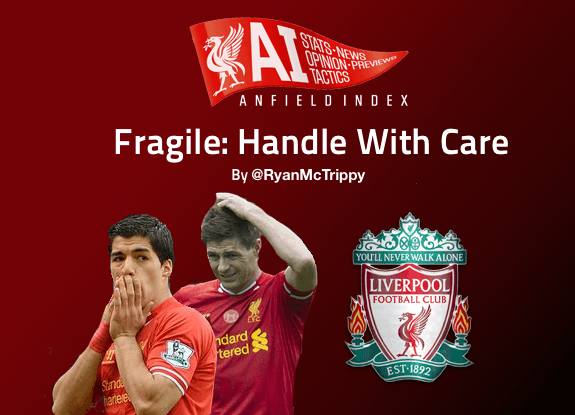 Looking to place a bet? Place a bet at one of these sites.
The defeat was a bitter, bitter pill to digest. A lozenge of  Jose Mourinho's counter-attacking ("attacking"), astringent Chelsea, leaving Anfield with three points thanks to the Vineable Steven Gerrard slip. It was the slip that hurt the most; millions of Kopites left lamenting for hours on that moment they wish had never invaded their retinas.
It was with great pleasure that fans watched Diego Simeone's Atletico Madrid beat the Blues at Stamford Bridge in their semi-final second leg encounter, a triumph for football, and in our own special way we felt like they did it for us.
But amidst this encounter, many fans were still expressing their viewpoint about news which began circulating from almost every major news outlet in the UK late Monday afternoon: Liverpool are in the driving seat to snap up Southampton playmaker, Adam Lallana. However, it does not seem to be the player who is inducing side-taking bickering,  it is the reported transfer fee of £25million. The following is a loose transcript of Internet dialogue across social media and forums about said subject.
"HOW MUCH?!" "HE'S WORTH IT!" "HE'S NOT!" "IT'S NOT YOUR MONEY IS IT?!" "ARRGH!" 
It's heated, it's aggressive, but it is also understandable.
As we will all remember, up until the last year or so we as Liverpool fans have had very little to cheer about. We had been rinsed out by the big Cowboys from across the pond, "Gaucho" George Gillet and Tom "the Herdsman" Hicks. Rubbing salt into the gaping wounds, Roy Hodgson had us playing some of the worst football we have had the displeasure of sitting through as fans, weekly miserableness stemming from the club we have grown up infatuated by. The Spirit of Shankly lived, but at times it was on life-support. Even after Fenway Sport Group saved us from financial obscurity, and our King came back from his cruise to replace the Jester, the brief glimpse of that Golden Sky was taken away as swiftly as it appeared.
Kenny's first full season, bar a Carling Cup victory and FA Cup final, was a calamitous campaign in terms of the Premier League, as well as the majority of our transfer dealings. The appointment of the Swansea boss, and resident 'fraud', Brendan Rodgers resulted in a rupture of the fan-base. Many fans were disgusted, abhorred, FEWMIN' at seeing their beloved idol sacked. The man who had not only brought so much pleasure to our faces as a footballer and manager for those lucky enough to have watched him play, but who had stood by the city of Liverpool through the Hillsborough tragedy in 1989, and every year since.
His glowing smile, the squinting eyes beneath his raised fists was many younger fans' first experience of Kenny Dalglish. It warmed our hearts, and it made us proud again. But it did not work. It is as simple as that. And yet, had it not of happened we would not be where we are today under Brendan Rodgers. We are now beginning to see the sweet tasting fruits of Rodgers' philosophy, and our young team is undoubtedly on the rise; the Golden Sky closer than it has been for a considerable period of time.
And yet, having watched our spirits rise in unison for weeks upon weeks, the seemingly rehabilitated lesions resurfaced. Breakdowns ensued, rattles were thrown; then up popped Adam Lallana! The tension was building over a couple of sleepless nights, and the transfer story proved to be the catalyst to ensuing swipes and spats.
Liverpool fans immerse themselves in the club, their emotions piled into eleven men clad in Liverpool Red every weekend. And we are still fragile, some in a state of Post-Traumatic Stress Disorder: flashbacks of long balls, rigid banks of four, Stewart Downing, Charlie Adam's teeth,  Roy Hodgson, spades in the ground, Paul Konchesky's mother. It is still raw in the minds, and will take time to truly heal.
We will lose again, but more importantly we will win again. It is easy to consume ones self with negative thoughts when they were fed to us more or less four years. But as Bob Dylan once said: The Times They Are a Changin'.
And even if we do not win the league this season, which we very much still can, our potential in upcoming seasons points towards long-standing success. It must not be forgotten how far we have come in these past two years, and just how young this magnificent team is.
Many fans will feel they have rid themselves of those tormenting memories of times gone by, while some can still feel the heavy force of mediocrity looming over their shoulder, waiting to inhale their beloved team back to the depths to which they had fallen.
It will take time for the wounds to close up, healing into scars of remembrance of what has been before. But, it will be worth it. We are no longer searching for our Golden Sky; Brendan Rodgers' Liverpool is carrying us towards it.