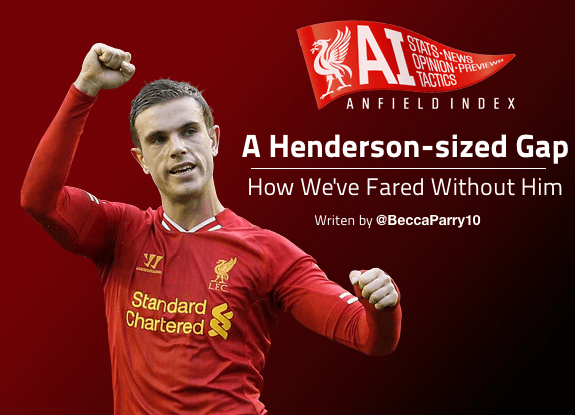 A Henderson-sized gap: How we've fared without him | Stats
A soul-destroying week has brought our title hopes down from cloud nine to only a slight chance of glory. The two results against Chelsea and Crystal Palace have gifted Manchester City an unbelievable chance of regaining the Premier League title – and even though we'll be cheering on Villa and West Ham like they're our own, it's going to need a miracle to get the trophy back to Anfield. Then again, we know all about them don't we?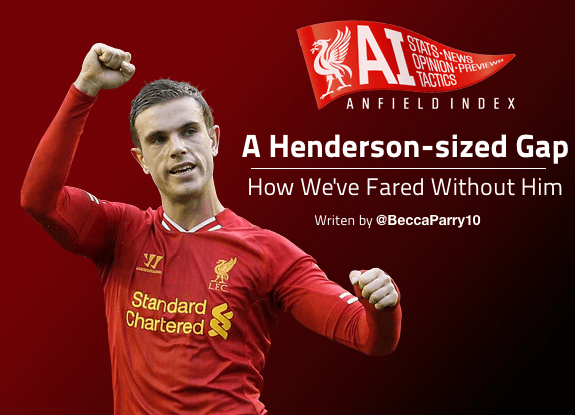 You could see on the players' faces after the catastrophic Palace draw, especially Luis Suarez, that it means just as much to them as it does to the fans. It wasn't hard on Monday night to figure out where it all went wrong, highlighted straight away by Jamie Carragher, that a Championship-winning side does not concede 3 goals in 9 minutes. Going forward, there was the look of yet another smooth and penetrating goal rout, and at the time, I'm ashamed to say that I would have been quite gutted with a 3-0 final scoreline.

However, looking back, there seems to be one defining moment when it all changed. You get a funny feeling when something doesn't go your way, and just hope that it doesn't have devastating circumstances later on. Unfortunately for us, we had to find out the hard way that Jordan Henderson is one of the main players driving our team forward this season. Against Palace, there was definatley the potential to go on and score 4, 5 or 6 early on in the game, but you can't fault us for only scoring 3. What stood out most was the gap that was left in the middle of midfield, and you just got the feeling that if Henderson was in these certain positions, then a lot more bases would have been covered.
I've looked at the comparisons between Liverpool's 3-2 wins against Manchester City and Norwich. Two different scenarios, yes, but looking at where Jordan Henderson would have filled in brings some interesting stats.
One of Jordan's best attributes is his workrate. Going after those lost balls and generating that extra 10% when the rest of the team are struggling towards the end – it has been a big part of Liverpool's terrorising of opposition defences this season. Against Man City, we managed to win possession back in the attacking third 6 times, compared to only twice at Norwich. And perhaps more significantly in terms of winning those crucial midfield battles, Liverpool won back possession 33 times in the middle third, whereas this was only managed 25 times against Norwich, where we were without Henderson. In total, we were dispossessed a total of 15 times away to the Canaries, 6 more than we were at Anfield in the previous game.
In terms of going forward, he has been the powerhouse in stimulating the attack. A clear-cut chance was created every 32 minutes against City, compared to every 48 at Norwich. Yes, it's a game at home, so more chances are expected, however, Henderson has had more of an influence in these goals than first meets the eye. The sheer determination to get the ball back as quick as possible has made him the exact model product that Brendan Rodgers wants in his side – aggressive and quick-thinking football that punishes more often that not.
In the last two games, our title ambitions have come crashing down. We've learned the hard way how influential Henderson is in our side. It's not over yet, but what a season it's been, for Jordan and the club as a whole – fantastic progression.