This Sunday at Anfield, a 2013/14 Premier League winners trophy will be present along with some medals, just in case. All we need to accompany this agonising reminder of how close we've come this season is Jim Bowen to tell us what we could have won, before revealing said silverware, Bullseye style. There's still a slither of hope though.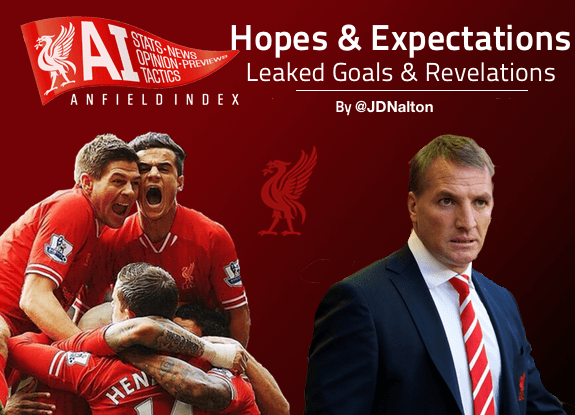 The final game against Newcastle will be a mixture of emotions, as this current Liverpool side have taken us on a roller-coaster ride consisting of defensive blunders, individual recognition, attacking football, and Aly Cissokho. Fans experiencing this final game would surely agree that it's better to have been on the ride, than to be watching from the sidelines with an over priced hot-dog in hand and a season over by March. Or in Newcastle's case, November.

There's no denying that the 2013/14 season has exceeded the expectations of Liverpool fans across the globe. This campaign even surpassed the expectations set by our owners and manager, as well as those of a certain player, who seemed resigned to the fact that he'd never have a sniff at a league title during his playing career. Until now.
Steven Gerrard's growing belief that this could be our year has been mirrored by the fans. Claims that we were going to win our first league title in twenty-four years were made early in the season thanks to the way the team were playing, but were slightly tongue-in-cheek. And then we found ourselves top at Christmas.
Then we found ourselves winning games in which we didn't play well, which is the clichéd requirement for league champions, and also destroying teams in some of the most memorable games at Anfield.
As all this was happening we had embarked on a winning run of eleven games, the likes of which is rarely seen, beating Arsenal, Fulham, Swansea, Southampton, Manchester United, Cardiff City, Sunderland, Tottenham Hotspur, and West Ham United.
And then we beat Manchester City. Those tongue-in-cheek claims morphed into the possible realisation of a dream, an all new Anfield cauldron, and a nervous belief, with a win away at Norwich in the next game only adding to this.
The problem with belief is that it can lead to expectation, and the problem with expectation is that it makes disappointment harder to take when it arrives.
It did arrive, in the form of two of the most difficult games we've ever had to watch, and two of the worst results in recent memory. That might sound over-the-top, but it's hard to recall a Liverpool game which left you with such a feeling in the pit of your stomach, and it was the belief and expectation which caused it.
However, the reasons to be optimistic are there for all to see. An adaptable form of free-flowing football which is neither total football or tiki-taka, but borrows from both; multiple game-plans, regardless of what the "big target man plan-B" gang might say; the emergence of several young players we'd almost given up hope on; and Champions League football.
Die Meister

Die Besten

Les Grandes Équipes

The Champions
If only we were. If Manchester City do what is expected of them and Liverpool aren't champions come Sunday, then the disappointment will live long in the memory, but more helpings of the entertainment we've regularly enjoyed this season will help to ease the pain. Here's hoping.