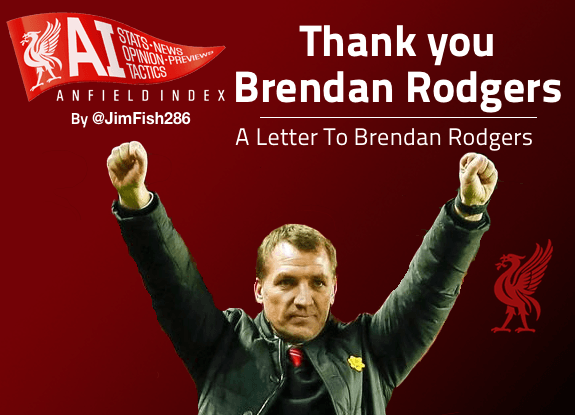 Thank You Brendan Rodgers
Dear Brendan Rodgers,
I hope this letter reaches you in good spirits even if things haven't panned out quite how we all would've wanted on the final Sunday of the season.
I wanted to take this opportunity to thank you and your team for all your efforts, not just this season, but both campaigns you have been in charge.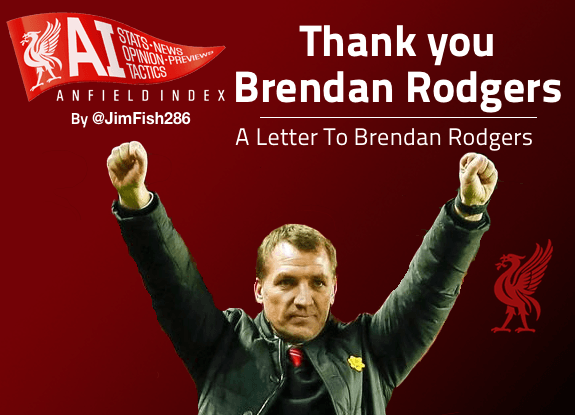 As a Welshman who was lucky enough to see you rebuild your career at Swansea, I was extremely happy to see you given the chance to rebuild our wonderful club.
I would often speak to friends and fellow fans about what I had seen from your Swansea side and of one performance in particular. That was the first leg of the play-off semi-final away at Nottingham Forest.
I'm sure you'll remember but Neil Taylor was sent-off in the fist few minutes. Your side totally dominated possession that evening, they passed Forest off the park and completely controlled the game. It was a wonderful display. If not for an inspired goalkeeping performance from Lee Camp, your Swansea side would have put the tie to bed that evening.
That style of controlled footballing dominance was something I wanted to see from my club and approaching your first season in charge I was slightly nervous but excited as to what we would be treated to on the pitch.
Although a 7th place finish wasn't anything to write home about, the second half of your first season in charge really made many observers sit up and notice Liverpool once again.  We were playing some wonderful football, scoring plenty and we were more than a match for any side in those final few months. It was a great feeling watching the side going forward and for the first time in many years, I was excited for the start of the new Barclays Premier League season.
As with many previous summers, we were once again put through the mill. This time it was the Luis Suarez saga.
Again, thanks to you and John W. Henry taking such a hardline stance during all of it, we were able to hold our heads up high and say We Are Liverpool, we will not be bullied into selling anyone.
To steal your words, I went into the first game of the season extremely galvanised and hopeful that we would challenge for a top four position and a return to the top table of European Football.
What has unfolded before my eyes this past 8 months has been incredible. To be approaching the final game of the season with the very real chance of winning our first Barclays Premier League title is almost something out of a work of fiction.
I have fallen in love with Liverpool Football Club once again Brendan and that is down to you, your style on and off the pitch, the way you continue to prove all of the arm chair critics (myself included) wrong with your team selections, formations and the roles you ask players to play in. I have to confess to also being a huge fan of your personal style. (If you could see your way to letting me have one of those match-day coats I'd be forever in your debt.)
We have all been bewitched watching this side both in and out of possession, the pressing game, the brutal way we can counter attack and the way we tear into teams and rip them to shreds both home and away.
Watching Raheem Sterling and Jordan Henderson growing into first team stars and potential World Cup stars this summer has been a wonderful sight for us all.
The Daniel Sturridge and Luis Suarez partnership has been yet another highlight of this season, as has the way you have developed our captain Steven Gerrard into a very impressive deep-lying midfield controller.
So, as you look back on Liverpool's very best season since 2009 I want you to know that as a fan base we are 100% behind you. You have given us all so much to enjoy and cheer that we can't look back with any regrets.
I know, as a perfectionist, you will and that's what makes you the perfect manager for us.
We will get into line behind you and the players and 'Go Again' next season.
We will march proudly into Europe and say 'We Are Liverpool' and We Are Back.
For that, I thank you Brendan Rodgers.