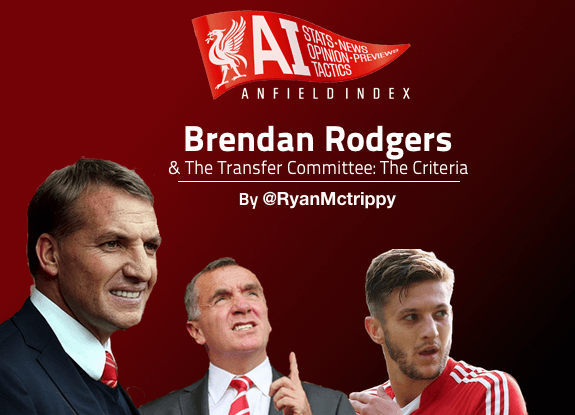 Brendan Rodgers and The Transfer Committee: The Criteria

The dust has yet to settle on the wild and wondrous campaign of 2013/14, yet the transfer rumour mill is in full swing; with Liverpool its traditional epicentre. However, among the traditional nonsensical reports of Ricardo Quaresma finally sealing his move to Liverpool and Simao finally receiving the call from Senor Rafa to board that plane, Kopites have taken to social media sites, forums and pubs to discuss just who is needed at Anfield next season; coupled with those to be seceded from the Premier League's runner-up side.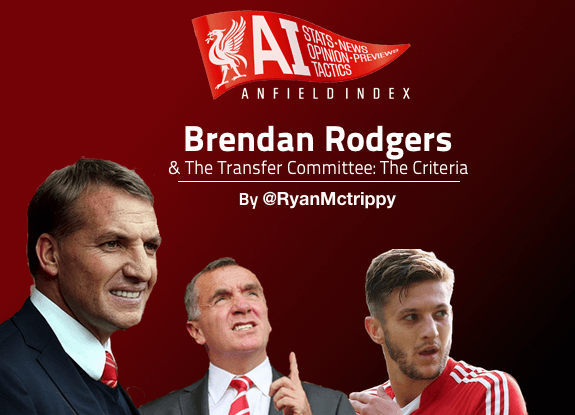 Yet, with genuine interest for Southampton captain Adam Lallana confirmed with a £20 million bid on Monday, one must consider exactly what the criteria is to become a player under Brendan Rodgers. With many a conflicting report and opinion about who will and who should be signed, let us look at exactly what the Carnlough native said himself.
"Our criteria that we look for is players with strong technique and football intelligence. They need to mentally have the attitude and the capacity to learn. And they have to be so hungry to fight for every ball on every day in training and in the game.
"You'll get some players who are specialists and who need to play in particular positions, but if we can get players in who are multi-functional, and can play in different roles and are multi-dimensional in their work, it sets us up and gives me more options as a coach."
Having had the privilege of watching Liverpool play some of the most attractive and exciting football in Europe this season, many recognise the intense skill and technicality of Brendan Rodgers' Liverpool, and that all players must be able to adhere to the tactical fluidity and prowess of this team. But it is in Rodgers' predilection for 'hungry' players that is of particular significance.
Hunger
Throughout Rodgers' hyperbolic converse, this simple phrase emerges time and again. While there are a number of talented players scattered throughout world football, there are a sparse number who have the technical ability to play in this Liverpool team. Yet again, there is possibly less who have the determination and drive to succeed at the Merseyside club. In a time when money rules over mind, FSG refuse to spend outside of their budgets in return for success. Although difficult for fans to accept, as countless deals have rolled past Liverpool's door, it is beginning to prove a success thanks to the coaching capacity of the former Swansea manager. With Champions League football finally back at Anfield next season, the quality of the squad and first eleven next season must drastically improve, more so the former.
Many fans will look to the stars of world football: Borussia Dortmund starlet, Marco Reus. Bayern Munich duo Thomas Müller and Toni Kroos. Barcelona forwards Pedro and Alexis Sanchez. While the brilliance of these players is undeniable, is this caliber of footballer really what Liverpool needs? Well, yes. But as we have seen what Rodgers can do with players, case and point Jon Flanagan, it is not talent alone that will set a Brendan Rodgers player apart.
It is their hunger.
Rodgers' work with youngsters is well documented. His work with Raheem Sterling and Jordan Henderson has almost guaranteed them a starting place in Roy Hodgson's England side in Brazil. But their work ethic and commitment to Rodgers' philosophy and vision has helped them achieve this success in his second season. Is it wise for Liverpool to identify players with a full stomach and inflated personas to be integrated with such a delicate but determined collaboration of youngsters and veterans? By signing players on the cusp of world-class quality, Rodgers can nurture their talents and character to suit the modern Liverpool Way and incorporate them into his galvanised squad. Avoiding inflated transfer fees and wage bills has been the primary aim of Fenway Sports Group since the calamitous transfer dealings under Kenny Dalglish and Damien Comolli, and so long as Liverpool buy quality players, Rodgers will coach them to those new levels.
Removing Egos
While forgiven for his antics last summer, Uruguayan superstar Luis Suarez's summer antics before the beginning of last season will not be handily forgotten by Liverpool fans, nor his employers. Towards the close of the transfer window, Rodgers had this to say with regards to the number 7's comments.
"In terms of the remarks that were made, this is a football club that has always worked a certain way. The Liverpool way is all about a club with ambition, a club that strives to be the very best, a club that is about commitment. That means that everyone is committed to the cause of fighting for the shirt.
"It's also about dignity and being dignified in how you speak about the club, on and off the field, and it's about unity.
"Those are the four values that run through my mind when I think about Liverpool. Those are the values we will always retain. If anyone steps outside of that standard, I will deal with it. That's something that we'll do.
"It means that we have a standard at Liverpool that I will fight for my life to retain. There will never be any player or person bigger than the club."
Suarez's perception last year was that he could kick and scream his way off Merseyside, blowing up bridges while he remained on them. He was effectively leaving the club, who stood by him through two scandals, in a position of which was not feasible to progress with into the future. But John Henry and Brendan Rodgers reminded Luis Suarez that he is no bigger than anyone else: from the Stebie to the chicken staff. Rodgers issued similar treatment to Raheem Sterling last season, demoting him to the under-21s following his dip in form after signing a bumper contract extension.
One also must look at Mamadou Sakho's lack of involvement at times this season and question the motives of Rodgers. While many will recognise the talents of the Frenchman and former PSG captain, the Northern Irishman has been resolute in his decisions to bench Sakho at various points throughout the campaign, leading many fans to wonder whether he was overruled in signing him for £18 million. However, Rodgers may well be issuing subtle warnings to the Paris native: price tag and reputation will not hold if he is to achieve greatness at Anfield.
Similarly, Martin Skrtel faced a life away from Liverpool after a season on the bench in Rodgers' interim season, but has now become an ever present in the side.
Prospective players who are tactically and positionally flexible is not only an indicator of their ability, but also their willingness to contribute and respect the needs of the greater good. Every player must recognise that it is a team endeavor, collaborative with the individual prowess of Suarez and company leading the line. The humble nature of the first team expresses this belief, and their thankfulness to one another is showcased with every single goal scored, and that's a lot of examples!
What Lies Ahead
Fans will forever disagree with one another with regards to potential transfers. It is part and parcel of modern football, particularly in an age where the growing FIFA  franchise and Football Manager games give access to simulated intelligence towards various hidden gems and soon-to-be idols. But whether one bases their opinion on extensive hours of full length matches, YouTube highlight reels or Match of the Day segments, it is ultimately fruitless. Brendan Rodgers and his transfer committee's esoteric criteria will ultimately guide them to their chosen players.
The future of Liverpool appears to be in safe hands. Rodgers' ability of coaching players to unprecedented heights should fill the hearts of Reds everywhere with optimism, as well as attracting players wishing to play under him and compete under the famous floodlights of Anfield on a Tuesday and Wednesday night in Europe's premier competition. The contingent of players requires fresh and talented members, but with the acceptance that they're no bigger than any other member of that club. This socialistic outlook stemming from the manager will, with time, reap rewards for all to see; and the hunger in those bellies will ultimately be satisfied.