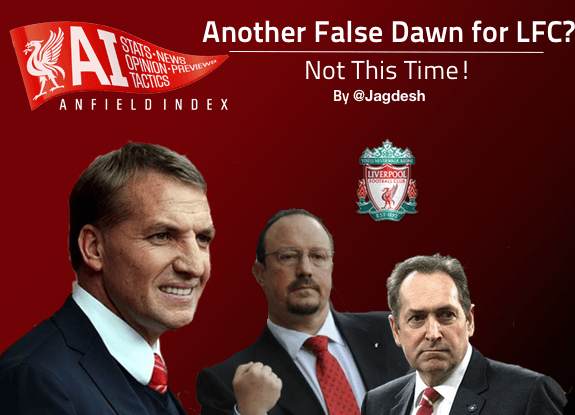 Another False Dawn for Liverpool FC? Not This Time!
Those tinges of heartbreak from seeing Manchester City winning the league, and not the Reds, were instantaneously replaced by the euphoria of actually being in a title race until the very last day of the season. Universally, nobody would dare say this was a failure of a season in anyway. Not even the judgmental mainstream media.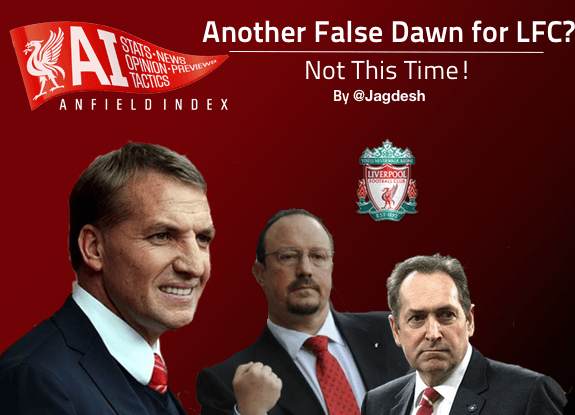 History will ultimately judge Rodgers' team, built in his image of flair, confidence, guile, steel, and of vulnerability, that it will grow on to be an actual title winning machine.
After all, history has been cruelly cold with its judgment on his predecessors and their successive campaigns after coming close to being the best in the league.
We've been through this before, twice.
Standing so close on the precipice of achieving what we've been craving since 1990 (a World Cup year incidentally) and yet the dream collapses calamitously on both occasions. This brilliant piece by Aaron Cutler captures the tribulations on both occasions and how both dreams were dashed like sands on a beach.
Prior to the underwhelming season of 2002/03, Gérard Houllier was revolutionising the training facilities in Melwood and the youth academy with more advanced European models, gave the Reds an unforgettable treble, reaching 2nd and ending a 17-year-absence from the knock-out stages of the European Cup. The wave was riding high but the ensuing summer of acquiring more attacking players resembled a car crash in hindsight. £20m in those days was not peanuts, especially when another French manager was doing wonders with far less for Arsenal at the same time.
Wenger inherited an ageing and inconsistent team, coming 10th, 4th, 12th and 5th the previous four seasons, while Houllier took over Roy Evans' side that had finished 4th, 3rd, 4th and 3rd.
Evans' swashbuckling youngsters needed some discipline, but the point here is that there was already a strong platform for Houllier to build on, and sustain a challenge. And it was a fairly peaceful platform, upright pillars of support from the board and Parry, that saw his vision, and funded it accordingly during those years, along with more time when he pleaded for more.
But it wasn't just about getting it completely wrong with signings that season, history suggests that Houllier's inherent conservatism, his one-dimensional formula of tactics on the pitch and the notorious lack of imagination from his team banished him and Liverpool to 5th at the end of the season. Many fingers were pointed, one being failure to replace creative talents such as Gary McAllister and Jari Litmanen amidst further ammunition aimed as reasons for this utter disappointment of a season.
The canvas was different in 2009. Benitez's strained relationship with the board had him, reportedly, close to quitting Liverpool in the summer of 2008 over the board's failure to back his bid for Gareth Barry. By the time Liverpool hauled 86 points at the end of season 2008/09, there was clearly a power struggle within the club. In the heated build-up to the end of that campaign, Benitez had publicly turned down a contract extension, demanding more control over transfers, with betting even suspended on his sacking.
Amazingly though, in those turbulent times, Benitez had built a spine of players that showcased an attractive brand of attacking football by the end, with 10 wins in their last 11 games. A stark contrast to Houllier's dour rigid team in 2002. However, replacing a key component of that spine proved to be disastrous, more so when the replacement was an injured one. Xabi Alonso's departure proved to be damning to the 2009/10 season as everybody had feared so fiercely. But it wasn't just that, the discontent from the "sell to buy" policy grew and grew, especially witnessing the lack of backing Benitez had in the transfer market. Fighting internally with the board, disillusionment amongst the players in the team, it was a perfect storm.
What are the lessons learnt from these two downfalls?
Nobody can predict the future, and next season may be as damning as these two have been for Brendan Rodgers' predecessors. Like before, a lot will hinge on how Rodgers augments his already formed spine.
Here are some elements I foresee that would help to dissipate any perfect storms building in the horizons
1. Don't play rigid football but evolve
Rodgers isn't as tactically brilliant as Benitez, yet. But, Rodgers has demonstrated an aggressive learning scale. Evolution, not dogmatic stubbornness seemed to be his mantra as witnessed on the pitch. He didn't get it right all the time, but he got it right when everything clicked most of the time. He's building a spine that can play many variations of formations at any given time within a game. Getting the right players for his systems may be a tough call when his systems evolve as he does, but this evolution ensures that the team isn't a one hit wonder. Competition should not figure out how to play with an evolutionary system of tactics.
2. Don't let the players stop believing in the manager
A team playing in harmony can only do so when there's harmony in the dressing room. This was clear for all to see throughout the season, and all credit should fall at Rodgers' feet. His man-management skills are refreshing to the siege mentality that hardened senior players have employed over the years. These are the skills required to ensure that the team has enough steel to overcome adversaries and challenges when things don't quite click.
3. Don't disrupt the spine and lose an 'Alonso'
There are possibilities of Suarez, who the spine is built around, getting lured to the riches of Real Madrid again. Far-fetched at the time of writing, but something that needs to be managed, with a ballsy manner as they did last summer. Rodgers has done it before, he'll do it again.
4. Don't get flash in the pan players ala Diouf
Houllier tapped the French market, from his dealings with their national team. Benitez tapped the Spanish market more often than not. They both ventured into markets that they were comfortable to navigate within. But both asserted it upon themselves to be completely in control over the transfers, with as many duds amassed as the successes. Rodgers is very much part of a committee, a brain trust, and will rely on them, as much as himself, to ensure that less stones are left unturned from many more markets in Europe and the world.
5. Don't have wars with the board
With FSG's very hands-on approach, meddling can potentially encroach into the manager's vision and plans. Nothing publicly seems to indicate that this has happened, with Rodgers complimenting his bosses more often than some. And there's a war chest to be used, with the club being more self-sustainingly profitable than ever before, economically sound by virtue of it being run strictly by disciplined business men. Business men, who understand the harsh realities of today's business environment, unafraid to be creative, calculative enough to not worry about losing the essence of football.
Things can go wrong. And you can't be blamed for looking at a half empty glass, especially if you've lived and experienced the heartbreaks of 2002 and 2009. But objectively speaking, things couldn't look any better now. Especially if you're wearing rose tinted glasses like me.