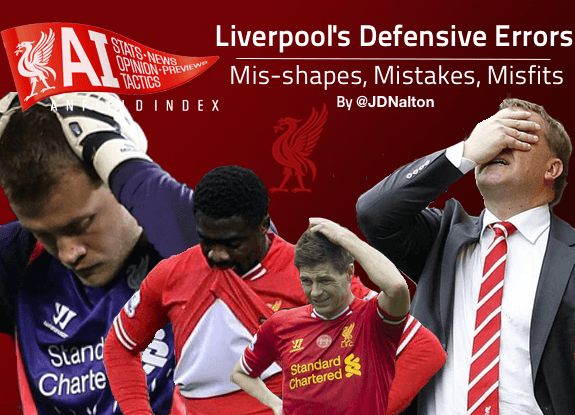 Liverpool's Defensive Errors - Mis-shapes, Mistakes, Misfits
On looking at the league table, it would be easy to blame Liverpool's failure to win the title on their defence. It would be easy to do, partly because it's true. However, there are many things to take into account when analysing why a team concedes the goals they do. What follows is a look at Liverpool's defensive errors in comparison with other teams, and a brief look at whether the mistakes are systemic or the fault of individuals.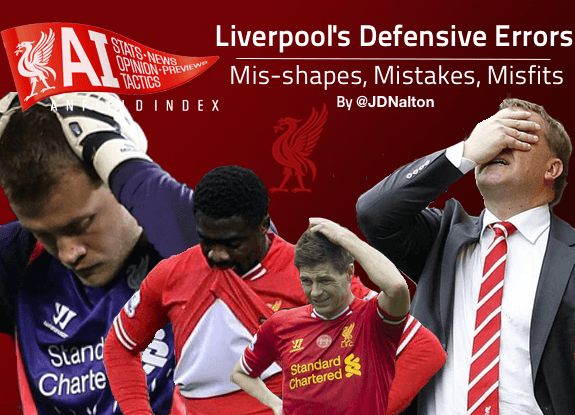 Team Fortress?
Of the top eight, only Sherwood's shambolic Spurs conceded more goals than Liverpool, and an eleventh placed Crystal Palace side, well drilled by Premier League manager of the year Tony Pulis, managed to concede fewer goals than the Red Men.
In the table above, sorted by goals conceded, Liverpool are six places away from their actual league position. This is the biggest swing in the league, with Hull and Newcastle next in line with a difference of four places.
With Liverpool's attack notching up the second highest goals total in the league, with 101 behind Manchester City's 102, the attacking record matches up perfectly but the defensive one sticks out like a sore thumb.
The numbers are similarly conspicuous when looking at defensive errors in comparison with the rest of the league.
Defensive Errors – 2013/14 English Premier League:
Liverpool committed more defensive errors than any other team, with forty-two, and were six ahead of Arsenal who were next in line. These defensive errors consist of mistakes which lead to shots, and include shots which result in goals.
Patterns are beginning to emerge, and the style of football played by certain teams starts to match up with the numbers. Liverpool, Arsenal, and Tottenham would normally be considered amongst the top teams in the league, and are talked about as challengers at the top of the table rather than mid-table strugglers, but despite this they rack up considerably more defensive errors than the teams around them. This can be attributed to the systems used by their respective managers (or in Tottenham's case, the lack of a system).
Arsenal have been playing this way for a while under Arsene Wenger, with Liverpool's revival under Brendan Rodgers placing a lot of emphasis on individual responsibility on the ball. This bravery in possession, which can seem like an arrogant display of technique one minute, and foolish dallying the next, has its advantages, but the disadvantages are there for all to see.
Going on to look at how many of these mistakes actually led to goals, you'd expect Liverpool to lead the way again simply because of their large defensive errors total. However, the Reds sit third in this particular list, with Tottenham and Norwich seeing more of their mistakes punished on the score-sheet.
Digging further into these numbers, they also show that the percentage of Liverpool's errors which lead to goals is surprisingly low, with much of the league seeing a higher percentage of their mistakes resulting in opposition joy.
For example, Aston Villa make relatively few mistakes, but when they make them they often cost the team a goal.
There's no doubt that the defensive problems are partly systemic, but the table above might also suggest that Liverpool are good at recovering defensive errors and preventing goals when using this system. Either that or the team have been lucky to not have conceded even more, as opponents have failed to capitalise on mistakes. Or maybe Simon Mignolet is doing the job he was brought in to do.
Individual Errors
Speaking of whom, the Belgian 'keeper leads the way when it comes to errors leading to goals in both the Liverpool team and the league as a whole, which suggests he's not quite doing his job in all areas.
Next in line for Liverpool are Martin Skrtel and Kolo Touré, each with two mistakes leading to goals, and again, the way the team sets up in games leaves such players open to make the mistakes many might expect of them anyway.
High defensive lines, playing the ball out from the back, and forwards who look only to attack when in possession rather than having one eye on covering for a full-back, can all leave the defence exposed with no cover. This is where a deep lying defensive midfielder can be vital to a team, especially when playing against teams who will work force mistakes in these areas and have the quality to capitalise on them.
Whilst Steven Gerrard does have some defensive qualities, he's not what you'd call a dogged defensive-minded midfielder. The captain has relied a lot on the work of Jordan Henderson alongside him this campaign, allowing him to do what he does best and make the team of the season in the process. Despite this support, he still made the second most defensive errors in the team, and his one error leading to a goal came at a vital moment in a game in which Henderson was absent.
As we head toward a season that will see Liverpool play Champions League football for the first time since 2009/10, when they exited at the group stage, defensive solidity will be of utmost importance. It will be vital to recruit well this summer, and you'd hope that some money will be put into eradicating the errors which cost the team dearly in the season just gone. This doesn't necessarily mean spending £20m on a centre-back, but that hard working defensive midfielder we've needed since Mascherano left, and a full-back who can be trusted in and out of possession, wouldn't go amiss.