To some, the midfield area is one which is overrated. One can look at how many goals a respective team has scored that season, and how many they kept out. Of course, while these spectators acknowledge the importance of a great middle unit, if you are substantially stronger in the first and final thirds, the centre will take care of itself.  However, to be a true bastion of domestic and continental football, the midfield should the heartbeat of an effulgent, pulsating tempo; the cadence of consummation.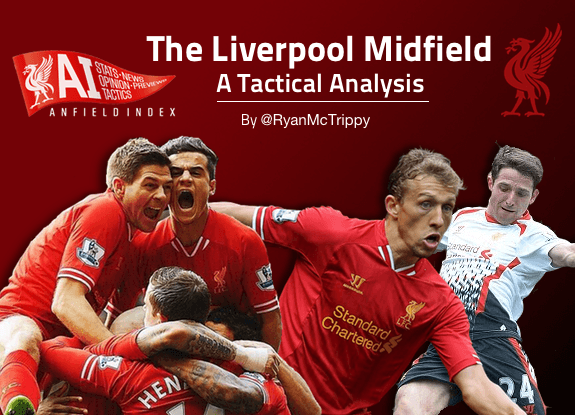 This season fans have witnessed many variations of tactics and formations, and while the attack has been the stand-out segment of Liverpool's current side, the midfield is imperative to the different systems Brendan Rodgers wishes to implement at Anfield. Through his selections of personnel and structures, his Liverpool side's style and success is almost certainly dictated by the quality of its hub. While it was carried for the first three months of the season, it slowly grew in stature and presence; until it became a well oiled unit of pressing, efficacious brilliance. 

But there is still room for improvement, quite a lot in fact. Before speculating what potentially lies ahead for this outfit, let us first look at the components of a Brendan Rodgers' midfield, particularly since the turn of the year, as he began implementing his favoured 4-3-3 set-up, which in turn transferred into a midfield diamond.
The above image is a standard formation deployed by Liverpool while on their extraordinary eleven game winning streak: a common 4-3-3.
The "1" 
"Well if you talk in terms of a 1 and a 2 and a 2 and a 1, normally you'll play with this guy here who's really dominant with the ball – controlling, facing back – so this guy here dictates the rhythm of your game, the tempo of your game. These two players here they then have to have the capacity to control but also run and get forward and also get back in. So if they don't have that it's very difficult for it to function." – Brendan Rodgers (courtesy of The Anfield Wrap)
If one was to ask fans and pundits exactly who the defensive midfielder in Liverpool's team currently is, they would more often than not point their finger in the direction of one Steven Gerrard. Now, while the Liverpool captain certainly occupies the deepest position of the midfield triad, as shown above, it does not necessarily dictate that he is the defensive midfielder.
In fact it is his English counterpart, Jordan Henderson. But more on that in just a moment. 

The Liverpool captain was first acquainted with the role away to Stoke City at the Britannia Stadium, in which he had Lucas Leiva and Jordan Henderson marshaling in front of him. It was a shaky beginning, as Liverpool conceded 3 poor goals: Charlie Adam's long range strike coming directly from Gerrard slipping after a misplaced Henderson pass. The following game against Aston Villa at Anfield was a managerial mistake on the part of Liverpool's manager, as he selected a two-man midfield, which was ultimately overrun by the Birmingham side's midfield trio. Even in the second Merseyside Derby, fans could see the rawness of the transition taking place, as despite thrashing Everton 4-0, the gaps appearing in front of the back four were startling.
Image 1: In the opening minute of the derby, Liverpool regain possession after a failed Everton attack. The midfield triangle is clear, with Coutinho and Henderson beginning to break forward.
Image 2: As Cissokho comes forward down the left wing, Everton's midfield four is parallel with their defence. Henderson begins to come inside-left with Coutinho retaining his position, Gerrard is just out of shot to the right hand side.
Image 3: Cissokho lays the ball off to Sturridge, tucking in from the left forward position. Coutinho has advanced to the right, while Henderson has begun to drift infield towards Sturridge.
Image 4: Sturridge's layoff to Suarez allows him to advance into space. Henderson and Coutinho are now on top of one another behind the front three.
Image 5: As Sterling receives a Suarez pass, Henderson and Coutinho remain static. Henderson ideally should find himself behind Sterling, the far side of Ross Barkley, or Coutinho to begin moving into that area.
Image 6: Henderson receives the ball, and Gerrard finally reenters shot. Steven Pienaar has vast space ahead of him, where one of the advanced midfield two should be. Gerrard could advance here, but can only do so if his Brazilian counterpart begins to drop off.
Image 7: As we can see, Coutinho has followed the ball with Henderson finally beginning to float to the right. Miralllas is behind the play at the bottom of the image, with no cover behind Cissokho as Sturridge is in the penalty area.
Image 8: Liverpool are now in a good attacking position. Suarez is advancing into space behind Stones and Barry, with Jagielka is beginning to come across. 
Liverpool's attacking intent put them in a decent position on the edge of the Everton penalty box. Henderson's positioning creates an option to receive a pass from Coutinho, as well as giving him a decent recovery standpoint should the attack break down.
Image 9: As the play advances, Jagielka's interception has severed the Red Men's attack. Coutinho and Henderson are quite close together, with Barkley and Mirallas unmarked. 
Image 10: Steven Gerrard now reenters the picture as Stones and Barry begin the counter-attack. Gerrard notices Mirallas and begins to advance to the left. 
Image 11: As we now see, Liverpool's midfield is disjointed. Henderson and Coutinho occupy the same space between three Everton players, to the left of the referee. Henderson should at this point be just in front of Raheem Sterling, as marked above, to cover Gerrard's position as well as monitor the movement of Ross Barkley.
Image 12: Mirallas skins Liverpool's number 8, and with Cissokho pushed forward Gerrard had to advance towards the Belgian. However, his midfield counterparts have failed to cover his movement.
Image 13: Gerrard's position is marked above, where he theoretically should be. But due to the development of Everton's counter down their right hand side, Henderson or Coutinho needs to have stepped into the holding midfield role while Gerrard covered Aly Cissokho. Liverpool left a vast amount of space for the talented Barkley to expose, but with a lack of options in front, bar Lukaku, he is ultimately forced into shooting over Simon Mignolet's crossbar. 
As this shows, it was certainly a work in progress for the midfield to begin functioning. It improved over the transpiring weeks, but in these initial stages it can be seen how players were still yet to tactically come to terms of what was required of them.
The archetypal image of Steven Gerrard is a young, athletic bulwark of talent bulldozing past teams while carrying the weight of millions of expectations across his shoulders. But now, we see a matured Gerrard, and more importantly: an accepting one. Accepting of his role; accepting of his age; accepting of his responsibility; and accepting of his teammates' ability. It is the conclusive point which has been a fantastic achievement for Liverpool's number 8.
Throughout the years, many players have simply been dwarfed by his presence alongside them, and he has recognised his responsibility to win games for his club time and time again. But following an injury, which kept him out for over a month during the Christmas period, Gerrard began to see the cohesive progression of his teammates without him, and as Jamie Carragher joked in the Sky studio at the time, he could have struggled to get back into the team! Gerrard needed this realisiation, in tandem with the work of Dr. Steve Peters and Brendan Rodgers, to fully adapt in being comfortable thirty yards behind the attacking play, creating from deep in a regista position. And following a couple of months into this evolution, Rodgers was quick to praise his captain's performances.
"There are not many players who can do what he can: Be one of the best attacking midfielders in Europe and then switch to be up there as arguably the best controlling player.
"He's a playmaker, unique; his intelligence and reading of the game allows him to orchestrate the game with those playmaking skills from that position.
"But he can also defend; tackle. And what he probably doesn't get enough credit for as well is his reading of the game situations."
The Carnlough native was not wrong, with Gerrard truly growing accustomed to the position, dominating the game and the ball; dictating the rhythm and tempo of the play. It was not perfect, as things rarely are in football, and there have been brief relapses into his instinctive footballing-nature of surging forward, but Gerrard deserves credit for proving many a Liverpool fan wrong adapting to this role thus far.
The "2"
Traditionally, a house is built on its stability stemming from good foundations. However, Brendan Rodgers was not given this steady infrastructure to build on, so he had to construct a substantially stronger roof to thwart the onslaught of downpours and storms that threatened his side's prospects of not only qualifying for the Champions League, but winning the Premier League itself.
Rodgers' metaphorical roof was manufactured using a couplet of "Henderson &…" Accompanying Liverpool's soon to be 24 year old was one of Coutinho, Allen, or Lucas: sometimes two, when adopting the midfield diamond. Each player shares different characteristics, but their chief roles were unanimous: Press, Press, Press.
Jordan Henderson
Now, as noted previously, it is in fact Jordan Henderson who usually operates as Liverpool's defensive midfielder. Although playing in the position slightly ahead of the stereotypical defence protector, the former Sunderland man has been integral to this Liverpool side with highly intensive, calculated pressing. Coupled with this attribute is an increasingly impressive passing range, and undoubted technique with the ball at his feet, resulting in Henderson growing paramount to Brendan Rodgers' plans in the future.
While many have noted his creative output in terms of goals and assists is slightly lagging in some aspects, it must be recognised that he is sacrificing parts of his game to ensure Gerrard is able to play his most effective role in the side, while also covering whichever full-back he plays beside. Should, in this current set-up, Liverpool's number 14 begin to push further forward on a more regular basis while Gerrard is behind him, the midfield will become disjointed and over-stretched; resulting in a defence left open to attack. Rodgers spoke of such complications regarding Henderson's attacking instincts back in October, by saying:
"It is about making the players aware there is a responsibility tactically.

"Whoever plays in there (the midfield) has to understand the dynamic of what is required and they may have to curtail their game a little bit.

"If you move freely and empty that space it leaves it too open.

"Our movement and fluidity in the other half of the field is getting better but you have to make sure you have that tactical discipline and whoever plays in there will have to have a similar function."
Henderson's output of 5 goals and 7 assists in 3,128 minutes of Premier League football is by no means poor, but having finished 2012/13 with 5 goals and 4 assists from just 1,527 minutes fans may have expected him to develop in this area. This did, however, come from an advanced false-winger position, and must be accredited for.
In time fans will begin to see a more creative contribution in terms of goals and assists from Jordan Henderson, but that may require playing alongside another midfielder who is devoted to covering both his and Gerrard's movement; or quite possibly when Gerrard himself begins phasing out of the team, whenever that may be.
Philippe Coutinho
The dynamic Brazilian had an up and down season, particularly as he began cultivating into pastures anew in the centre of the park. Yet it is hard to question the importance of Liverpool's footballing passista, as his dribbling, vision, and gracefulness destroyed many a defence. Away from home Coutinho struggled to impact games, but with a majority of Liverpool's outings in the second half of the season versus physically imposing teams, it is no surprise that the 5 foot 7 inch number 10 was crowded out and became imperceptible away from the succor of Anfield. 

Coutinho's role this season has transformed into a 'Spanish number eight', akin to that of Andres Iniesta at Barcelona. Fans had witnessed Coutinho further up the pitch, most notably as a left winger drifting into the number ten position, but the 20 year old (who turns 21 in June) unceasingly forced the play, over-weighting passes and ended a number of moves through frustration. As he transitioned deeper, he had a larger scope of the pitch ahead of him. But this was not his first stint in a deeper role, because when Luis Suarez was banned following his infamous bite on Branislav Ivanovic, Coutinho was operating in a number eight role, even though he played directly behind the front man, Daniel Sturridge. 

The image overhead depicts Liverpool's lineup from the May 12th 2013 game versus Fulham at Craven Cottage. The starting positions are roughly how one might expect the 4-2-3-1 lineup to resemble. Note Coutinho's advanced position in a traditional trequartista district in behind the centre-forward, in this case Daniel Sturridge. The following passage is an example of how this setup droped deep, creating a new position for the Brazilian.
 Image 1: Liverpool regain possession in the latter stages of the game. Liverpool have seven players currently behind the ball, excluding Pepe Reina. Jamie Carragher's reintroduction to the side forced the defensive shape to drop substantially deeper in the second half of 2012/13.
Coutinho receives the ball, with no options in shot around or ahead of him. Fabio Borini and Daniel Sturridge are further forward off-screen.
Image 3: Coutinho, although operating as a number ten, is incredibly deep. He now has two thirds of the pitch to pass into. 
Image 4: Coutinho is still yet to have any options in and around him, as he fends off Damien Duff who attempts to close him down.
Image 5: Coutinho angles space for a pass, with Daniel Sturridge now in shot at the top right-hand corner of the screen.
Image 6: Coutinho releases the pass inside Liverpool's own half into the space behind Fulham's defence due to the Redmen's deep line.
Image 7: Sturridge is now through on goal resulting from Coutinho's vision and incredible ability to spot and execute the pass from a deeper position than one might have expected. 
So, as shown above, Liverpool's defensive line had Coutinho as the most advanced attacker in their half, but he was in fact around the same position he is beginning to find himself now. The resulting shape resembles this:
Coutinho is deeper than the starting number ten position. In fact, if one was to push forward those around Coutinho into a further role while keeping him stationary, it would soon resemble the formation Rodgers presently deploys.
Image 1: From this season's 5-1 drubbing of North London side, Arsenal. Liverpool are under attack, Coutinho in a deep position similar to the Fulham example aforementioned.
Image 2: Coutinho cuts across to intercept Mesut Özil's pass. Sterling in the bottom left is in an advanced position to break on the counter.
Image 3: The Brazilian wins the ball. He has Suarez to his right, Sterling breaking down the left, and Sturridge ahead. 
Image 4: Coutinho is in the same segment, albeit to the right, as the Fulham game: the final 6 yard zone before the opposition's half begins. 
Image 5: Coutinho's defence splitting pass has carved Arsenal open, and again Sturridge goes on to exploit the space in behind. The Brazilian and Englishman are roughly in the same area as the Fulham game, but with their teammates pushed slightly further up-field. 
Coutinho's transition into a number eight role should be met with little surprise: he had already played there. With substantial amounts of time on his hands and talent at his feet, Coutinho will add goals and consistency to his game, developing into one of the most potent playmakers in European football.
Joe Allen & Lucas Leiva
Now, when one of Henderson or Coutinho dropped out of the midfield three above, Lucas or Allen (eventually both) have stepped in to fill their positions. Both players offer differing skill sets and traits, but were they to deputise the roles of the starting midfielders ahead of them: press, protect Gerrard and the defence, and create where possible.
Joe Allen has come under much criticism during his time at Anfield, but having had an injury-plagued inaugural season on Merseyside, the Welshman proved his worth in the final fifteen games of the season as he intervened, into the midfield diamond, to help Liverpool control the game in the middle of the park. Allen's main attributes include his passing, positioning, interceptions, agility and movement. He is highly intelligent, in and out of possession, and a firm favourite of his manager who brought him from Swansea.
"You have a bad day, but you give the ball away and some players you'll watch in a game and they'll give it away more in one game than maybe what you'd see in three or four games, so I think the point for me is we build the game quite well through our thirds and Joe Allen is one of the most courageous players I've seen. He'll take the ball in any situation and use his body well and get himself out and we get ourselves through that midfield area quite well."
Allen is only 24, with improvements still to be made, primarily his finishing. He often finds himself in good positions when gliding towards the opposition's penalty area, but his killer instinct has let him down (most notably the Goodison Park miss). Nonetheless, he offers a solid base when playing as a deep midfielder, retrieving and recycling possession from the halfway line allowing the team to apply attacking pressure. With a consistent run of games, Liverpool fans may well expect Joe Allen to become an integral squad member for Brendan Rodgers next year in the Champions League.
Long-standing servant Lucas Leiva has again been hit with injuries this season, and they are truly starting to show. Never blessed for pace, whatever he did have has been wiped away after his cruciate ligament rupture in 2011/12, a groin injury straight after recuperation at the outset 2012/13, followed by a ligament injury again at the turn of the year. Lucas' role has been to break down the play, intercepting balls, and winning tackles. He is also a clean passer, which was a crucial tool when under Rafael Benitez and Kenny Dalglish as his lofted passes from deep often went wide to start attacks.
Unfortunately for Lucas, his mobility has become a major issue. The former Gremio man featured in every one of Liverpool's six defeats this season, starting five. Of course, other players were in those teams too, but his lack of dynamism when in the same line-up as Steven Gerrard has proved a catastrophic mix. The high line appears to do him no favours, and his ability at breaking down the opposition's offence is normally through a foul to slow them down, where in the future Rodgers may look towards overturning possession through dispossession to start quick counters/continue their own attacking play. Yet, it must not be forgotten that he has played as the deepest midfielder this season, and with current personnel may well be first choice to play there if Steven Gerrard is suspended or injured. Fans witnessed the ability to fit into that role when Henderson and Allen worked ahead of him between late November and early January.
To predict the direction Brendan Rodgers will definitely take with his midfield (and set-up in general) is practically impossible, but through analysis of what has occurred thus far one can begin to assemble a rough idea.
The Future of the Midfield 
Eventually, Steven Gerrard will no longer be a Liverpool player. A fact many fans, players and staff have more than likely shunned to the deepest and darkest corners of their mind, locking it in a titanium box and soldering it sealed shut. It is looking like Brendan Rodgers will have to be the manager to control and sail this ship through an inevitable tidal wave of emotion, but the manager's performances this season and his vision for the future of the club will put many a heart at relative ease.
First of all, Liverpool's midfield will have to contribute more goals over the coming seasons. This can be achieved in two ways (hopefully both):
Sign a goalscoring midfielder.
Sign a new defensive midfielder.
While it may appear a negative move, purchasing a specialised shielding midfielder who can pass, tackle, and contribute athletically will allow Liverpool's current midfielders to express themselves in a more offensive manner. Henderson and Allen's movement and positioning has been eye catching, but they must hone their ability in front of goal to improve their seasonal tallies.
On the other hand, a new defensive midfielder does not, and may not, have to be strictly defensive. Rodgers has spoken of his desire for tactically flexible players, and may wish to turn his midfield into a rotating battering ram of unpredictability.
With links to players such as Xherdan Shaqiri and Adam Lallana, both who can play wide or as a number 10, Liverpool could line up in a formation similar to the example provided. By having an athletic midfielder who is primarily defensive minded but comfortable in offence, the midfield can alternate and rotate: if one goes forward any one of two can drop deep, or flatten out to partner the alternate midfielder. In the pre-season outing at Preston North End last summer, the midfield pairing of Joe Allen and Jordan Henderson oscillated between themselves in dropping between the centre-backs to receive the ball and start offensive patterns of play. Rodgers' long-term vision may incorporate this idea to give teams the unrelenting task of deciding who to mark and press.
The player in the apex of the diamond will have the ability to go wide, through the middle, or to drop deeper into one of the two right and left central midfield positions. More than likely they will not end up at the base of a diamond or midfield three; but then again, Raheem Sterling's posterior strength may prove helpful in this area!
Replacing Steven Gerrard will not be easy. There are players who can perform the open-play tasks of Gerrard in world football, possibly even better given his lack of manoeuvrability compared to the Gerrard of old. But replacing his presence and symbolism will be a monstrous challenge, as well as his threat from dead-ball positions. Should the athleticism of a younger, revitalised middle unit work, then Liverpool may not have to depend on those incidents in as many games. Besides, Coutinho and Henderson have begun taking corners and free kicks to good effect, and with Rickie Lambert's impending move (at the time of writing) from Southampton, maybe Liverpool will be okay on the penalty front.
This model of tactical elasticity will provide Liverpool a vast amount of options, and with a "shadow shield" at the hub of the team, their inventiveness with the ball throughout the park will provide an excruciating examination of their opposition's resolve and durability.
This vision may well be a year or two away from being implemented (or it could simply remain a proposed theory in this article), but the rumoured targets and spoken ideologies by Liverpool's manager points towards a team who will grow and develop to be unpredictable, proficient, tenacious, but hopefully (and more importantly), victorious.