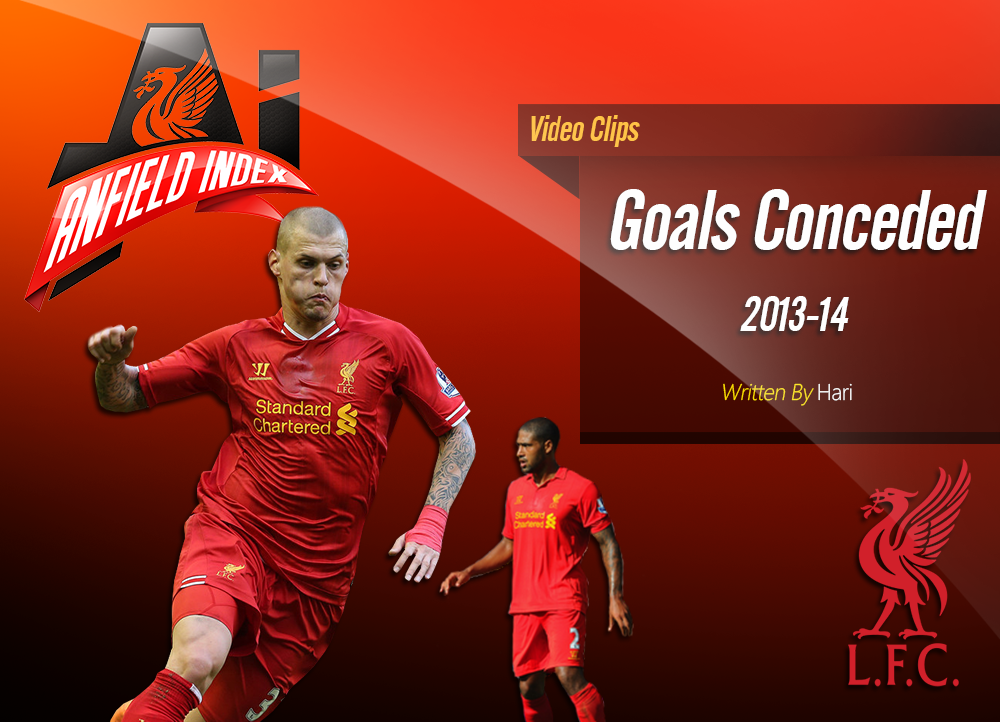 Liverpool Goals Conceded Analysis 2013/14: Video Clips and Defensive Errors Analysis
This article is supporting the Anfield Index Podcast Episode 39 titled Defensive Errors Analysis for 2013/14 season. Here you will find detailed analysis for each goal conceded. You can either read all 5,000 words or simply watch the videos or if you're brave enough – both!
You can also listen here:

Defensive Error Video Analysis

First Half of Season – Defensive Analysis 2013-14 from Daniel Rhodes on Vimeo.
Liverpool FC – Goals Conceded – 2013/14 (Part 2) from Daniel Rhodes on Vimeo.
______________________________________________________
In order to conduct a thorough study into what led to a specific goal I decided to create three culpability categories:
Systematic issues – Where the formation and tactics employed led to the defence being exposed or more vulnerable to dangerous situations.
Individual errors – Divided into both positional (off the ball) and technical (on the ball) mistakes from defenders.
Midfield inadequacy – Identifying when mistakes from the midfield in the first phase of play led to the defence being exposed and a goal conceded. Looking at both the double and single pivots Rodgers' has employed this season.
Using these categories I analysed all 50 goals Liverpool have conceded this year, albeit in an extremely critical manner and then attempted to allocate blame accordingly. Before conveying my results I must stress that such an analysis requires a great deal of subjectivity; what some people adjudge to be errors others may not, but with the help of a few others I've attempted to be as objective as possible.
Individual errors
50 goals conceded  : 38 were as a result of individual errors (76%)
18 positional errors
24 technical errors    = 42 in total (some errors made counted as both)
Individual errors made away from home = 24
Individual errors made at home = 14
Midfield inefficiency
Double pivot – 8
Single pivot – 12
LL – 3   SG – 6  JH – 2  JA -1
Common Culprits
Skrtel – 10 errors
Agger – 5 errors                  (3 defenders responsible for 23 individual errors leading to goals)
Johnson – 8 errors
Toure – 5 errors
Complete season analysis:
SWA 2 – 2 LFC
Shelvey goal  (2 mins)
After two poor clearing headers, first from Sakho and then from Henderson, the ball falls kindly for Jonjo Shelvey to hit. The midfielder utterly scuffs his effort, however, he's luckily able to retain possession and runs at the Liverpool defence, turning an advancing Sakho with ease. An initial shot is well blocked by Skrtel who tracks the midfielder, however, the ball becomes trapped beneath the defender's body allowing Shelvey to retrieve it and curl a shot past Mignolet.
Being critical you can apportion blame to Sakho for his inadequate initial header and subsequently poor positioning  however, this goal was largely down to an unlikely sequence of fortunate events for the Swansea midfielder.
Michu Goal (64 mins)
Wilfried Bony comes short to receive a pass from Shelvey, tempting Sakho to push up in an attempt to press the Ivorian striker.
(It's worth noting that the space for Bony to receive the pass only exists because the double pivot, or Lucas and Gerrard, haven't kept their positional discipline.)
As Sakho has come tight to Bony he's left space in behind him for Shelvey to make an attacking run into. Neither Gerrard nor Lucas attempt to track Shelvey's run.
As Shelvey arrives in the space left by Sakho, Škrtel attempts to cover yet this only leaves more space for the on rushing Michu to exploit once Shelvey finds him with a cushioned header. Michu scores.
In the first phase of play the midfield double pivot of Lucas and Gerrard are culpable for leaving the space Bony drops into when receiving Shelvey's pass, Sakho is also culpable for the goal as his decision to push up has forced Škrtel to cover for him and created space for Shelvey to exploit.
As neither Gerrard nor Lucas attempt to track Shelvey's run from midfield they're also culpable for the eventual concession of a goal. Therefore, in this example I apportioned blame for the goal to Sakho for an individual positional error and the midfield double pivot for twice neglecting their responsibilities.
LFC 0 – 1 SOUT
Lovren goal – (53 mins)
Prior to the delivery of the corner we can see Agger has been assigned to mark Lovren. However, taking a leaf out of Skrtel's book, the Dane seems more focussed at wrestling with his man rather than attempting to defend the cross. Agger loses the physical tustle and allows Lovren a free header which he astutely puts away. This is an individual technical error from Agger.
SUN 1 – 3 LFC
Giaccherini goal  – (52 mins)
After a poor clearing header from Skrtel, Ki is allowed to advance unopposed and have a free shot from 25 yards. The ball bounced awkwardly just in front of Mignolet who spilt the ball and Giaccherini was handed a tap in. Being critical we have to assign Mignolet blame for a poor save, however, Lucas and Gerrard are also culpable for allow Ki the time and space to take such a shot.
LFC 3 – 1 CPFC
Gayle goal  – (76 mins)
Sterling concedes a foul playing in the unfamiliar position of Right Wingback in the lead up to the goal. Before the freekick is taken we can see Gerrard and Enrique had been assigned to defend the near post. However, both switch off and Gerrard allows Gayle to steal in front of him and glance a near post header past Mignolet. This is an individual positional error, but also a technical one due to the obvious lapse in concentration from Liverpool's captain.
NUFC 2 – 2 LFC
Cabaye goal  – (23 mins)
Cabaye is allowed to advance unopposed and neither Gerrard nor Henderson applies any pressure on the midfielder. Liverpool's defenders also back off and allow the Frenchman to fire a fiercely swerving shot past Mignolet. Here the blame is apportioned to the midfield as Cabaye simply shouldn't be allowed to run so freely through the centre of Liverpool's half.
Dummet goal  – (56 mins)
The Newcastle youngster's goal came as a result of poor defensive organisation and individual errors. Dummet is allowed to steal in at the far post behind Cissokho and Sakho; both of whom are entirely unaware of his presence. Poor communication between Skrtel and Toure leads to the centre backs attempting to win the same ball and the ricochet falls kindly into the path of the unmarked Dummet for a tap in.  The blame for this goal should be apportioned to Cissokho and Sakho for positional and technical errors in their defending from the set piece.
LFC 4 – 1 WBA
Morrison penalty – (66 mins)
Lucas was adjudged to have fouled Billy Jones for a penalty. In fact there was minimal contact  and the decision was incredibly harsh. Therefore it's not appropriate to assign blame to Lucas for the concession of the goal.
AFC 2 – 0 LFC
Cazorla goal – (19 mins)
Liverpool's midfield was completely overrun in their defeat to Arsenal. Lucas and Gerrard didn't possess enough energy to track the runs of opponents such as Ramsey and Cazorla. Untracked, Cazorla was able to fire an effort against the post and then continue his run, scoring with a header from the rebound. This goal was an example of midfield culpability, the double pivot was flawed and allowed Arsenal to establish control of the game.
Ramsey goal  – (59 mins)
Lucas again fails to track the run of Ramsey who is allowed a shooting opportunity on goal and finishes brilliantly. Just like the first goal the blame lies with the ineffectual double pivot.
EFC 3 – 3 LFC 
Mirallas goal – (8 mins)
Lucas concedes a poor foul to provide Everton with the freekick they score from.  The goal arrives from inadequate defensive organisation and poor positional play from Skrtel. The Liverpool centre back positions himself behind Barkley, holding the midfielder's shirt rather than prioritising attacking the ball coming in.As a result the ricochet falls to Mirallas who's able to score a simple tap in.
Lukaku goal – (72 mins)
The inadequacy of the midfield double pivot enabled Everton to frequently overrun Liverpool and launch numerous counter attacks on Liverpool's defence. Though no one was at fault directly, Johnson again failed to prevent a cross into the box and the resulting melee led to a deflection falling kindly into the path of Lukaku for a close range effort.
Lukaku goal – (82 mins)
Johnson is assigned to mark Lukaku as the corner is due to be taken. However, he is easily shrugged off and fails to track the striker, allowing him a free header. Though blame is rightfully assigned to Johnson for an individual positional error. It's right that we also question the defensive organisation from the corner as both Skrtel and Agger seem to be marking the same man (Distin) leaving Johnson alone to deal with the powerful Lukaku.
HCFC 3 – 1 LFC
Livermore goal – 20 mins

A needless piece of skill from Moses leads to Liverpool losing possession in their own half, this situation is especially dangerous as the midfield have advanced expecting a counter attack and are therefore out of position to defend. Livermore is allowed to shoot – Lucas once again failing to close the midfielder down. The defenders back off and a huge deflection sees Livermore put Hull ahead. Though the goal came as a result of a deflection, Lucas is again deserving of blame for failing to close the Hull midfielder down; Moses is also partially culpable for the initial loss of possession.
Meyler goal – 72 mins
Due to injuries Skrtel and Toure were deployed as Liverpool's centre-back pairing for their match away at Hull. As both are right-sided centre-backs Skrtel shifted over to the left to accommodate Toure, but as a result both looked uncomfortable throughout the match. The Meyler goal came as a result of this confusion, with both CBs jumping for the same ball worried by the physical presence of Sagbo. Impeding each other in their attempts to head the ball clear, neither defender achieved a cleared provided Meyler with an easy finish from close range.
Skrtel O.G. – 87 mins
The icing on a disastrous defensive cake, Hull's third goal was a product of a number of errors. With Toure down injured and playing Sagbo onside, Skrtel attempted to fill the position his injured teammate had left, but rather than making a challenge on Sagbo, he only allowed the striker to hold the ball up effectively. Sagbo slides the ball back to Huddlestone who arrives in the box after a leisurely jog through the Liverpool midfield, once agains Lucas has completely neglected his responsibilities to track his runner and prevent such a midfielder from having so much time and space; Huddlestone's shot deflects in off Skrtel in almost comic fashion. In the end this is an individual positional error from Lucas, however, the poor defensive organisation Liverpool exhibited throughout the match greatly influenced the concession of their goals.
 LFC 5 – 1 NCFC

Johnson goal – 83 mins
Poor marking from Daniel Agger allows Johnson to get in front of him and glance a well judged header past a helpless Mignolet. This goal illustrated why the Dane was dropped by Rodgers, his poor physicality and lack of concentration leading to the concession of another cheap goal. This was an individual positional error from Agger, who seemed far too casual in his attempts to stop Johnson meeting the dangerous cross.
LFC 4 – 1 WHU
Skrtel O.G – 68 mins
In the initial phase of play Lucas is caught in possession in his own half allowing West Ham to launch their attack. Johnson is caught out of position and allows Jarvis to head the ball back dangerously across goal and Skrtel slices a routine clearance into his own net. This is an individual technical error from Skrtel whose poor body position is largely responsible for an unfortunate own goal.
LFC 3 – 1 CCFC
Jordan Mutch goal – 58mins
Johnson concedes a free-kick on the left flank following a foul on Frazer Campbell.
Cardiff pile men into the box and the defensive organisation from Liverpool is shambolic.
Sakho is left to mark two men, one of whom blocks his attempt to clear the incoming cross, allowing Mutch a free header which he capitalises on fully.  It's worth noting that the defence was evidently disrupted following Flanagan's substitution, with his replacement Martin Kelly, showing some expected rustiness.
From closer inspection it becomes clear that Martin Kelly doesn't have a man to mark from the free-kick, with the defender choosing instead to back into the man Skrtel is assigned to. All the while Mutch remains free.
Whilst none of LFC's defense cover themselves in glory for their organisation from what is a routine set piece, the fact that Kelly appeared to marking no one as the free-kick was taken led me to apportion the blame to him. A positional and technical error.
MCFC 2- 1 LFC  (December 26th 2013)
Vincent Kompany goal (30 mins)
After conceding a corner Škrtel is assigned to mark Kompany, which he makes perfectly clear to everyone by shepherding the City captain in the lead up to the set piece.
As the corner is delivered we can see that Škrtel has allowed Kompany in front of him and seems more concerned with grappling than attempting to attack the ball.
From positioning himself behind Kompany, Škrtel has made it even harder for him to fulfil his defensive responsibilities in clearing the ball, meaning he would have had to climb on top of the City captain just to make an effective defensive header.
Despite having his shirt held, Kompany is able to out jump Škrtel and glance a header towards goal for City's equaliser.
For this goal Škrtel is clearly guilty of an individual positional error in his approach to defending the corner. 
Alvaro Negredo goal – 45 mins
Negredo's goal just before half time was caused by a combination of midfield culpability, individual positional errors and an individual technical error from Mignolet.
When Liverpool lose possession of the ball they have eight men in City's half, leaving them vulnerable to the quick counters Pellegrini's team employed so successfully throughout the season.
Lucas, whose position demands he is the deepest of the midfielders, often dropping back to act as a third centre back, is found to be horribly out of position; the Brazilian doesn't possess the energy to get back and recover the situation either.  This provides the pacey City attackers a 3 on 2 situation.
Skrtel is the next to make a mistake. By coming across to meet Navas he leaves space open for the obvious pass to Negredo, therefore committing a costly positional error.
The last individual error comes from Mignolet, though from further inspection this is more down to bad luck than any intentional erroneous movement from the keeper.
Negredo hits the ball with the outside of his foot intending for it to bend into the top left corner. Mignolet prepares himself for this and his body weight indicates he's preparing to dive to his left, only for Negredo to scuff his shot, hitting it centrally instead. Mignolet is unbalanced and in his attempt to make amends, ends up flapping at the ball rather than providing a firm hand. Though harsh, this would be classed as an individual technical error, though the context absolves him of complete blame.
Chelsea 2 -1 LFC
Hazard goal – 17 mins
Eden Hazard's goal came during a period where Chelsea's midfield had completely overran Liverpool's. The reds' were undoubtedly fatigued from their exertions against City, yet the goal is primarily down to the lack of positional discipline exhibited by Lucas Leiva.
When the ball breaks to Oscar, Lucas is drawn towards the ball and leaves Hazard free to make a threatening run towards the box. When the ball eventually ricochets Hazard's way he is free to take an unopposed shot from 25 yards.
Eto'o goal – 34 mins
The Cameroon striker's goal was another example of Skrtel committing an individual positional error, allowing the striker to get in front of him at the near post.
Skrtel actually starts off ahead of Eto'o and seems in control of the striker should he decide to make a late run.
However, as Oscar signals he's going to cross, Skrtel allows Eto'o in front of him, attempting to grab his shirt instead of sprinting to intercept the ball. As a result Eto'o is able to get a glancing touch on the cross and divert it past Mignolet. An entirely avoidable goal if Skrtel had anticipated the obvious movement a striker would make in such a situation.
Stoke 3 – 5 LFC
Crouch goal – 39mins
When assigning blame for some goals conceded this year, it's obvious that we have to take into account the situations that arise simply from good pieces of opposition play; Crouch's goal was one such situation.
Defending an in-swinging cross Toure's positioning is poor. He's allowed crouch to get in front of him and this allows the forward the space to make an effective contact. Being critical this is a positional error from the centre back.
The space Toure affords Crouch proves costly, yet it's perhaps harsh to apportion the Ivorian too much of the blame as the striker's deft header is excellent in its placement and execution.
Adam goal – 45mins
Adam's goal on the brink of half time was caused by a rare misplaced pass from Jordan Henderson and Skrtel's decision to back off, allowing the midfielder time to fire a fierce shot past Mignolet. Gerrard's slip in reaction to Henderson's inaccurate pass also meant the Liverpool captain was unable to close down Adam, allowing him a free run at the side's centre backs.
Though this goal arose from an unintentional piece of sloppy play from Henderson, we have to assign the blame to the midfielder for a crucial loss of possession. Skrtel is also guilty for making a poor decision in not attempting to close Adam, especially considering the midfielder's limited agility meant a shot was his obvious intention.
Walters goal – 85mins
A bit of miscommunication between Lucas and Gerrard who both attempted to win the ball ended up with Liverpool ceding possession and allowing a dangerous cross to come in for Walters.
Following the arrival of Daniel Sturridge, Lucas, who'd been operating in an unfamiliar position as one of the advanced two in the midfield triangle, dropped back to form a double pivot with Gerrard. An unsuccessful combination all season due to the pair's limited mobility, it wasn't surprising to see their error indirectly lead to the concession of another goal.
The early cross meant Walters was able to isolate Toure and use him as a shield to place a shot past an unbalanced and unsighted Mignolet.  Being critical the blame for the goal should loosely be assigned to Lucas and Gerrard; another case of midfield culpability.
LFC 2- 2 AVFC
Weimann goal – 25mins
Liverpool's match against Villa at Anfield was the first game where Gerrard was deployed in a new role as the sole deep lying playmaker and given his performance on the night, many thought it would be the last. Brutally isolated, with Henderson and Coutinho not tight enough to him to offer support, Gerrard was frequently overrun.
Though Liverpool's captain ensured he kept pace with Weimanns's run,  once he arrived in the box his lack of positional sense was showcased, as he allowed the Villa forward to steal in ahead of him for a tap in.
A poor goal to concede, Weimann's tap in eventually arrived as a result of an individual technical error from Gerrard, but was another case of midfield culpability, with Liverpool far too open and exposed on the counter.
Benteke goal- 36mins
With Aly Cissokho out of position following an unsuccessful run forward, Kolo Toure filled in for the right back meaning Skrtel was also pulled across the field, leaving Johnson to mark Benteke as the cross came in.
With Mignolet clearly uncomfortable at the prospect of Benteke vs Johnson in the air, the Belgian keeper attempted to claim the out-swinging cross, only to miss the ball and provide the striker with an open goal.
Though there were errors in the play leading up to the goal, the blame must be apportioned to Mignolet who commits a technical error in his failure to claim the cross. Yet it's worth noting that his decision to come for the ball came as a result of his defence being poorly organised and stretched.
West Brom 1-1 LFC
Anichebe goal – 67mins
One of the easier tasks when attempting to assign blame was looking at Anichebe's equaliser for West Brom. A gift handed to him by a fatal Kolo Toure back pass.
Though an inexcusable error from a player so experienced, the defender wasn't helped by a number of decisions from his teammates. There was no need to give Toure the ball as two West Brom immediately pressed him forwards. Gerrard is also partially responsible for the Ivorian's decision, as seeing the defender was under pressure, the Liverpool skipper should have made an angle to receive the pass from his teammate. Nevertheless, the goal was directly caused by an individual technical error from Kolo Toure.
LFC 5 – 1 AFC
Arteta goal – 69mins (penalty)
Arteta's goal came from a penalty conceded through an individual technical error from Gerrard as he recklessly tackled Oxlade-Chamberlain in the area.
Ful 2- 3 LFC
Toure own goal – 8mins
Toure's calamitous own goal against Fulham is quite obviously an individual technical error. The defender's body position was poor and this lead to the Ivorian slicing his clearance of a fairly tame cross into his own net.
Yet, if we analyse the build up to the goal closely we can see that Gerrard is also at fault for failing to track Richardson's dangerous run. Allowed an unopposed run into the box, Richardson was able to deliver the cross that Toure sliced into his own net. Therefore, if we are to be critical in our analysis, Gerrard is also guilty of an individual error, his positional sense once again exposed in the deeper lying position.
Richardson goal – 63mins
Richardson's goal was yet another gift from the Liverpool defence, with Skrtel attempting to intercept a lofted cross with an unorthodox body position. With Flanagan better placed to provide a clearance, Skrtel attempted to hoist the ball to safety, only to deflect it into the path of Richardson for a tap in. It was an individual technical error from Skrtel, though the communication between Flanagan and the centre back was poor. 
LFC 4 – SWA 3
Shelvey goal – 23mins
Shelvey's goal at Anfield was an example of the midfielder's undoubted talent, a controlled shot into the top left corner. At first glance the goal is simply as a result of a wonderful piece of technique. However, Gerrard should really have been tracking Shelvey's runs, not allowing the midfielder so much space on the edge of the box. 
Bony goal – 27mins
Wilfried Bony's first goal came as a result of an individual positional error from Glen Johnson.
As the free kick is delivered it's clear that Johnson has been assigned to mark Bony. However, the Ivorian shrugged the defender off with ease and Johnson simply failed to track the striker's subsequent run, allowing him a free header, which was deflected in off Skrtel.
Bony penalty – 47mins
Bony was awarded a penalty for a perceived foul from Skrtel. Having been widely penalised in the media for the grappling he's often guilty of in the penalty area, many saw this penalty as inevitable; it was however, extremely harsh.  Skrtel appears to hardly touch Bony, who goes down easily, winning a penalty off of the defender's reputation. In this instance no blame should be apportioned to Skrtel.
CCFC 3 – 6 LFC
Mutch goal – 9mins
Mutch's goal was in part caused by a rare misplaced pass from Allen who inadvertently sent the ball straight to Frazer Campbell.
Gifted the ball, Campbell supplied a pass to Mutch who fired a left footed shot in the bottom right corner.
Whilst Gerrard tried in vain to block Mutch's shot, it's worth noting that Agger backed off allowing the forward the time and space to fire his effort past Mignolet.  The responsibility for the goal lies with Joe Allen who committed an individual technical error with his misplaced pass, however, Agger's decision to back off also proved costly.
Frazer Campbell goal – 25mins
Campbell's goal was largely caused by an individual positional error from Flanagan, who allowed the forward far too much space as he got drawn towards Fabio on the right flank.
Exploiting the space vacated by the young fullback, Campbell was able to run at Liverpool's centre backs, isolating Agger who lost out in the one on one, allowing Campbell to score with a left foot shot.
Mutch goal – 88mins
Jordan Henderson failed to track Mutch's run into the box meaning the attacker was able to meet Jones' knockdown unopposed for a tap in. This was an individual positional error from Henderson.
LFC 2 – 1 SAFC
Ki goal – 76mins
As Adam Johnson prepares to take an in-swinging corner, we can see the Liverpool's defensive organisation.
The position of Sunderland's forwards implies that Johnson will aim for the near post and we can see that Skrtel and Agger have marked their men accordingly. Gerrard is also available to offer a clearance, positioned as he so often is from corners, in front of the near post. Flanagan is assigned to marking Ki at the far post.
As the corner comes in Skrtel, Agger and Gerrard all fail to clear the ball at the near post, allowing the cross to travel to the far post. Flanagan fails to track Ki's run and the Korean is able to score at close range. Flanagan commits an individual technical error for failing to mark his man, though questions should be asked as to why Liverpool's two centre-backs (who both were holding the men they were marking) and captain all failed to clear the ball at the near post.
West Ham 1 – LFC 2
Demel goal 45mins
Demel's goal is an example of Liverpool conceding and the fault lying squarely with the referee. Carroll can clearly be seen below fouling Mignolet who was in control of the ball; this illegally allowed Demel a tap in.
Though the foul was spotted by the assistant referee who flagged for the infringement, the referee on the day decided to overrule and award a goal; one can only imagine what possessed him to do so.
LFC 3 – 2 MCFC
Silva goal – 57mins
Silva's goal is simply an example of excellent opposition play from Manchester City. It's hard to apportion blame to any individual. Yet for the purpose of this analysis, I'll attempt to be as critical as possible.
As Fernandinho played a pass out wide to Milner,  the threat of an overlapping run offered by Zabaletta cause Henderson to abandon his duties to track the Brazilian and offer assistance to Flanagan, to prevent a two on one situation. However, eager to exploit the space left by Henderson, Milner plays a one two with Fernandinho; Flanagan is unable to match the English midfielder's run.
Milner continues his run into the box and cuts the ball back for David Silva who finishes adeptly. Whilst you can be critical of Flanagan for allowing Milner to get into such a position, this is just an example of a well-worked goal from a group of talented players. No individual is directly culpable here.
Johnson O.G – 62 mins
City's second goal at Anfield came shortly after their first with the visitors applying a great deal of pressure on a Liverpool defence that was gradually dropping deeper as a result.
Problems began when Silva made a run into the box to double up on Johnson with Samir Nasri. It's worth noting that Coutinho didn't track the Spaniard, however, this may have been because Gerrard and Skrtel quickly offered assistance to the fullback.
Intricately passing it back to one another in the box, Silva was given an angle to shoot and his effort deflected off Johnson past Mignolet at his near post.
Norwich 2 – LFC 1
Hooper goal 54 mins
Hooper's goal for Norwich came as a result of an individual technical error from Mignolet who attempted to punch a lofted cross to safety, only to miss the ball and offer Hooper a tap in from close range.
Considering Skrtel had dealt well with such deliveries throughout the match, the Liverpool goalkeeper would have been better served letting his centre-back attempt another clearance; yet being aggressive of his line is an area Mignolet needs to improve on.
Snodgrass goal – 77 mins
Norwich's second goal was an excellent header from Snodgrass who rose about Flanagan at the far post.
Though Johnson was guilty once again for failing to prevent a cross coming in and Flanagan misjudged the flight of the ball, Snodgrass deserves the credit for a fine into the top left corner.
LFC 0 – 2 CFC
Ba Goal – 45 mins
The goal that dented Liverpool's title hopes came via a now infamous slip from Steven Gerrard. An individual technical error at the worst possible time, Gerrard mis-controlled a pass, only to slip whilst frantically trying to rectify his mistake. The slip allowed Ba a one on one with Mignolet and the striker finished calmly.
Willian goal – 90 mins
With Liverpool pushing everyone forward in hopes of securing a late equaliser, they were left highly vulnerable to the counter attack. After Sturridge lost possession, Willian and Torres broke unchallenged into the Liverpool half and the Brazilian had a simple tap in for Chelsea's second goal. This goal came purely as a result of Rodgers' tactical decision to throw everyone forward and given the situation at hand, no one can be blamed for conceding this manner of goal.
CPFC 3 – 3 LFC
Delaney goal – 79 mins
Delaney's shot was deflected high into the right hand corner of Mignolet's net to give Crystal Palace their first goal back. Though it's often harsh to blame this manner of goal on an individual player, the apathetic manner in which Johnson attempted to close down Delaney's shot means the defender must accept some of the responsibility.
Gayle goal – 81 mins
As Bolassie sprinted down the left flank leading a Crystal Palace counter attack, Johnson had to commit to one of two decisions. The Liverpool fullback should either have forced the winger into touch or committed a cynical yet intelligent foul on Bolassie to prevent what was clearly a dangerous situation for Liverpool's defence.
Typically tentative in his decision-making, Johnson did neither and simply allowed the fullback to sprint past him and provide a cross to Gayle who scored with a first time finish.
Gayle goal – 88 mins
Lucas fails to track Murray's movement, this concerns Skrtel who makes the decision to come out and intercept the ball. However, Murray's chest control of the ball leaves Skrtel out of position and the Gayle exploits the space he's left vacant to score Palace's late equaliser. This is an individual technical error from Skrtel.
LFC 2 – 1 NUFC
Skrtel O.G. – 20 mins
The final goal Liverpool would concede last season came courtesy of Martin Skrtel who deflected a Gouffran cross past a helpless Mignolet. Charged with tracking Gouffran, Gerrard is unable to stop the pacey Frenchman from providing a dangerous cross and attempting to clear the ball Skrtel slices it into his own net. This is an individual technical error from the centre back.