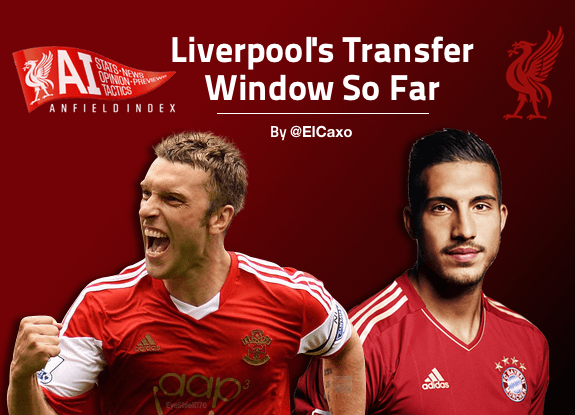 Liverpool's Transfer Window So Far | How The New Boys Could Line Up
Callum Huckle reviews the transfer window so far and looks at how the new boys could line up for Liverpool next season.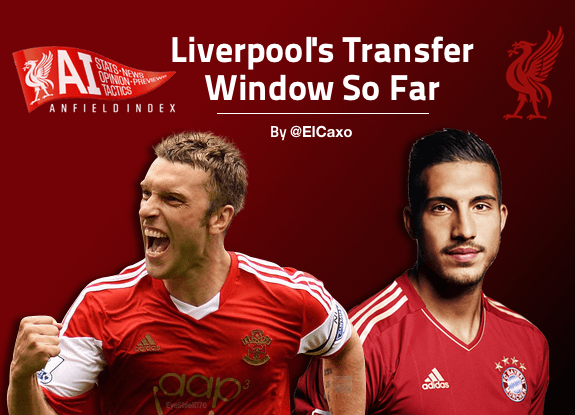 Done Deals   
Rickie Lambert arrived, a little out of the blue, from Southampton while we're were supposedly courting Adam Lallana from the same club – but for £4.5 million this could prove to be a decidedly shrewd piece of business and it always breeds confidence when transfers are wrapped up quickly and early. It's pretty easy to take one look at our new striker and label him as another Andy Carroll but Lambert has far more strings to his bow than the big Geordie mistake. Carroll was a big man first and a footballer second but Rickie Lambert is completely the other way around.

He scored as many as or more goals than Benteke, Adebayor and Robin Van Persie last season, admittedly in quite a few more appearances but nonetheless, he definitely knows where the net is and scores with his feet as much as his head. A much more telling statistic is his third place position in the assists table for the season – behind only our own Gerrard and Suarez. His ability to hold up the ball and then link with others in attack is among the best in the league, probably only behind Suarez and Robin Van Persie. This will be key considering our attacking style and the quick players he'll be surrounded by.
When Kenny Dalglish bought Andy Carroll he envisaged Suarez playing as a '7' that would feed off the knockdowns off a number 9; a bit like Rafael van der Vaart and Peter Crouch operated at Spurs. However, the all encompassing talent of Suarez is wasted if he's relying on another player for service and Lambert will be able to slot in alongside or just ahead of the mercurial Uruguayan where they will hopefully complement each other much more.
Rickie Lambert has done it all in his career and it's perfectly reasonable to feel a bit sentimental about him coming back to what he feels is his home. He won't be the first name on the team sheet every week but you can be sure he'll be effective whenever he plays. Here are a few ways I could see us lining up with Lambert involved.
Now I haven't watched him this season at all (some fan I am) but from checking out match reports, Whoscored.com and the opinions of the better informed, I'm pretty confident in defining Emre Can as versatile, physical and equally technically adept. Not a bad few qualities to possess. The German has played the same amount of games at left-back as at defensive mid this season, can fill in at centre-back as well as further forward. One dimensional players simply can't do this.
I've always been a big supporter of Lucas Leiva and it does pain me to say that this is definitely the man that Emre Can has the potential to dislodge in the current squad. At 34 years old, Gerrard simply won't be able to push through the same amount of games next year; even in his more withdrawn role. The young German seems the perfect option to come in and play as our deepest midfielder in a 4-3-3 with a combination of Allen, Henderson and Coutinho ahead of him or even possibly alongside Gerrard in a double pivot 4-2-3-1.
At only 20 years old and £9.8 million it appears as though Emre Can might turn out to be as equally shrewd a deal as Rickie Lambert. Lucas Leiva has lost a yard of pace due to injury and seems a little behind the rest of the squad mentally after missing so many games. Hopefully Can has the right levels of tenacity and ambition to slot right into the squad.
Potential Deals
On the rumour front, the only potential deal I'm willing to discuss with any certainty is Alberto Moreno from Sevilla. At the time of writing the left-back is apparently arriving for £20 million plus add-ons; this seems a bit hefty but at 21 we could have a position secured for the next 5-10 years and consider that Manchester United are willing to splash £30 million and 100k a week on Luke Shaw – an undoubtedly less experienced player.
With an average of 2 tackles and over 2 interceptions a game he is solid defensively and will have plenty of license to attack playing in Red. Having watched him in the Europa League final he definitely looked combative enough for the Premier League.
Outgoing Transfers
Lucas Leiva definitely has to be under consideration. It's a true shame that he suffered an ACL injury right when he was most important to the team but since he's come back he's struggled to break into the first eleven. With the arrival of Emre Can and Gerrard's renewed vigour there doesn't seem to be much space for him. It's better to look back and enjoy his performances than watch him wallow on the bench.
Iago Aspas has been quoted as saying:
'I'm not 20 years old anymore; I can't go on loan and explode. I think the best would be to transfer to another club that I find the best fit for myself and the club.'
This doesn't really require much conjecture, he's not going to squeeze Suarez, Sturridge, Borini and now Lambert out and it's probably best if we attempt to recoup whatever we can on him.