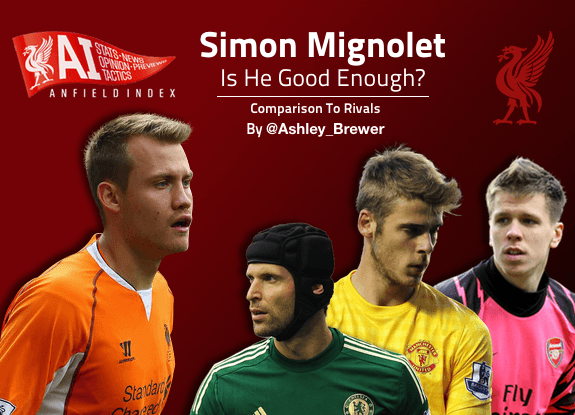 Simon Mignolet - Is he still good enough? A comparison to rivals
Earlier in the season, following Liverpool's 2-1 defeat at Manchester City, I wrote an article looking at Simon Mignolet's first season up to that point as the Reds' first choice goalkeeper following his summer move from Sunderland.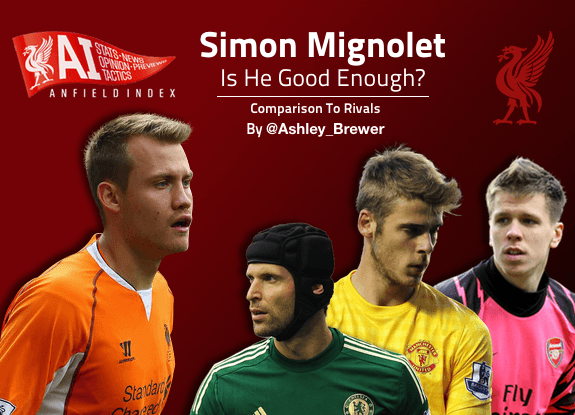 At the time he had just made himself public enemy number one to a group of fans (oh how there have been many in that position this season), and questions were being asked. Since that article was published, have his performances improved? Have Liverpool stopped conceding goals? Not quite.

To refresh your brains, these were the statistics used in the previous piece:
I made a note of how Mignolet had faced the most shots up to that point, and yet had the joint best save percentage along with Arsenal's Wojciech Szczęsny.
This time around I have been forced to slightly alter the stats I have collected due to certain sources used before being taken off the internet and not being able to find a suitable alternative.
Also this time I include Joe Hart, who I had to leave out last time due to him being dropped for Costel Pantilimon, and Hugo Lloris.
Here are the new stats:
Click image to enlarge
Straight away, it is safe to say that it isn't great reading for Mignolet.
In the chosen group of 'keepers from league rivals, he comes off worse in regards to the number of clean sheets he has collected, errors and joint worst with the amount of goals conceded with Hugo Lloris.
The most worrying aspect of these stats is that it isn't even surprising that he has contributed so many errors – with even his most ardent supporters having to acknowledge that he has had some absolute clangers so far in his stay at Anfield.
It also isn't surprising that Petr Čech tops the lot in a lot of areas, when you take into consideration that his goal may as well be replaced with a bus shelter. Joking aside though, a save percentage of 77% is very admirable, with it only being bettered by Vito Mannone when you look at goalkeepers who have played over 25 games for their club this season.
Everton also kept a decent defensive record, with Tim Howard playing a big part in that, having saved 75% of the shots at his goal.
So where does this leave Mignolet? Should we be looking to replace him and to cast him back to mid-table mediocrity where many believe he belongs?
Personally I believe it would be a rash move. Sure, he hasn't had an amazing season, but neither has the Liverpool defence on a whole.
It's hard to compare him with other goalkeepers due to the fact that our all out attacking style is somewhat unique in the Premier League, and that coupled with our utter disregard for "defending" – I know, I had to Google it to remember the definition of this word too! – makes it difficult.
Too many players have been written off before they have shown what they are capable of – Lucas, Henderson, Sterling to some degree – and this has resulted in some sections looking particularly silly.
He is still a fairly young goalkeeper who is new to the pressure of playing for a big club – with all due respect to Sunderland – so I feel it inevitable that there would be a bedding period. The three clean sheets in the initial three games of the season probably heightened expectations for our number 22 slightly, a time when we used to do this thing called "defending".
As much as I loathe to say this, look at David de Gea at Manchester United, in his first season or so, fans and pundits alike would question if this fresh faced Spaniard had what it takes to be the last line of defence for a team of that scale. A few seasons on however, he has just been named their Player of the Season following a season where he has been one of the very few shining lights in a dark few months for the Old Trafford faithful.
There's no reason that over the coming years Mignolet cannot replicate this improvement as well.
However, if is going to improve, the club clearly feel that he needs a deputy who is an improvement on Brad Jones so that he doesn't get too comfortable with his number one spot. This is where the rumours of Brendan Rodgers looking to bring in Michel Vorm makes some sense.
When comparing the two though, it's not as if he would be a great improvement on the Belgian, in many aspects other than the fact Vorm makes fewer errors and comes across as somebody who can command a penalty area – something desperately needed as this season proved.
What's interesting is I suspect a few would say that the Dutchman would be better because he is a greater distributor of the ball – however, the stats show that Mignolet has a better pass success rate – finding his man 64.54% of the time to Vorm's 61.12%.
Regardless though, if a move from Swansea materialised for the 30 year old, I wouldn't be too disappointed, but here's hoping that they work together well and Mignolet is able to learn from him and we don't have a Lewis Hamilton – Fernando Alonso situation (for those who don't follow the F1, they weren't the best of friends).
If we are going to see an improvement in our defence though, it isn't the goalkeeper that is the problem, it is the back line which has left ours too open for the majority of the season, and this summer must be dedicated to strengthening it if we are to cope with the demands of European football and challenging for the league again.